Dow Chemical Co. (NYSE:DOW) is a producer and seller of specialty chemicals, advanced materials, agro sciences and plastics mainly used as feedstock in the manufacturing of other products and services. The company recently reported its Q1 FY 2014 financial results beating analysts' estimates regarding its EPS and falling short of analysts' expectations for its revenue. Therefore, in this article, I will discuss the company's performance during the recent quarter along with the company's future outlook based on internal and external factors.
A Glance at the Performance of the Recent Quarter
The company recorded sales of $14.46 billion in Q1 FY 2014 (up 0.5% from Q1 FY 2013) that fell short of analysts' estimates of $14.72 billion. This was because the 5% revenue growth in the company's Coatings and Infrastructure Solutions and 3% (or 6% on an adjusted basis) growth in the company's Performance Plastics segment was disguised by a 1% decline in the company's Electronics and Functional Materials and Performance Materials segments and a 4% decline in the revenue from the company's Feedstocks and Energy segment as shown in the following table.

Source: DOW Reports First Quarter Results
The company posted a 75% higher net income amounting to $964 million in Q1 FY 2014 in comparison to the $550 million net income earned in the same quarter of the previous year. The company earned an EPS of $0.79 (up from $0.46 earned in Q1 FY 2013) that is $0.08 higher than analysts' estimates of $0.71. The company identified its strict cost control initiatives as the reason behind the growth in its margins and earnings across almost all of its segments and the reason behind this improvement in its profits.

Source: DOW Reports First Quarter Results
The table above shows that all of the company's operating segments recorded growth in their EBITDA with the exception of the company's Feedstocks and Energy segment. Higher plastic prices also helped the company's Performance Plastics unit. The Performance Plastics unit is the company's biggest operating segment in terms of revenue and income generation. As a result, Q1 FY 2014 marks the seventh straight quarter of margin expansion for the company's Performance Plastics segment. Therefore I will also consider the outlook of the global plastics industry and its impact on the company's future performance. Furthermore, gains in the emerging markets, led by China, also backed the company's strong bottom-line results in Q1 FY 2014. The company recorded 3% growth in its sales from emerging countries primarily driven by a 7% volume expansion in Greater China (see table below). The 3% positive impact of higher prices in North America on the company's sales revenue in Q1 FY 2014 was offset by the 3% negative impact of lower volumes due to harsh weather and transportation-related issues. Sales in Western Europe rose modestly by 1% due to volume expansions.

Source: DOW Reports First Quarter Results
Dow concluded its Q1 FY 2014 with cash and cash equivalents of around $4.4 billion, up 25% year-over-year. The company's total long-term debt declined about 12% year-over-year to around $17.3 billion. The company's cash flow from operations jumped 30% in Q1 FY 2014 in comparison to Q1 FY 2013 due to the company's productivity improvement and cost-cutting initiatives.
Now let us take a look at the factors that will positively contribute to the company's financial performance in the coming periods.
Further Restructuring and Margins
Looking ahead, the company expects its margins to grow in almost each of its business segments with the exception of the company's Feedstocks and Energy. The segment recorded a 28% fall in its EBITDA in Q1 FY 2014 in comparison to the EBITDA earned in Q1 FY 2013.
Therefore according to the company's chief executive officer, Andrew Liveris, the company is looking forward to restructuring this segment after concluding the scheduled sale of its chlorine and derivatives assets. The company is not planning to spin-off its Feedstocks and Energy segment as it intends to use its commoditized raw materials businesses in order to keep costs down in its high-growth specialty chemicals businesses.
Dow has set aside its epoxy business and a few chlorine and derivatives assets for sale as part of the company's extensive plan to raise up to $6 billion from non-core asset sales by the end of FY 2015. The commodity chemicals assets chosen for the split-up represent up to $5 billion in revenues.
Dow is also focusing on electronics, packaging, and agriculture and is looking to give forth non-core businesses in its functional materials and performance materials units as well. These two segments were two of the slowest-growing segments in the latest quarter.
The company expects the margins of its Agriculture Sciences, Performance Materials and Performance Plastics businesses to increase by up to 4% in the near term.
According to John Roberts, leader of the U.S. chemical coverage at UBS Investment Research, a number of cost-saving initiatives enacted by the company during the last couple of years will continue benefiting the company's bottom-line in the current as well as the next fiscal year.
Now let us have a look at the impact of the external environment on the company.
Plastic Demand Growth
The economy around the globe is based on the value chain and the demand for plastics and petrochemicals. Every one of us use dozens of objects made of plastic every day without thinking about it. Worldwide demand for plastics is forecasted to grow exponentially till 2016, according to Peter Davis, director general of the British Plastics Federation. This is because the growing plastics industry will become more and more essential with the world population expected to reach to 11 billion by 2050.
The world consumed 205 million metric tons of plastics in 2011 and in the coming years the suitability of using this material for various products is likely to bring in more demand for the material in the form of emerging applications.
According to a senior executive from SABIC, the global demand for plastic resins in the healthcare sector is anticipated to grow considerably in the next four years due to advances in technology and robust packaging demand in pharmaceuticals. Hery Randrianantoandro, Healthcare Segment Leader from SABIC, at the GPCA PlastiCon 2014 conference in Sharjah, projected the global demand for plastic resins in the healthcare sector to grow from 4 million tonnes per annum in 2012 to 6 million tonnes per annum in 2018.
The worth of the global market for engineering plastics is also forecasted to escalate to $90 billion by 2020, due to rising demand for lighter and more efficient materials. Up to 25% of this demand will be driven by electrical, electronics, and consumer goods.
Plastic pipes will continue to substitute for alternative materials such as steel, copper, and ductile iron in many construction applications because of its low cost, ease of installation, and performance benefits. The global market for plastic pipes is anticipated to surpass 6.5 billion meters by 2015. The worldwide demand for plastic pipe is anticipated to grow 6.2% annually reaching 23 million metric tons in 2017, according to a Freedonia Group forecast. Plastic films will also attract numerous applications in the packaging industry. The global agricultural film market is estimated to reach a value of $9.66 billion by 2019 growing at a CAGR of 7.6% from 2013 to 2019, according to Transparency Market Research. Demand for specialty films in the U.S. alone is expected to grow by 5.2% per year reaching a worth of $8 billion in 2017. Packaging applications such as biodegradable packaging deliver the premier demand for specialty films. The growing solar photovoltaic markets are also driving the rising demand.
The use of plastic resin in the cellphone market by now is a multibillion-dollar business with terrific growth expected in the coming years. The worldwide market for molded plastic components used in cellphones was worth $3.5 billion in 2013 rising from $3.3 billion in 2012, according to IHS Chemical and technology research from IHS Inc. Plastic component revenue in cellphones will continue to rise in the coming years, growing by 27% from 2013 to reach $4.5 billion in value in 2017. In terms of weight, total plastic resin usage in all cellphones that include smartphones and other mobile handsets will surge to 336,000 metric tons in 2017 up from 282,000 metric tons in 2013 as shown in the following chart.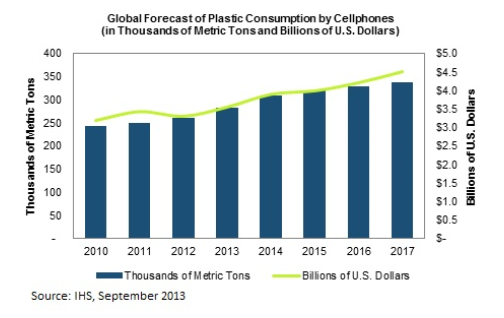 Source: IHS Technology
By incorporating plastics in the products, the OEMs can deliver lightweight products that are still attractive in appearance. IHS has assessed that the electronics industry will use around 16.0 million metric tons of plastic resin in 2017 reflecting a rise from 12.8 million in 2012.
Return to Shareholders and Final Take
Dow elevated its quarterly dividend by 15% to 37 cents per share during the recently reported quarter. The company also repurchased shares worth $1.25 billion in Q1 FY 2014 and expects to complete its $4.5 billion buyback program by end of this year.
The company performed well in its recently reported quarter due to its efforts to improve its bottom-line. The company's plan to generate additional value by exiting non-strategic assets along with cost containment will make the company more focused and improve its bottom-line in the coming periods. Additionally, the growing demand for plastic due to emerging applications from various sectors including healthcare and technology will drive the company's top-line in the coming years. Combined, all of these factors indicate bright prospects for the company making it a good buy.
Disclosure: I have no positions in any stocks mentioned, and no plans to initiate any positions within the next 72 hours.
Business relationship disclosure: The article has been written by a Gemstone Equity Research research analyst. Gemstone Equity Research is not receiving compensation for it (other than from Seeking Alpha). Gemstone Equity Research has no business relationship with any company whose stock is mentioned in this article.