Last week was not the greatest of times for the big banks. There were a couple of high profile news items that left investors feeling a bit chilly. At the end of the week, JPMorgan (NYSE:JPM) announced that markets revenues would be down 20% in Q2, accelerating a fall seen in Q1. Today, I'll detail the latest bad news for the big banks, and detail why a short position may be warranted for the near term.
JPMorgan's announcement:
Obviously, it's not good when JPMorgan announces a 20% fall in markets revenues, but it's worse when Q1 saw a 17% fall. An acceleration of a decline is especially troubling. Current estimates call for a 6.2% decline in overall Q2 revenues, after a roughly 8% decline in Q1. Perhaps estimates will need to come down since the trading business is doing worse this quarter. Revenues are expected to decline by almost 3% this year, but to rebound in 2015. EPS estimates have declined recently, and the estimates link above shows JPMorgan missing EPS estimates in its past three quarters.
Obviously, the usual suspects got the blame for the trading troubles, as detailed in the quote below from the Seeking Alpha market current linked in my opening:
As in the past, the biggest driver of the slide is weakness in fixed income, currencies and commodities ("FICC") as investors continue to shy from exotic fixed-income vehicles contrived by bankers, and instead favor less profitable (for the bond desks) government and high-grade corporate bonds. There's also new regulations which have forced banks away from lucrative businesses like energy trading.
On the Q1 call, CEO Jamie Dimon stated "I don't look at the $5 billion in markets revenue and cry in my soup." The $5 billion or so a quarter in these revenues only make up about a fifth or so of the company's business. However, when Jamie says that this is a cyclical issue and not a secular one, I'm not sure if that is the case. Regulations have certainly had an impact, and as the quote above states, investors continue to shy away from exotic vehicles contrived by bankers. They are more interested in items that are less profitable for the bond desks.
Another piece of troubling news:
The JPMorgan news was not the only high profile negative note out last week from the banks. Bank of America (NYSE:BAC) was recently forced to suspend its buyback and dividend raise. The issue was with a downward revision to the bank's capital ratios due to the incorrect treatment of certain structured notes assumed in the Merrill Lynch acquisition in 2009. The new estimated Tier 1 capital ratio was 21 basis points less than originally thought. Bank of America had planned to increase the dividend from a penny to a nickel per quarter, along with a $4 billion buyback. A revised capital plan will be submitted as soon as possible.
Shorting JPMorgan may be a good idea:
Interestingly enough, bearish sentiment in regards to JPMorgan hit a yearly low in the first half of April. Short interest in the name was at its lowest point in a year, and so was the days to cover ratio. The roughly 35 million shares short represents a very small part of the nearly 4 billion shares outstanding. However, short interest in JPMorgan is down 25% in 2014 (at the mid April update). We'll get the next update on short interest in a week or so, which will show what happened to short interest in the second half of April. There is plenty of room for short interest to increase here, which could push shares a little lower.
That gets me to an interesting point. As you can see in the chart below, JPMorgan is a couple of bucks above its lower bollinger band, which is a level of support for this name. There could be an opportunity to short JPMorgan shares down to this lower band, which as of Friday was around $53.30. Interestingly enough, another SA contributor recently stated he would not jump into the stock until it hit a 3% dividend yield. That price point would be $53.33, or $2.25 below Friday's close. If JPMorgan starts to trend lower based on this latest negative piece of news, the range could push lower.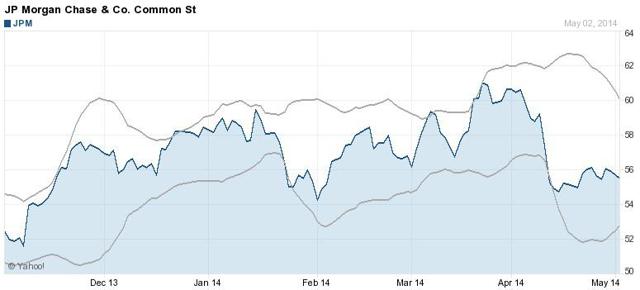 (Source: Yahoo Finance)
Who else is most affected?
Obviously, when you think of big bank problems, JPMorgan and Bank of America are two of the names most discussed. Citigroup (NYSE:C), Morgan Stanley (NYSE:MS), and Goldman Sachs (NYSE:GS) would be impacted a bit as well by lower trading revenues. Don't forget about the Financial Select Sector SPDR ETF (NYSEARCA:XLF), or the SPDR Dow Jones Industrial Average ETF (NYSEARCA:DIA) as well. On Friday evening, here's how these five names and two ETFs traded on the JPMorgan news:
JPMorgan shares declined by 1.46%.

Bank of America shares declined by 0.66%.
Morgan Stanley shares declined by 0.52%.
Citigroup shares declined by 0.38%.
Goldman Sachs shares declined by 0.11%.
Financial Select Sector SPDR ETF declined by 0.18%.
Dow Jones Industrial Average ETF declined by 0.06%.
Obviously, Friday evening is a very quiet time for the markets, so it will be interesting to see how these names trade on Monday. Remember, Goldman Sachs is the third largest Dow component, so if Goldman declines a couple of bucks, it could hurt the Dow a bit. JPMorgan is also in the Dow, but only has a little more than 2% weight due to its share price. The financial sector is an important part of this market, and if these names get hit in the short term, it will have a decent impact on the race to new highs.
Final thoughts:
JPMorgan's warning about trading revenues may not be a surprise to some, but it's another piece of bad news for the big banks. Following the surprise from Bank of America, investors may be feeling a little down when it comes to this space. A potential short opportunity may exist for JPMorgan until it hits the lower end of its range. Recently, I detailed how a potential change in the Dow could reduce the financial sector exposure of the index. The latest set of news does not help when it comes to investor confidence.
Disclosure: I have no positions in any stocks mentioned, and no plans to initiate any positions within the next 72 hours. I wrote this article myself, and it expresses my own opinions. I am not receiving compensation for it (other than from Seeking Alpha). I have no business relationship with any company whose stock is mentioned in this article.
Additional disclosure: Investors are always reminded that before making any investment, you should do your own proper due diligence on any name directly or indirectly mentioned in this article. Investors should also consider seeking advice from a broker or financial adviser before making any investment decisions. Any material in this article should be considered general information, and not relied on as a formal investment recommendation.