I'm greatly relieved that I was able to unload the majority of my Apple (NASDAQ:AAPL) holdings last week - long before The New York Times published an article insinuating that the late Steve Jobs may have committed criminal acts. Apple investors should read the article. The write-up's negative portrayal of Apple's co-founder and visionary leader, may harm Apple's recent bullish trend.
Apple has delivered substantial gains after it delivered its Q2 earnings report. I suspect that this bad propaganda against Mr. Jobs might slow down or even halt the rally towards the $600 price barrier. Yes, I am aware of the recent settlement over the no-hire agreement antitrust against Apple, Adobe (NASDAQ:ADBE), Google (NASDAQ:GOOG), and Intel (NASDAQ:INTC) only happened last week. The timing of publication, therefore, can be defended as free of malice and that The New York Times is just doing its job.

Source: Google Finance
Mr. James Stewart, author of The New York Times article, presents a compelling explanation why the late Steve Jobs might have been jailed for his business practices. However, Jobs is no longer around to defend himself (or to sue for libel) against the allegations of malpractices. Steve Jobs was singled out as the proponent behind the alleged no-poaching of employees deal between big tech companies.
Anti-Poaching of Employees Pact
Every CEO or company president who values his talented employees will want to protect his ranks from poachers. Mr. Stewart focused on the emails of Jobs which were strongly-worded requests to other companies not to steal Apple employees. Antitrust lawyers will have a hard time proving that Mr. Jobs was malicious in his intent. Jobs was merely doing his job as Apple's leader - he was notifying his peers that he will be extremely displeased if their recruiters were to seduce important Apple employees.
Proving that Jobs conspired with other company presidents to deliberately deny employees better pay and opportunity is not easy. The antitrust suit was settled amicably. The more than 60,000 employees who collectively filed the suit realized the futility of the exercise. They wanted $3 billion but I doubt if they even got 20% of that in the settlement.
The no-poaching-of-current-employees agreement is standard practice among Philippine companies and businessmen. It also applies to most other companies in the world. Despite the antitrust provision in the Sherman Antitrust Act, I suspect that many competing American companies are practicing the said no-poaching pact.
I expect that many Seeking Alpha readers will disagree with my assessment over Jobs' protectionist policy over Apple employees. It is not a criminal act but a simple exercise of his duty to protect Apple employees and investors. The management of Adobe, Intel, and Google understood and agreed with Jobs' intention. Proving this consensual agreement as a malicious criminal conspiracy will be arduous and harmful to both litigants and defendants. The case was settled before it even got its first scheduled hearing this May.
The purpose is to prevent salary wars which could damage the overall profitability of companies. I remember my former Fil-Chinese boss making verbal warnings to recruiters who were trying to poach me with better salary numbers and perks. Jobs did it with emails, my ex-boss did it verbally but both achieved the same result - bad blood between companies and businessmen was prevented.
Of course, I regret not being able to enjoy poaching offers. However, getting involved in a nasty employee-snatching controversy might have led to disastrous, never-ending cycle of poaching activities which will ultimately be detrimental to all employees and companies involved. While some highly-prized engineers or developers will get million-dollar poaching deals, business economics dictates that rank-and-file employees will get lower pay averages because the management are allocating too much money to a select few.
It is undemocratic to have a few employees enjoying 6-figure salaries while their company brethren receive pay slips that could have been higher if there were no salary-wars for star talents. Jobs' act of promoting the no-poaching pact is commendable - it ultimately benefits the majority of employees and investors.
Conclusion
Mr. Stewart also pointed to the ruling against Apple's alleged e-book price-fixing conspiracy as another antitrust behavior of the late Steve Jobs. In my opinion, Jobs merely catered to the publishers who needed better pricing for their e-books. The publishers were not happy with Amazon's discounting of e-books. Steve Jobs, a chronic believer in high-margin policy for high-quality products, understood the publishers' plight. He merely acceded to the publishers' request for higher price tags.
Walter Isaacson, author of the "Steve Jobs" biography, explained it rather well. Isaacson said the strict language of the Sherman Act would not have applied to Steve Jobs' business practices. If the U.S. regulators found Jobs' acts as serious criminal violations, they would have filed cases against him long before he died. Isaacson did confirm that Jobs pushed the envelope and bent some rules to deliver the best benefits for Apple employees and investors. Strong protectionist policy over Apple's employees is a hallmark of a true leader.
Nevertheless, James Stewart is a Pulitzer Prize-winning journalist so his critical write-up on Steve Jobs at The New York Times, carries a lot of weight. Dearly departed Steve Jobs cannot go thermo-nuclear against Stewart's article. It is therefore prudent for me not to do another buy-in of AAPL this week. The recent post-mortem Jobs-bashing and the unsatisfactory victory against Samsung (OTC:SSNLF) tell me that this underpriced stock won't be breaching $650 soon.
Despite the premium over the MA50 and MA200 averages, AAPL bulls have yet to breach $600. Apple did hit a high of $599.43 last April 30 so the bulls will likely make another attempt this week.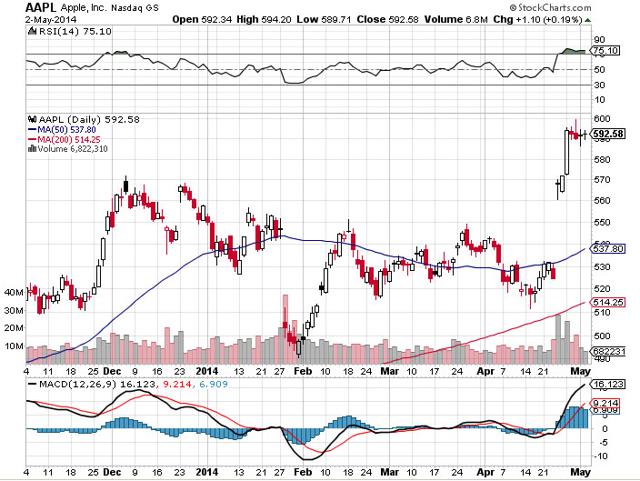 For the near-term, I see AAPL trading near $600. I will be watching to see if Stewart's article causes a downward movement for the stock today and tomorrow.
Disclosure: I am long AAPL. I wrote this article myself, and it expresses my own opinions. I am not receiving compensation for it (other than from Seeking Alpha). I have no business relationship with any company whose stock is mentioned in this article.