The market barely budged the entire morning, but action picked up in the afternoon. Despite the increase in activity, SPX traded in a 8 point range after the open. Yesterday, I expected the market to drop, and we used that decline to add one more position to the portfolio this afternoon.
Friday morning we receive U.S. jobs data. The big number to watch will be non-farm payrolls and the media will highlight the unemployment rate. The volume this week has been very low, but activity could pick up after tomorrow's economic data.
I have constantly recommended long additions since the end of June, but the market reaction to the economic data tomorrow could make me neutral, dare I say bearish in the very near term. Earnings have been nothing short of super, and recent economic data has been better than expected, but the market refuses to blast higher. The bulls are running out of positive catalysts.
The market has not been that responsive to jobs data, but currencies have responded to recent economic announcements pertaining to U.S. jobs. An amazing jobs number tomorrow morning would rally the dollar, which is very oversold. A rising dollar would put a lid on the bulls run. I have not initiated any bearish positions, but that could change tomorrow.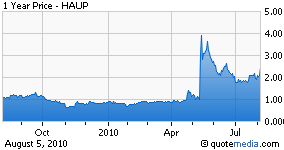 The Chart of the Day
Hauppauge Digital (NASDAQ:HAUP) finished the day 18% higher.
The recent surge hit my initial price target of $2.85. I mentioned I was taking on a new position in the stock after shares hit would be long term support at $1.80. Volume has been light and I do not expect shares to run much higher. My position is gone.
If volume picks up this week the stock may have bottomed three weeks ago. My secondary target is near $5. The stock would stay above $2.19 if it's going to make that run any time soon. I will buy it again if price comes below $2.
Watch List
Our watch list was mostly higher today .
Leading the way higher were the regulars: Origin Agritech (NASDAQ:SEED), Rino (OTC:RINO) China Agritech (OTCPK:CAGC) Puda (NYSEMKT:PUDA). In today's alert I highlighted a few trades for higher wheat. Prices for wheat are motoring higher and will result in upside for MLCX Grains Index (NYSEARCA:GRU) UBS Grains Subindex (NYSEARCA:JJG) Archer Daniels (NYSE:ADM) and Viterra Inc (NYSEARCA:VT) over the coming weeks.
Disclosure: None