It's likely Shakespeare who coined the popular simile, "as pure as driven snow." Although the exact phrase doesn't appear in his writing, it comes close, as he used a similar phrase with the words "snow" as a way to describe the white substance as a symbol for purity and whiteness. In The Winter's Tale (1611) Autolycus explains:
Lawn as white as driven snow.
In the investment world, I think the word "pure play" is overused and often misunderstood. It's important for REIT investors to recognize the difference between a "pure play" REIT and a "non-pure play" REIT. In finance terms, a "pure play" describes a publicly traded company that's focused on only one industry or product type (source: Investopedia).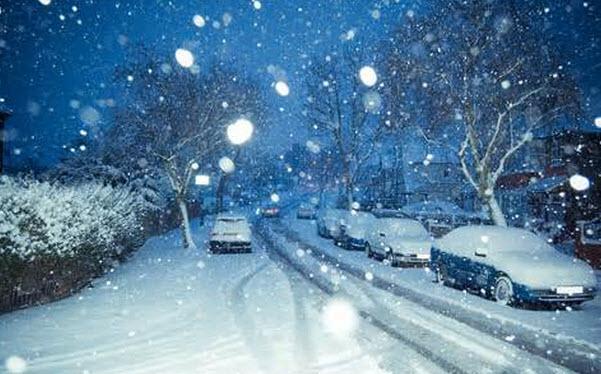 HTA is as Pure as the Driven Snow
Healthcare Trust of America (NYSE:HTA) is a "pure play" health care REIT that is focused on only one industry - medical office buildings (or MOBs). This "pure play" REIT is very popular with active investors, because the company has one "circle of competence", and unlike the "Big 3" Health Care REITs - Ventas, Inc. (NYSE:VTR), HCP, Inc. (NYSE:HCP), and Health Care REIT (HCN) - HTA doesn't suffer from risks related to managing diversified business lines.
After carefully researching HTA last year, I decided to invest in the Scottsdale-based REIT last August when shares fell to $10.25. A few months later (in December 2013), I added even more shares at a price of $10.17. Since that time and with my dollar cost average (of $10.21), my shares have climbed by over 16.7%.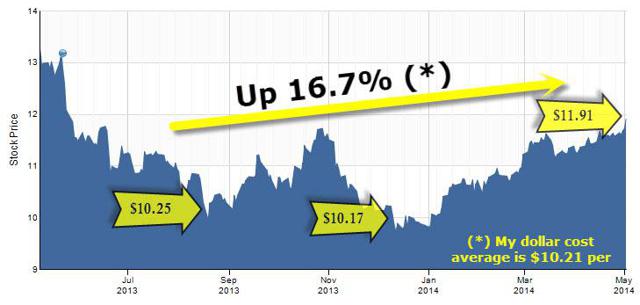 HTA commenced as a non-traded REIT in 2007, and the company listed shares on the NYSE in June 2012 (see article here). I did not make a move on HTA early, because I wanted to wait for all of the company's illiquid shares to be unlocked and see to how the management team performed. After the REIT sell-off last May, I started to get more focused on HTA, and I'm glad I waited for a sound entry point. HTA hit an all-time high of $13.34 in May, and shares recently traded at $11.91.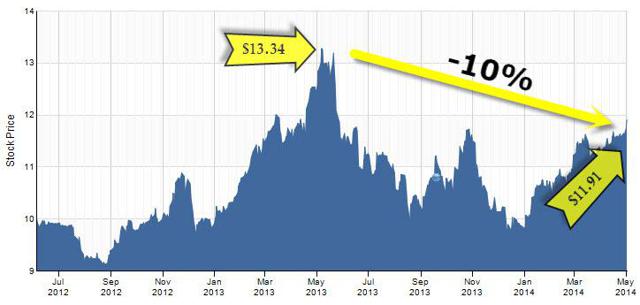 As a "pure play" REIT, HTA is a dedicated owner of medical office buildings, with a portfolio of 114 buildings (and over 14.1 million square feet) in the 27 states.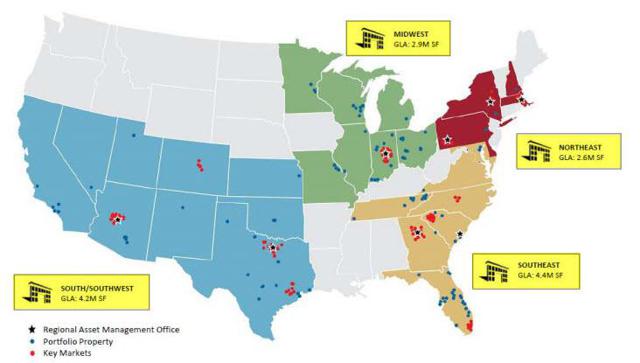 During the first quarter of 2014, HTA did not acquire any new properties; however, in 2013, the company had a robust pipeline of acquisitions - over $398 million of MOBs - and 15% of increased space. HTA has continued to diversify its revenue streams by identifying strategic markets in close proximity to one of seven regional area asset management offices.

In 2013, HTA expanded its property management coverage, and as of 12/31/13, the company has over 85% of management in-house. By internalizing property management, HTA has added "pure play" benefits, whereby the company generates ongoing savings that can generate added economies of scale (for the tenants) through this process of getting more efficient, and obtaining national contracts, and having property managers and engineers perform their duties.
As a result of the increased asset management and leasing platform, HTA is doing a majority of leasing and negotiations directly with tenants, reducing the overall cost paid to third-parties, and maximizing the overall deal economics.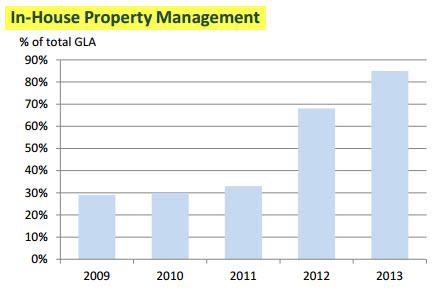 These results appear to be paying off for the "pure play" REIT. Last week, the company reported first-quarter earnings that were highlighted by a 12.5% increase in Q1-14 normalized Funds from Operations (or FFO) to $0.18 per share (from a year ago). This marks the second quarter in a row that HTA has increased FFO by a penny. In addition, HTA reported 3% same-store growth from its asset management platform that has now had six consecutive quarters of 3% or greater growth.
In the first quarter, HTA completed a total of 300,000 square feet of leasing, with tenant retention for the quarter at 75%. The company's renewal rates were slightly positive, and occupancy for the quarter was of 91.2%, up 30 basis points from our occupancy in the prior-year period (occupancy was 91.6% in Q4-13).
HTA's normalized FFO increased 6%, from $0.17 per share in the fourth quarter to $0.18 per share this quarter. This increase was primarily driven by the full-period impact of the $156 million of acquisitions acquired in Q4-13, interest expense savings, and also resulted in a $0.02 increase in the normalized FFO run rate (relative to where we were just two quarters ago). Although HTA has not raised its dividend since listing on the NYSE (more on that later), I believe the more recent FFO growth is a good indicator that a dividend bump is coming soon.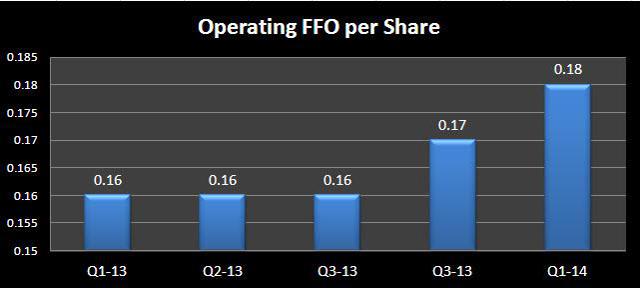 HTA also reported that normalized FAD increased to $0.16 per diluted share, an increase of $0.02, or 14.3%, compared to the year-ago period. The payout ratio was 88%, down from 96% last quarter (more evidence that a dividend increase could occur soon).
Remember, HTA is still a relatively small REIT, especially when compared with the "big 3" players. It doesn't take a tremendous amount of new acquisitions to "move the needle", and based upon the company's 2013 performance, the stars seem to be lining up.

As mentioned, HTA did not close any deals in the first quarter; however, the company's CEO, Scott Peters, provide more insight on the recent earnings call (source: Thomson Reuters):
You know, we had a good fourth quarter, when we closed, roughly, $150 million. You know, the activity right now, we've got a good pipeline, that's why we're very comfortable with believing and saying that we think we can, certainly, get our $200 million to $300 million for this year.

The pipeline, for us, is pretty consistent from what it was last year. I think that, if anything, it represented the first quarter, it was more from a processing perspective. You know, we want to make sure we do our diligence, appropriately.

Some of our acquisitions, as you know, come from relationships that have their own timing, not our timing. We don't go and, necessarily, get broker transactions, so that there are specific hard dates for closing. So, we like the environment right now. I think that in the rest of 2014 we're very comfortable with that. And I think the things that are in our pipeline will be very indicative of what we bought the last 18 months.

A Balance Sheet That Can Move the Needle
HTA's leverage at the end of the first quarter was approximately 31%, based on enterprise value. This allows HTA ample liquidity, great balance sheet flexibility - allowing the company to pursue opportunities that meet its discipline criteria for portfolio growth.
During the first quarter, HTA took immediate steps to improve its balance sheet by refinancing a $300 million term loan, which extends maturities by two years, and reducing borrowing costs on the term loan by 35 basis points. With this transaction, HTA has minimal maturity levels in the next three years (less than $10 million maturing in 2014; $74 million maturing in 2015; and $197 million maturing in 2016).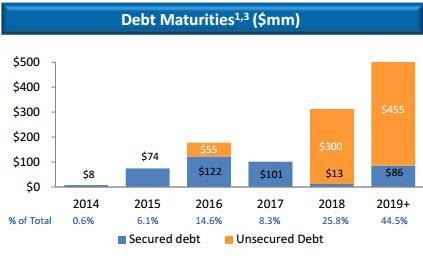 HTA ended the quarter with excellent credit metrics, with debt-to-enterprise value of 31%, one of the lowest in our peer group, and debt-to-proforma EBITDA of 5.3 times. In addition, HTA had over $600 million of liquidity through available cash and its line of credit.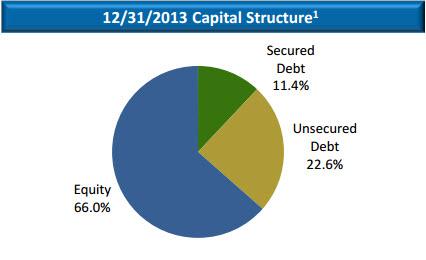 HTA's quarterly cash flow from operations increased by more than $5.5 million, or almost 20%, to $33.5 million. The cash flows are very stable, with very manageable lease rollover in the next several years. Only 23% of leases are expiring in the next three years, which include about 6% for the rest of 2014, including month-to month-leases; 7% in 2015; and 10% in 2016.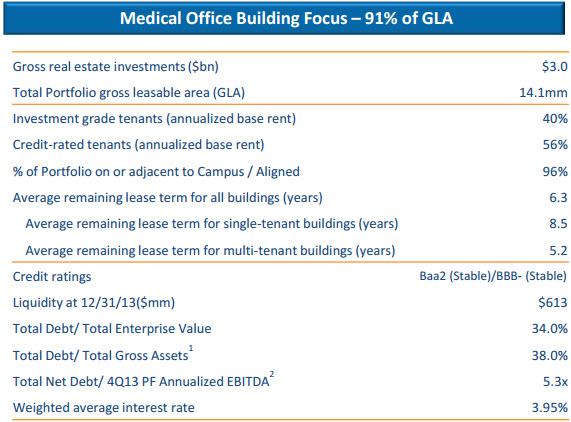 As a result of prudent capital management, HTA achieved a credit upgrade from Moody's in December. Moody's upgraded to Baa2 generating interest expense savings of around $2.5 million for 2014.
Institutions Like This Pure Play Brand
As noted above, I purchased shares in HTA a few months ago, and it seems that the "big money" is also placing a bet on HTA. From an ownership perspective, HTA has significantly increased institutional ownership over the last 6 months or so. As per the (Bloomberg) screenshot, HTA's institutional ownership has increased from 43% at 9/30 to over 60% today. This has been driven by an increase in high-quality investors like Vanguard, Cohen and Steers, and Invesco - they are up over 16 million shares since 9/30/13.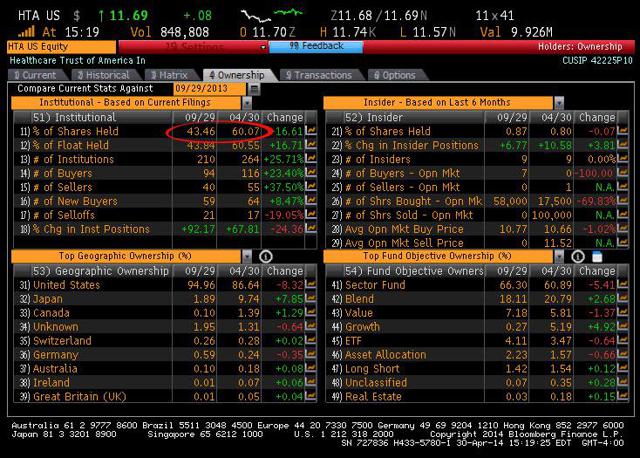 It's clear that institutional investors are warming up to the "pure play" health care asset class in which there is a wide universe of over $250 billion of MOBs. HTA is a "small fish" in the pond, but there is a tremendous opportunity for consolidation in the highly fragmented arena. As a "pure play" REIT, HTA is certain to benefit from the favorable supply and demand characteristics that allow the company to be a cost-effective landlord of choice.

But HTA Has Not Raised the Dividend
It's true, HTA has not raised its dividend since going public. The quarterly dividend is $.1438.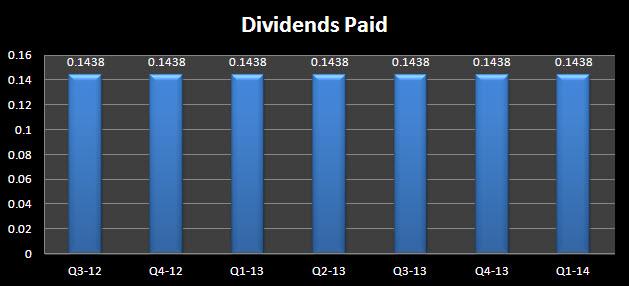 I'm pleased with my entry price and my going-in yield of around 5.5%. HTA's current dividend yield is 4.83%.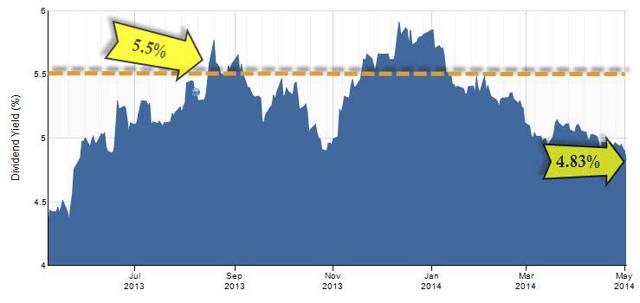 Compared with other healthcare REITs, HTA is in the lower 1/3 of the peer group. That's another sign that HTA should increase its dividend in the future. The FFO growth and payout ratio warrant an increase.

Clearly, HTA can produce meaningful growth (acquisitions of $200 million to $300 million annually), and based upon the steady 3% same-store growth, I expect to see a dividend increase. I was hoping to get one (a dividend increase) this quarter, but I'm content with the strong share price growth over the last few months. In fact, HTA is trading at the higher end of the peer group (with a P/FFO of 16.4x), and that's another indication that the market believes in the "pure play" MOB model.

Of course, HTA is not the only healthcare REIT that I own, and in fact, HTA is my best-performing healthcare REIT so far this year.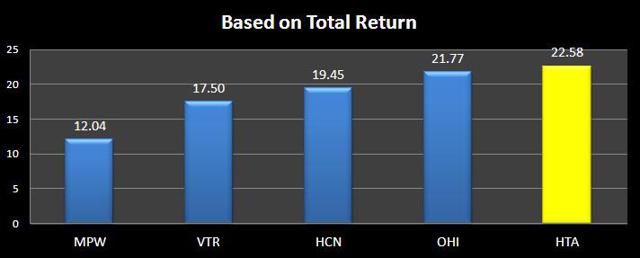 In summary, I think the snow is still coming down for HTA - my best-performing healthcare REIT so far in 2014. At $11.91, I'm not adding more, but I'm satisfied with the latest results. HTA is a "pure play" bet that's paying off, and I believe the price could hit $13.00 - especially "when" there's a dividend increase. Given the fact that HTA has the strongest same-store performance of the ("MOB") peer group, it's clear that there is true value in a dedicated "pure play" brand. (HCP and HCN have not reported Q1-14 yet so I used Q4-13 data. Also, VTR is MOB only data).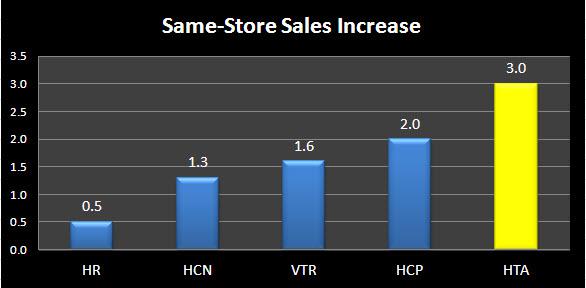 So as I conclude this HTA Q1-14 update, perhaps it's appropriate to use another famous line from Shakespeare. Of course, I'll direct this towards the most important thing missing from HTA's latest earnings call, I think you'll know what I mean:
To be, or not to be, that is the question.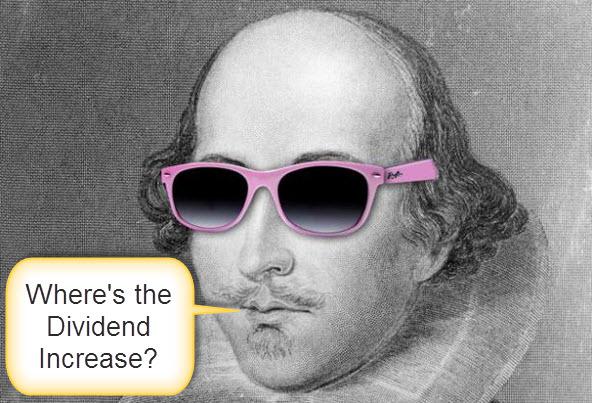 For more information on REITs, check out my monthly newsletter HERE.
Source: SNL Financial and HTA Investor Presentation.
REITs mentioned:(NYSE:NHI), (NASDAQ:SBRA), (NYSE:HR), (NYSE:LTC), (NYSE:UHT), (NYSE:AVIV), (NYSE:OHI), (NYSE:MPW), (NYSE:DOC), (NYSE:SNH), and (NASDAQ:HCT).
Disclaimer: This article is intended to provide information to interested parties. As I have no knowledge of individual investor circumstances, goals, and/or portfolio concentration or diversification, readers are expected to complete their own due diligence before purchasing any stocks mentioned or recommended.
Disclosure: I am long O, DLR, VTR, HTA, STAG, UMH, CSG, GPT, ARCP, ROIC, MPW, HCN, OHI, LXP, KIM, WPC. I wrote this article myself, and it expresses my own opinions. I am not receiving compensation for it (other than from Seeking Alpha). I have no business relationship with any company whose stock is mentioned in this article.