"A good hockey player plays where the puck is. A great hockey player plays where the puck is going to be." Wayne Gretzky
First, Why Railroads?
There are five types of primary carriers for the transportation of goods: ranked in order of transportation costs (least expensive to most costly) are pipelines, waterway carriers, railroads, motor-freight carriers, and airfreight carriers.
Pipelines and water transport have obvious limitations, and airfreight carriers are significantly more costly than other modes of transportation. Consequently, railroads primary competition lies with the trucking industry.
While railroads lack the flexibility of motor-freight carriers, a single train can transport 280 truckloads of freight at a significantly lower cost. Furthermore, trains haul a ton of freight an average of 436 miles on one gallon of fuel.
Cost per ton-mile for shipping via trucks is roughly 12 times that of shipping by rail.
The ecological impact of transporting freight by rail is much less than that of shipping by truck.
In the United States, there are five Class I railroads. Consequently, railroads operate as an oligopoly.
Capex for development of a major new railroad combined with environmental hurdles presented by the EPA and other governmental agencies result in railroads boasting an enormous moat to direct competition.
U.S. freight volumes are projected to increase 88% by 2035.
The Railroad Most Likely To Profit From Macroeconomic Trends
Norfolk Southern Corporation (NYSE:NSC) serves every major port on the East Coast. The company has more short line partners than any other Class 1 railroad. Those short line partners add an additional 41,000 miles to track available to NSC.
Norfolk Southern takes more freight from other carriers than it transfers to competing railroad companies.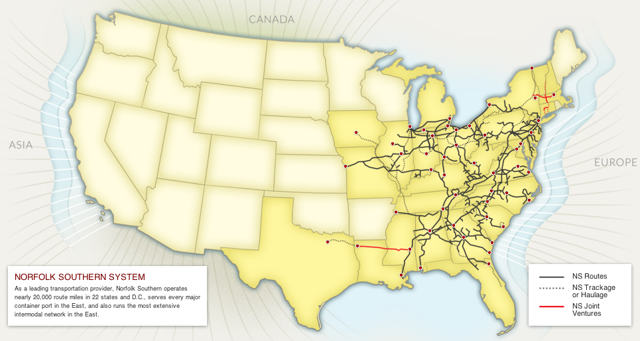 Source: Norfolk Southern System Overview
The company's new Crescent Corridor provides two major pathways intersecting the east and stretch from New Orleans to New York and beyond.
The company's Heartland Corridor connects the port of Norfolk with the Midwest.
The Meridian Speedway, a joint venture between Norfolk Southern and Kansa City Southern (KCS), eliminates 150 route miles on transcontinental shipments and provides automotive manufacturers in the Southern Auto Corridor the shortest, most direct route to points in the Southeast and California.
Major Positive Macroeconomic Factors

The Panama Canal
"Only 21 of the existing global fleet of 370 LNG tankers can currently fit through the Panama Canal." (William P. Doyle, head of the independent federal agency for regulating U.S. international ocean transportation system.)
The largest vessels capable of negotiating the Panama Canal carry 4000 to 4500 Twenty Foot Equivalent Units (TEU) (One TEU is equivalent to a standard 20 foot shipping container). Until the current expansion is completed, larger ships carrying 8000 to 12,000 TEUs are incapable of transiting the canal.
The Panama Canal is now undergoing a major expansion, which will add a third set of locks and result in the deepening and widening of the canal's channel. Those improvements, with an expected completion date of mid-2015, will result in a more rapid transit of the canal, as well as a greater reliance on larger vessels. There are estimates of 7 to 17 percent savings for those employing the larger ships.
As illustrated in the two figures below, favorable cost structures will result in increased shipping to East Coast and Gulf ports.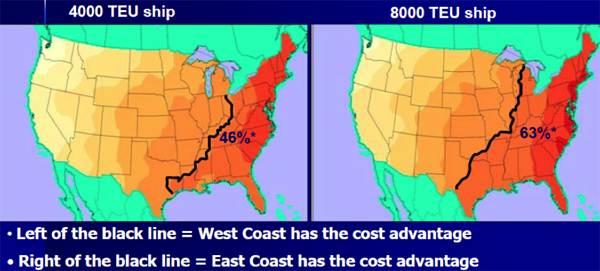 Source: Worley Parsons, Richard West
Source: ACP
U.S. ports on the East Coast are working in a proactive fashion to accommodate the larger ships by deepening ports through dredging programs and constructing facilities needed for expanded operations.
By 2015, Baltimore, Miami, Norfolk and New York will be prepared to service the larger vessels transiting the canal.
Although the shipping shift will result in increased rail traffic from ports on the East and Gulf Coasts, even without the increased canal shipping, container traffic growth on the East Coast has increased substantially. In 2011, for the first time since World War II, the East Coast's container traffic growth surpassed that of the West Coast (5.5% versus 3% respectively).
Several studies indicate as much as 25% of the shipping now bound for West Coast ports will shift to the East Coast upon completion of the current Panama Canal expansion.
Furthermore, port container traffic is projected to double or triple by 2030.
In Florida alone, there are predictions that 150,000 new jobs will be created within the next five years related to import/export growth. Much of that growth will result from the coming canal expansion.
The transit time for large tankers bound to Asia from the East Coast will be reduced from the current 41 days voyage to 25 days, giving a boost to LNG shipments from the U.S. to the Far East.
Manufacturing Shifts To The Southeast
"It's a business climate like you won't find anywhere else," says Doug Woodward, economics professor at the University of South Carolina and incoming president of the North American Regional Science Council.
Over the last four decades, there has been a monumental shift in the location of manufacturing centers in the United States. The Great Lakes region, once the industrial powerhouse of the world, now bows to the Southeast.
Low-cost labor, local governments viewed as business friendly, lower tax burdens, and a social and political environment favoring right-to-work laws combine to lure manufacturing to the states south of the Mason-Dixon line.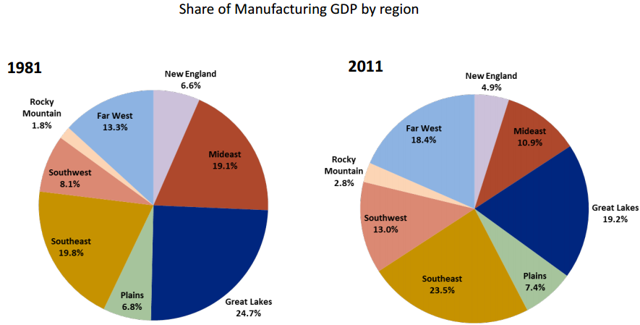 Source: Bureau of Economic Analysis: US Department of Commerce
A recent study by the Michigan-based Automotive Industry Action Group predicts automotive production in the Southern Auto Corridor will increase by as much as 85% over the next three years. As I write these words, every assembly plant in the Southern Auto Corridor is at peak production. Three shifts, seven days a week are the norm, and many factories' output does not meet demand.
Not only are vehicles being produced en masse in the South, companies like Boeing are building 787 Dreamliners in South Carolina while General Electric (NYSE:GE) now manufactures refrigerators and water heaters in its gigantic Appliance Park plant in Louisville, Kentucky. Both are examples of the trend to locate, or relocate, in the Southeast.
The Chinese, seeking to lower shipping costs and ameliorate rising labor costs at home, are moving operations to the Southeast. Lenovo is a prime example. Already employing 2,200 workers in North Carolina, the company announced plans to begin making ThinkPads in the same area, thereby adding another 115 jobs to their workforce.
A recent CNBC survey, developed with input from the National Association of Manufacturers and the Council on Competiveness as well as other business groups, scored the states according to their ability to compete for business. Virginia, Texas, North Carolina and Georgia landed in positions one through four.
Demographic Shift To The Southeast
"If you build it, they will come."
"Build" jobs, build opportunity, build prosperity… and they will come.
Forget this is a misquote from an old movie. In recent years, the Southeast has arguably outpaced the rest of the nation in providing opportunity for employment, and the consequence has been a massive demographic shift.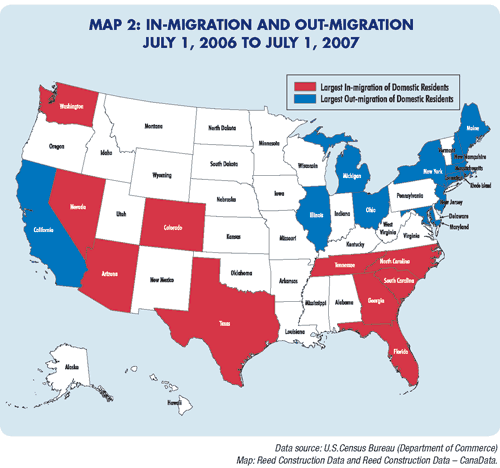 A recent Forbes article entitled The best cities for jobs 2014, listed ten cities with blossoming job prospects. Six of the ten cities are located in the Southeast. The author's article predicts the creation of over 15.5 million jobs within those ten cities in coming years. Over eight million of those jobs will be spawned in Southeastern cities. Another 4 million jobs will be concentrated in New York, a city directly connected to the Southeast by Norfolk Southern's new Crescent Corridor.
A second Forbes article outlined the recent shift of Toyota's (NYSE:TM) U.S. headquarters from California to Texas. According to the article, one motivation for the shift is the large sums of money Toyota employees will save over their lifetime by fleeing the heavy taxation and high cost of living prevalent in California.
A study by the National Center for Policy Analysis claims a 30-year old single resident of California earning $75,000 in annual income will save $14,909 per annum by simply moving to Texas. By investing that sum judiciously, the total difference in savings over a lifetime amount to $1,513,727.
Several states in the Southeast fit the Texas mold in regards to lower costs of living and taxation.
Consider this: Houston is now the fourth-largest city in the United States. Florida's population is poised to surpass that of New York state this year. Many counties in Georgia rank among the nation's 100 fastest growing counties.
Right-to-work Laws Effect On Manufacturing And Demographics
There is every reason to believe the manufacturing shift and, therefore, the demographic shift towards the Southeast will continue, as the advantages that brought industry to the area have not abated. Right-to-work laws in the Southeast are considered a major factor in many companies' decision making processes, and the Southeast is at the core of the right-to-work movement.
According to data from the Bureau of Economic Analysis and the Bureau of Labor Statistics, between 2000 and 2011 the number of residents between the ages of 25-34 increased 11.3% in right-to-work states. Contrast this with non-right-to-work states where the same population increased by only 0.6%.
Big Oil Means Big Jobs
A recent study by HIS Global entitled Oil & Natural Gas Transportation & Storage Infrastructure: Status, Trends, & Economic Benefits provides the following predictions:
A base case scenario projects the investment and economic contribution to the U.S. economy related to the oil boom as $73.8 billion between 2014 and 2025. The lion's share of that economic boost will belong to the Southeast: $41.5 billion.
Along with the $41.5 billion in investment capital will come over 420,000 new jobs.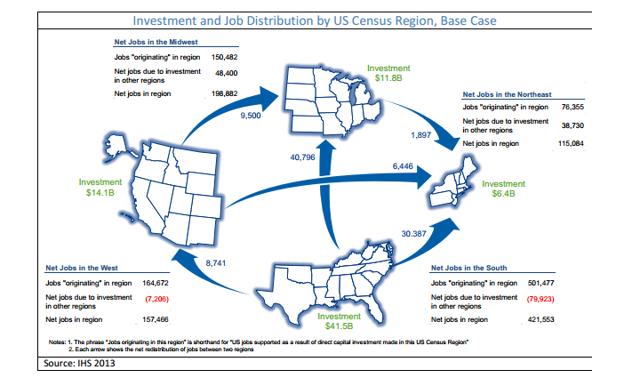 A more sanguine estimate places the investment and economic contribution at $55.3 billion and the jobs originating in the area at 560,000.
Of course, all of this economic activity translates into increased business for the railroad industry.
Water Shortages Will Restrict Growth In Other Regions
I will not belabor this point as I covered it extensively in a previous article: General Electric, Veolia And More: Investments For A Thirsty World.
Suffice it to say, an enormous swath of the country will soon suffer from acute water shortages. The evidence for future water shortages is irrefutable and is not related to the debate surrounding global climate change.
At some point in time, industry and population growth will be adversely affected by this looming problem. Most of the Southeastern states are laced with rivers and enjoy abundant rainfall. Consequently, the Southeastern states should profit from the ill fate of their brethren.
Trade With Canada
The greatest trading partner with the U.S. is Canada. Nearly 17% of all trade traffic from Canada is transported by rail. One quarter of the trade between the two countries, a total equal to all of the trade between Japan and the United States, moves across a single bridge connecting our northern cousins with Detroit.
Trade with Canada is booming and increases with every passing year. Just as the population of the U.S. is heaviest on the Atlantic coast, so is Canada's. Train traffic is generally commensurate with population.
Headwinds Facing Norfolk Southern
I have yet to research a stock that faces no headwinds, and Norfolk Southern is not an exception to this rule. As anyone who follows the stock is aware, Norfolk Southern's first quarter profit fell 18% as severe winter weather and declining coal shipments affected the company's revenues and expenses.
A comparison of the first quarter's results to those of last year indicate the company suffered an 18% drop in revenues resulting in an EPS of $1.17 per share versus $1.41 per share last year.
Falling demand for coal resulted in a 15% drop in coal shipment revenue. Norfolk Southern's coal franchise includes 100 coal-burning power plants and constitutes the company's largest commodity as measured by revenue.
Demand for coal will be adversely affected by continuing closures of coal-fired utility plants. It is estimated that by 2020, 60 gigawatts, or approximately 20% of utility output through coal-operated plants, will be retired.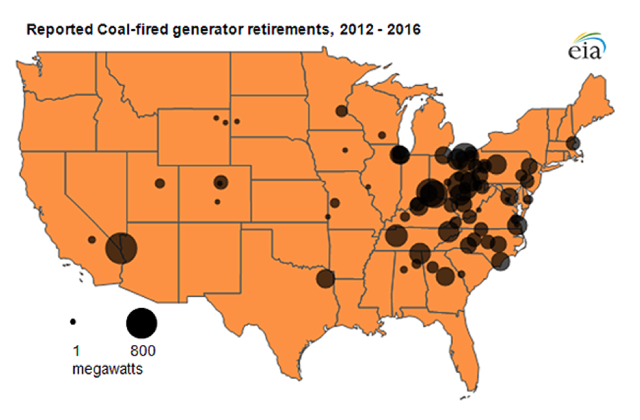 Source: Energy Information Administration
A recent Supreme Court ruling affirmed the Environmental Protection Agency's authority to regulate coal-burning power plant operations. This extends to "good-neighbor rules" that allow the agency to regulate emissions that cross state borders.
The positive side of the recent severe winter is a resultant drop in utilities' coal stocks. Following consecutive relatively warm winters, coal stocks stood at historically high levels. Furthermore, natural gas prices, previously at historic lows, caused utilities to switch away from coal consumption. Consequently, current coal stockpiles are at the lowest level since 2006.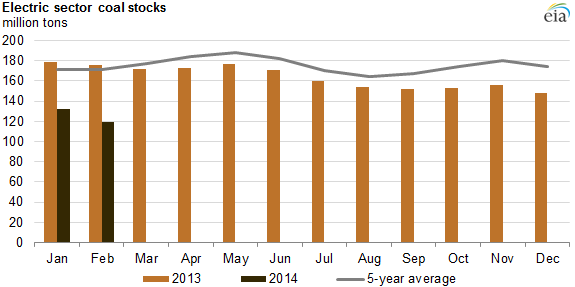 Source: EIA
The U.S. Energy Information Administration (EIA) projects coal production will increase 4.1% in 2014, followed by a 1% reduction in production in 2015. However, coal production in Appalachia, the area most served by Norfolk Southern, is projected to decline by 2.7%.
Consumption of coal is expected to increase at a rate of 4.2% due to increases in natural gas prices and increased demand for electricity. However, as government regulations take hold, coal consumption should decline in 2015 by 2.4%.
According to the EIA, coal exports, seen by many as the savior of companies tied to coal production, will remain at current levels throughout 2014; however, exports are expected to decline by approximately 5% in 2015, due to economic weakness in Europe, slowing demand in Asia and increased competition from coal producers abroad.
Carbon capture and sequestration technologies may hold promise for coal in the future, but it is unlikely to change the immediate impact on coal utilization by utilities.
Railroad's Ace In The Hole
"LNG technology has the potential to offer one of the most significant developments in railroading since the transition from steam to diesel in the 1950s," said Oscar Munoz, executive vice president and chief operating officer, CSX Corporation.
Low priced liquefied natural gas (LNG) could reduce railroad's fuel costs by as much as 50% in coming years. In 2013, fuel costs for Norfolk Southern exceeded $1.6 billion.
Regulations regarding the prospective changes related to LNG use are in their infancy; however, the technology for an epic shift in the railroad industry is nearing fruition.
While the transformation to LNG locomotives will result in significant Capex and will probably be phased in over a decade, the resulting savings will undoubtedly increase profits for investors.
A Brief Look At CSX
CSX Corporation (NYSE:CSX) is Norfolk Southern's primary competition. While CSX Corporation's tracks cover much of the east, its system is not directly connected to and will not benefit as greatly from the oil boom affecting Texas. Additionally, Norfolk Southern has greater exposure to the automotive industry (NSC has the largest share of the auto trade in the nation) and provides connections between the Southern Auto Corridor and the Southeast and West Coast.
CSX suffers from the same reliance on coal as a major provider of revenues.
CSX has the advantage of being the only Class I railroad serving Florida.
In Summation:
If an investor seeks safety in an investment with a guarantee of future growth, it is difficult to argue against holding a stake in railroads.
As befits members of an oligopoly, the Class I railroads boast similar metrics. However, Norfolk Southern, more than any other railroad, is poised to profit from the expansion of the Panama Canal, the movement of industry into the Southeast, the surge in the oil industry and the positive demographic changes occurring in the Southern states.
At some point, not long in the future, I intend to invest in Norfolk Southern...and hang on for the ride.
Disclosure: I have no positions in any stocks mentioned, and no plans to initiate any positions within the next 72 hours. I wrote this article myself, and it expresses my own opinions. I am not receiving compensation for it (other than from Seeking Alpha). I have no business relationship with any company whose stock is mentioned in this article.