Kinder Morgan (Kinder Morgan Inc. (NYSE:KMI) and Kinder Morgan Energy Partners (NYSE:KMP), Kinder Morgan Management (NYSE:KMR)) clearly has enough problems on its plate. Its unit/share price remains depressed, likely due to repeated short attacks from Hedgeye and Barron's and concerns over growth related to IDRs. However, another issue has emerged.
With the Keystone XL pipeline now delayed until after the November elections, the ire of environmentalists has now turned over to the proposed expansion on Kinder Morgan's Trans Mountain pipeline.
MSNBC's report on the Trans Mountain Pipeline is full of inaccuracies
On May 2, MSNBC's The Rachel Maddow Show ("TRMS") opened its program with what I can only describe as a hit piece on Kinder Morgan. Lasting nearly 30 minutes, the segment went on to display several pipeline oil spills, including the 2007 spill in Burnaby, a city in British Columbia, Canada, the Kalamazoo River oil spill in Michigan, and an "oil mist" incident in Prudhoe Bay, Alaska.
However, of the three oil spills mentioned, only one (Burnaby) was on Kinder Morgan's Trans Mountain pipeline. The other two occurred on different pipelines owned and operated by different companies. The Kalamazoo oil spill was on a pipeline owned by Enbridge (NYSE:ENB) and its MLP Enbridge Energy Partners (NYSE:EEP); while the Prudhoe Bay "oil mist" incident involved a BP (NYSE:BP) pipeline.
As noted above, the Burnaby spill was an accident, caused by the puncturing of the pressurized pipeline by a city contractor who was doing sewer work with a backhoe.
In addition, the segment took issue with the recent trend of carrying oil by rail. They noted that since 2008, crude by rail had increased 40 fold, from 9,500 to 415,000 railcars per year. Furthermore, the segment highlighted several incidents of oil train derailments and the resulting explosions.
What the segment failed to see is that transporting oil by pipeline is much safer than transporting by rail. While the vast majority of oil is transported by pipeline, major incidents have been few and far between.
On the other hand, transporting oil by rail is done out of necessity. Few producers would chose the option willingly if pipeline capacity were available. Not only are the costs much higher, but explosions resulting from derailments in populated areas are devastating, yet almost unavoidable. The current rail stock and tankers are mostly obsolete and are frankly not up to par to be carrying the heavy crude coming out of Canada and the Bakken. However, this fact did not stop the administration in delaying the vital Keystone XL pipeline.
Kinder Morgan's pipelines have a stellar safety record
Luckily for Kinder Morgan, its pipeline's are actually well above average in terms of safety. In terms of both incidents per 1,000 miles and liquids pipeline release rate, the company has been below the national average every year since 2006.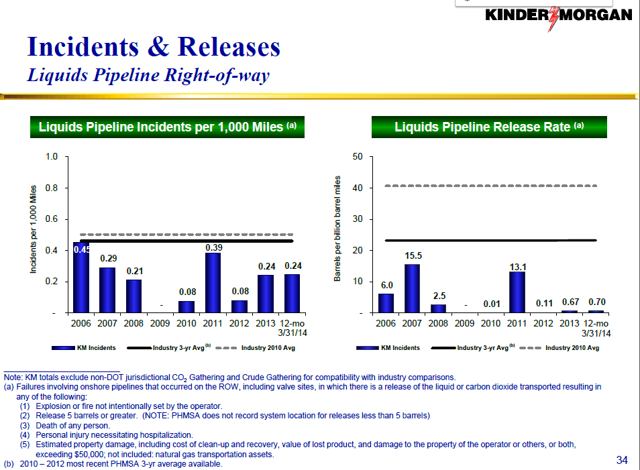 Furthermore, the Trans Mountain pipeline has recorded relatively few spills since the 1980's, with the majority (69%) occurring at pump stations and terminals. Besides the major spill in Burnaby, only two spills have exceeded 1,000 BBLs in 28 years.
Conclusion
Kinder Morgan needs to avoid having its major growth project becoming the next Keystone. Environmentalists, fresh off their victory, are antsy for a new target.
Fortunately, Kinder Morgan does have the science backing it up. Furthermore, with the building of the pipeline taking place entirely in Canada, the polarized political atmosphere in the US should not bleed into the approval process.
Disclaimer: The opinions in this article are for informational purposes only and should not be construed as a recommendation to buy or sell the stocks mentioned. Please do your own due diligence before making any investment decision.
Disclosure: I am long KMI. I wrote this article myself, and it expresses my own opinions. I am not receiving compensation for it (other than from Seeking Alpha). I have no business relationship with any company whose stock is mentioned in this article.