The table image uses color coding to help visualize which key ETF categories are in the strongest and weakest price patterns as indicated by the stacking of the price and various moving averages to each other.
An ideal stacking would be for the price to be above the 20-day average, which would be above the 50-day average, which would be above the 100-day average, which would be above the 200-day average. The worst case would have the opposite stacking.
There is certainly more to consider about price patterns than moving averages, and fundamental and macro-economic issues are necessary too when making decisions, but moving averages are one important dimension. The table below (as of 08/04/2010) allows side-by-comparison of moving averages for a a few dozen non-overlapping funds in several distinct asset categories.
In this image, the greener and darker the cells, the more favorable. The more red and darker red cells are the less favorable.
Click the image to view full size (857 pix by 1260 pix)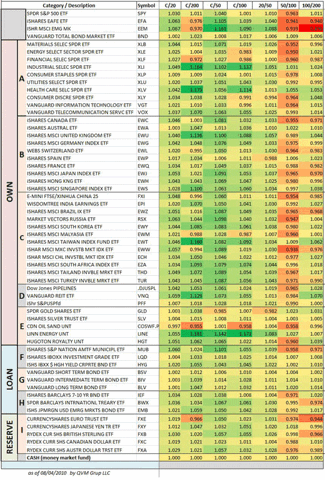 The top four securities are for the largest categories: US stocks (NYSEARCA:SPY), non-US developed market stocks (NYSEARCA:EFA), emerging market stocks (NYSEARCA:VWO) and US aggregate bonds (NYSEARCA:BND).
The "A" through "I" groupings are for:
A: Domestic Stock Sectors
B: Non-US Developed Mkt Countries
C: Emerging Mkt Countries
D: Special Stocks for Income
E: Commodities
F: Domestic Bonds - Credit
G: Domestic Bonds - Duration
H: Sovereign Bonds
I: Currencies
All of the funds are in pretty good shape with respect to their 20-day average, and all but a few are above their 200-day average (unlike a few weeks ago). EAFE stocks, emerging market stocks, and S&P 500 financials are 2% to 3% below their 200-day averages. The 100-day average for the emerging markets is below its 200-day average by the widest amount of those that are below.
The color and color deepness can guide you through the rest.
We use this sort of chart for moving averages and several other price pattern dimensions on these securities and other securities as a way to take a quick wide angle view of the markets, before looking more intensely at target categories or securities.
ETFs Cited: SPY, EFA, VWO, BND.
Disclosure: As of August 5, 2010 wt own some of the 58 securities listed in the table, but not most -- more of the LOAN category and less of the OWN category (as grouped in the table).
Disclaimer: Opinions expressed in this material and our disclosed positions are as of August 5, 2010. Our opinions and positions may change as subsequent conditions vary. We are a fee-only investment advisor, and are compensated only by our clients. We do not sell securities, and do not receive any form of revenue or incentive from any source other than directly from clients. We are not affiliated with any securities dealer, any fund, any fund sponsor or any company issuer of any security. All of our published material is for informational purposes only, and is not personal investment advice to any specific person for any particular purpose. We utilize information sources that we believe to be reliable, but do not warrant the accuracy of those sources or our analysis. Past performance is no guarantee of future performance, and there is no guarantee that any forecast will come to pass. Do not rely solely on this material when making an investment decision. Other factors may be important too. Investment involves risks of loss of capital. Consider seeking professional advice before implementing your portfolio ideas.