Perfect World To Benefit From China's Gaming Growth
Perfect World Co., Ltd. (NASDAQ:PWRD) is an online video game developer based in China that uses proprietary game engines and game development platforms in order to provide a multitude of games across multiple devices. Perfect World specializes in desktop-based MMO (Massively Multiplayer Online) games. In this article I will discuss how China's video gaming growth, especially on the desktop computer, will benefit Perfect World.
Chinese Video Gaming Growing Rapidly
According to China's GPC, an industry group for game publishers, the video game industry in the People's Republic of China is now worth 83.17 billion RMB. This equates to $13 billion which represents a 40% increase over the last twelve months. Let me put these numbers into perspective for you by comparing this to the video game market in the United States. The United States reached $20.5 billion in 2013. In just two to three years, at China's current video game growth rate, China will be a larger video game market than the United States. Retail video game sales in the US actually decreased roughly 10% in the year 2013 compared to 2012. Digital revenue growth was up 10%, not nearly as high as China's absurd overall increase of 40%.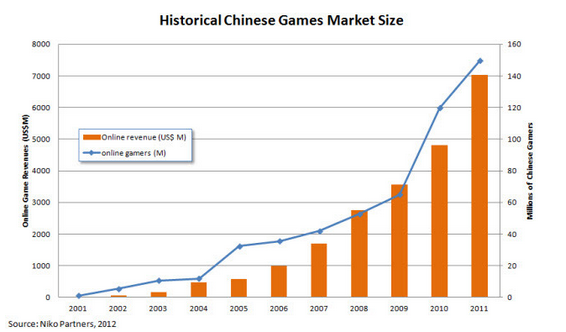 The PC Reigns Supreme
Think all that growth in China is caused by mobile or tablet gaming? Think again. Unlike the United States where PC gaming is shrinking, 64.5% or about $8.7 billion of the video gaming revenue in China in 2013, was generated through client-based PC games. Mobile gaming didn't even come in second place. Second place with $2 billion was browser-based video games. Finally, mobile games came in a lowly third place with $1.8 billion. Social games earned less than a billion US dollars. Since most browser games cannot be played on mobile devices in China, browser-based games can be lumped in with PC games bringing it to roughly 80% of the market share! Tencent Holdings Ltd. (OTCPK:OTCPK:TCEHY), China's largest internet company, has begun to turn to mobile devices for revenue. I believe this is a mistake as China is not like the United States where the PC is on the decline. In fact, the PC is surging. Tencent's WeChat app, which the company heavily invested in to obtain millions of users, has yet to turn a profit.
Domestic Game Companies Taking the Lead
Prior to 2013, domestic video game companies based in China actually had a lower portion of the market share in their own country than foreign companies such as Electronic Arts. In 2013, with a 30% year over year growth rate, domestic game companies took the lead with $7.8 billion in revenue. So what are some of these companies? You'd be hard pressed to find too many listed on the US exchanges, especially now that many are going private. Chinese video game companies are seeing that they are better off on their own than languishing unappreciated and undervalued on the US exchanges. Both Shanda Games (NASDAQ:GAME) and Giant Interactive (NYSE:GA) are both going private. This leaves us with NetEase (NASDAQ:NTES), Changyou (NASDAQ:CYOU), Tencent Holdings Ltd., The9 Limited (NASDAQ:NCTY), and my favorite, Perfect World.
Fundamentals are Strong
Perfect World is a an example of a solid Chinese stock. Perfect World did not list on the Nasdaq through a shady reverse merger like many other Chinese stocks. Credit Suisse and Morgan Stanley were joint bookrunners for the IPO. You may have heard of them. Perfect World currently has a market cap of $918 million and did $504 million in revenue in 2013 alone. Net income for 2013 was around $90 million, giving Perfect World a solid PE ratio of around 10. The balance sheet is incredibly strong, total assets were over a billion while total liabilities were only 300 million in 2013. Growth is strong as well, revenues were up 10% in 2013. Profits were down compared to 2012 but that was expected in the guidance as the company is ramping up development on new games and marketing hard. They also put out several new releases in 2013 and have more new releases planned for 2014.
Valve Exclusively Partners with Perfect World to bring Dota 2 to China
Dota 2 is a very popular game developed by Valve, the creators of Steam and the Half Life series. Dota 2 had 7,126,569 unique players in January 2014, up 600,000 players month over month, now that's growth! Perfect World is currently in the "initial stage of commercialization" regarding Dota 2 in China and thanks to the soft launch of Dota 2 in mainland China, the aggregate total of PC players in mainland China rose to 803,000, up from 778,000 in the previous quarter and 620,000 in the same quarter in FY2012. Considering the high regard Valve has in the gaming industry, the fact that Valve, a company that sold 32.8 million game copies by the year 2008, chose Perfect World to distribute their game in China shows just how competent Perfect World is as a company.
Perfect World Buys Stakes in Developers in the United States and China
Many people don't realize just how big Perfect World has become. Perfect World is currently the 100% owner of Cryptic Studios, a United States based developer. Perfect World acquired the company in 2011 from Atari for €35.0 million in cash. Cryptic Studios is known for many large and popular games in the United States and abroad, such as Star Trek Online, Neverwinter, and Champions Online. Perfect World also recently took a very large stake in Shanda Games, which I mentioned earlier as another game developer in China. Perfect World purchased $100 million worth of Shanda Games giving it around seven percent of the company. Shanda Games is in the process of going private, and Perfect World is making the wise choice of expanding its gaming reach by purchasing a large stake in the company.
Perfect World in a Perfect Position
With developers in the United States making games for the company and Valve at its side, Perfect World stands out amongst the Chinese gaming companies with its market cap of less than a billion dollars. Perfect World is extremely well diversified, and just recently released its first mobile game: Elemental Kingdoms, an online card game. Online card games are hot right now if Blizzard Entertainment's Hearthstone is any indicator. While I personally think the PC market is where Perfect World should be focused since it has higher margins and a larger share of the growing market, I am comforted by the fact Perfect World has the ability to evolve and enter so many different markets while remaining profitable and not taking on large debt loads. Oh, and did I mention the company pays a dividend? At the current price of 18.60, the dividend yield is currently 2.5%. Perfect World currently has a $28 price target by analyst Cheng Cheng from Pacific Crest, a price more than 50% higher than the current trading price.
Disclosure: I am long PWRD. I wrote this article myself, and it expresses my own opinions. I am not receiving compensation for it (other than from Seeking Alpha). I have no business relationship with any company whose stock is mentioned in this article.