Massive Restructuring to Bring Focus
It's hard to bring high growth to the top and bottom lines of a pharmaceutical giant like GlaxoSmithKline (NYSE:GSK). This is the downside that investors have to bear if they want to reduce the volatility in their portfolio from taking exposure in a stable company with strong cash flows and dividend stream.
GSK has a strong portfolio of successful brands and a huge presence in both the developed and emerging markets that are deriving strong cash flow for GSK. For many years, GSK has worked on bringing growth to its company by diversifying both geographically and also by rebalancing and strengthening its mix of pharmaceutical, vaccines and consumer products. In pursuit of implementing this strategy, GSK has made a series of acquisitions and divestitures in the past years. GSK is working a great deal on building its vaccines and consumer businesses because it wants to strengthen its competitive position and leadership.
A recent series of transactions between GSK and Novartis (NYSE:NVS) is part of GSK's strategy of rebalancing its business mix. In one of the transactions, GSK has acquired Novartis' vaccines business for $5.25 billion, plus a contingent $1.8 billion. GSK will pay a 10% royalty on the sale of some vaccine products. Novartis is experiencing losses from its vaccine business due to tough competition. GSK's vaccine business is profitable, and with this new acquired business, GSK is likely to further strengthen its vaccine business.
GSK is selling its oncology R&D business to Novartis for $14.5 billion and a contingent $1.5 billion. Under this contract, GSK will give away some approved drugs and some drugs that are still in the development stage to Novartis. GSK sold its oncology business because it wants to focus on other businesses that better fit its long-term strategic plan. The oncology business was performing well, but GSK did not see high growth in its oncology product portfolio. This seems to be a good move that will remove redundant resources and allow the company to invest in other core areas that GSK wants to focus on, such as vaccines, HIV, respiratory care and consumer health.
In another deal, GSK and Novartis are forming a joint venture by merging their consumer OTC segments. GSK has a larger stake of 65.5% in the joint venture. Under this contract, Novartis will have a choice to leave the venture in three years. This joint business is expected to give scale benefits to GSK, and it is likely to strengthen its competitiveness.
Continued Focus on Emerging Markets for Growth
GSK is focusing on the emerging markets, where it sees great potential. The US and Europe make up 60% of GSK's sales base. However, the emerging markets are particularly important, and it is in those markets that continued growth in sales is expected to come from for many years. GSK's focus on the emerging markets is particularly important, since GSK foresees a challenging environment in Europe in the coming years. Despite some slowdown, the emerging markets are expected to deliver long-term sustained growth to GSK. The following is the geographical distribution of GSK's worldwide business, along with the performance of these geographical segments in the first nine months of 2013.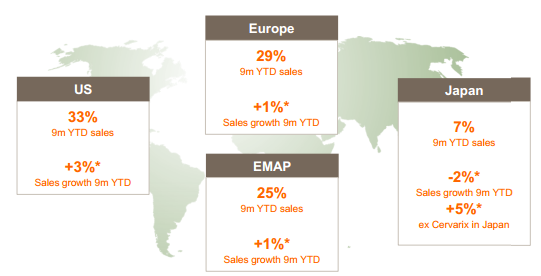 Recent Series of Probes
There have been a string of allegations that GSK is bribing doctors and government officials to promote its drugs. Although these allegations don't affect the core R&D capabilities or its operational infrastructure, they are becoming more frequent, and this can lead to reputational damages. In July of last year, Chinese regulators alleged that GSK paid $489 million between 2007 and 2010 to doctors and government officials in order to promote its drugs. There has been recent news of similar allegations that GSK is using unfair means to promote prescription of its drugs in Iraq, Poland, Jordan and Lebanon. GSK is already complaining of a drop in sales in China. In the past few weeks, there was volatility in the share price due to these allegations. GSK should try to solve this issue, as it is taking toll on the company with the passage of time and it can hurt the company's reputation, leading to material litigation risks if the matter gets seriously out of hand.
Dividend-Seeking Investors Love GSK
GlaxoSmithKline is one of the companies that rewards its investors with generous dividends and share buybacks. In the past five years, GSK returned $32 billion to shareholders. In 2013, GSK paid its shareholders about $8.4 billion, around $6 billion in the form of dividends and $2.4 billion in the form of share buybacks. In 2013, dividend per share was $2.47, with a trailing dividend yield of around 4.8%. GSK has increased its dividend in almost every year in the last decade. The stock is presently producing a trailing divided yield of 4.7%, and has a history of consistently raising its dividend each year.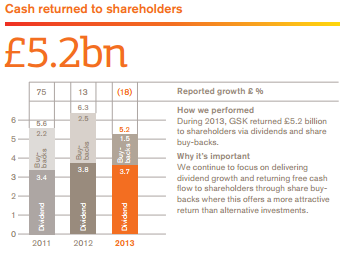 Conclusion
GSK is a stable company that has a history of paying growing dividends. Its current trailing dividend yield is attractive for investors that like cash flows coming in from their stocks. Its massive restructuring plan is expected to be benefit beneficial, since it will allow the company to build upon its strengths. GSK should resolve the matter of bribery allegations before risk of reputational damage escalates further, leading to the risk of material litigation. Long-term investors who desire a stable dividend stream should consider taking a position in GSK when the price dips.
Disclosure: I have no positions in any stocks mentioned, and no plans to initiate any positions within the next 72 hours. I wrote this article myself, and it expresses my own opinions. I am not receiving compensation for it (other than from Seeking Alpha). I have no business relationship with any company whose stock is mentioned in this article.