Whole Foods (NASDAQ:WFM) is a US-based healthy grocery store that's headquartered in Austin, TX. It has nearly 400 locations with nearly 60,000 employees and its gunning for a goal of 1,200 locations. The company's stock symbol changed from WFMI to WFM in May of 2011 and its stock split 2:1 in May of last year.
The recent trend of healthy food continues, as studies show that fresh foods are still carrying momentum over prepackaged goods at grocery stores. Whole Foods has been the king in this sector for some time now. With increased competition and markets beginning to get saturated, the microscope continues to zoom in on Whole Food's results, quarter by quarter.
Whole Foods has traded relatively poorly since November of last year. It's bounced around in the interim, but in the long-term has seen its price drop roughly 12% since then.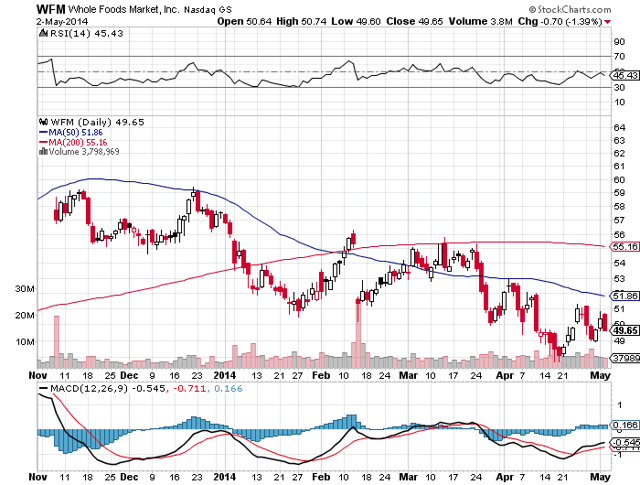 The technicals also appear to be bearish for the health food store. Whole Foods appears to be caught up in a significant downtrend that has accompanied the stock alongside uncertainty about the company's prospects for growth. The 50 DMA crossed the 200 DMA in early February - a bearish flag - and the stock has yet to show any bullishness in the last six months. Support appears to be around $48 and next resistance appears to be at $51.
Longs are wondering if earnings could catalyze a break of this trend and perhaps return confidence to Whole Foods.
Whole Foods is set to report earnings after market close tomorrow, Tuesday May 6th.
Analysts are expecting $0.41/share in earnings on revenues of $3.34 billion, compared to $0.38/share on revenues of $3.03 billion that the company posted this quarter last year.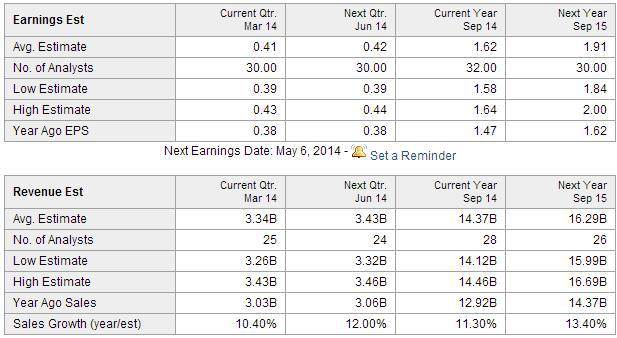 The other main metrics that are going to be opined over is same store sales and quarterly revenue comparisons. Analysts are looking for comparable same store sales of 5.2%. A beat in this metric, especially a large one, could do well to once again infuse confidence behind Whole Foods stock.
The bearish side of Whole Foods wants to take the argument that competition is ramping up in major cities - and, thus, Whole Foods should not be trading at its aggressive price, which gives it a market cap of $18.47 billion. The company currently has a forward P/E of 31.
Moving into earnings, Credit Suisse and BB&T both urged caution on their outlook of the company's stock. Credit Suisse maintained neutral on the stock and BB&T made notes about the company cutting prices in Boston, presumably to keep up with other boutique style health food store saturation in the area.
The information offered during this earnings call is going to do well to show us whether or not Whole Foods deserves its lofty multiple.
With increased competition in the field, analysts and shareholders alike are showing their nerves about Whole Foods. Additionally, with the already existing food store chains taking on a renewed focus on organic and fresh food, Whole Foods is getting competition from entities that it normally wouldn't be getting it from. It's starting to turn into a case of the whole world versus Whole Foods, it would seem.
Trading with a forward P/E of over 30, the market expects serious growth from this company. If Whole Foods fails to show that they're still aggressively growing, I could see a move as much as 10% or more to the downside on lackluster results.
I'm neutral on Whole Foods and will be watching this one from the sidelines. I urge investors to use caution trading Whole Foods and if you're long, perhaps write calls ahead of the report.
Best of luck to all investors.
Disclosure: I have no positions in any stocks mentioned, and no plans to initiate any positions within the next 72 hours. I wrote this article myself, and it expresses my own opinions. I am not receiving compensation for it (other than from Seeking Alpha). I have no business relationship with any company whose stock is mentioned in this article.