The Blackstone Group (NYSE:BX) was left out of the party in a deal to buy out a Texas utility in 2007. This ironically turned out to be fortuitous for the company, resulting in high profitability in 2014.
Backstory: BX, KKR, TPG
There was a time in the previous decade when energy prices were sky-high and easy credit was resulting in massive leveraged buyout deals. Blackstone, a diversified private-equity firm, specializing in deals of this nature, completed a highly successful deal in 2004, along with several other firms in purchasing Texas Genco LLC, that netted a $4.9 billion profit.
Two of those firms, KKR & Company (NYSE:KKR) and TPG Capital, joined up with several other firms in a massive leveraged buyout of Dallas-based utility TXU Corporation, now known as Energy Future Holdings Corporation. Imagine the shock and dismay when David Foley, the head of Blackstone's energy buyout business, found out that they had been left out of the deal with business partners that had been so successful with previously. Foley and Blackstone's CEO and co-founder Stephen Schwarzman initially set up a rival group to make a competing bid for TXU against them, but ultimately, due diligence revealed the investment might not be a good one, and the rival bid never materialized.
Blackstone's Rebound: Two Key Points of Profit
As it turns out, the deal turned into a colossal loser, and the $8 billion investment made by the group led by KKR and TPG is almost completely worthless. Energy Future is heading into bankruptcy, and KKR in 2012 was forced to write down its investment and recognize a 95% loss.
The story also includes several ironic twists for Blackstone. Back in 2008, Blackstone acquired GSO Capital Partners, a major player in the leveraged buyout space. When Energy Futures began to suffer as a result of plunging natural gas prices, Blackstone's GSO group began to snatch up their debt at deep discounts and has since realized a profit of over $100 million by selling the debt on the open market.
In addition to that, Blackstone is now set to profit from the bankruptcy reorganization plan involving Energy Future in two ways. First, Blackstone's GSO will receive a stake in their regulated energy business as a result of being "super priority" bondholders. Second, Blackstone bankers in the firm's advisory unit will be the lead counsel in the bankruptcy proceedings for the same private-equity owners of Energy Future that left them out of the original deal.
Impressive Results, Solid Fundamentals
BX has been increasingly outperforming KKR in 2014.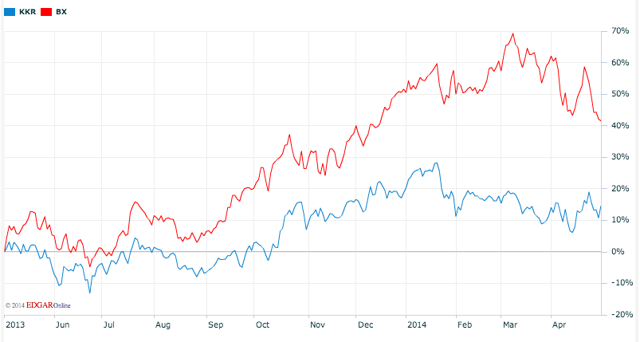 (Nasdaq.com)
BX has consistently beat earnings-per-share and revenues estimates for three out of the past four quarters, including recently on April 17, and maintains a very reasonable P/E ratio of 14.86.
In addition, BX has rewarded shareholders with increasing dividends (see below).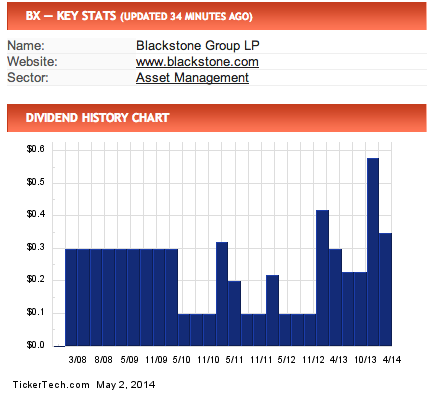 (http://dividendchannel.com/history/?symbol=bx)
Blackstone Should Be Considered BY Investors in 2014
By trusting their due diligence in backing out of a competing bid for TXU, Blackstone rewarded shareholders in the long run.
The company has posted solid results and boasts strong fundamentals in the past year and thus far in 2014.
We strongly recommend investors consider buying BX.
We invite readers wishing to join the discussion about The Blackstone Group and other major private equity firms to click the +FOLLOW button above the title of this article.
Disclosure: I have no positions in any stocks mentioned, and no plans to initiate any positions within the next 72 hours. I wrote this article myself, and it expresses my own opinions. I am not receiving compensation for it (other than from Seeking Alpha). I have no business relationship with any company whose stock is mentioned in this article.