If you entered BlackBerry (BBRY) around its $7 lows post-earnings, chances are you're happy with the price action over the last few weeks. The earnings call, I thought, showed progress on BlackBerry's end. John Chen appears to be stopping the bleeding at his company, and the next obvious step is going to be to build out slowly from the BlackBerry shell that remains as a product of Chen's cuts.
The lowered stock price did nothing to dissuade me from my position in the company; it simply presented the stock as even more of a value than I thought it once was.
For me, it was about averaging down a position that I started taking on before earnings; but I've finally seen green in my BlackBerry trade of late. Additionally, I remain happy with my long sentiment in the company moving forward from here.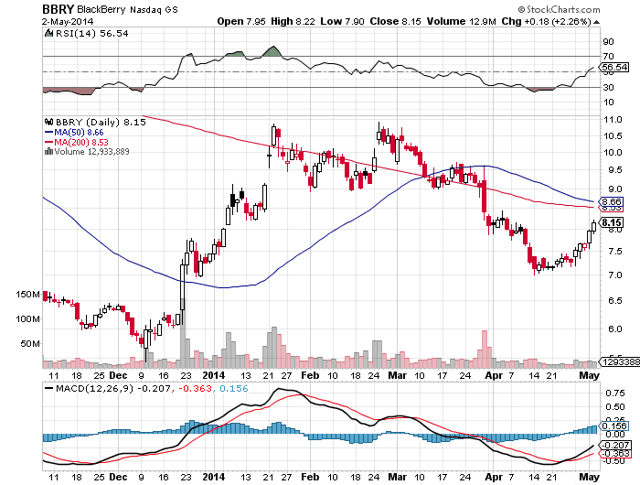 The technicals show a stock that is getting ready to test what is likely going to be resistance at both its 200DMA and its 50DMA. Continued trading like we saw last week, however, could prevent the 50DMA from crossing through the 200DMA on its way under it; a noted bearish flag for technical/chart investors.
The pocket of quiet that we've had since earnings - no real news since April 15th's announcement of BlackBerry considering dabbling in the healthcare field - tells me that work is getting done behind the scenes. For anyone that has worked in a C-level position in a public company, you know there need to be substantially less days writing press releases and positioning disclosures than there actually has to be getting work done. I'll bet John Chen and company have been busy behind the scenes these last couple of weeks, and I look forward to whatever it is they're working on.
I continue to contend that BlackBerry is likely going to once again be a $10 (and above) stock, pending the macro markets holding up.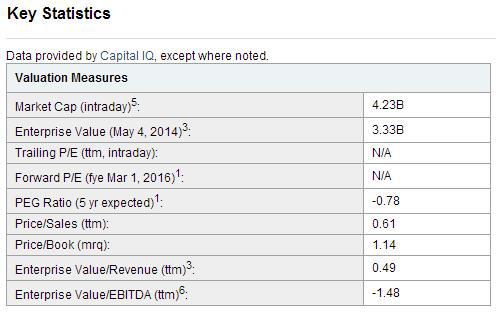 The company continues to have attractive fundamentals. It's price to book value continues to be attractive at 1.14 and the company, which sports a $4.23 billion market cap, has more than half of that in cash. The company has $4.87 cash per share and a book value of $6.99 per share.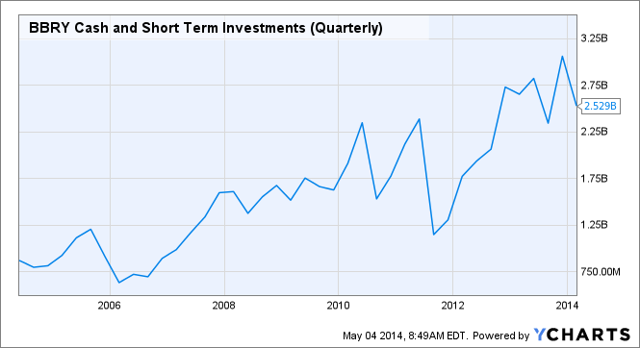 BBRY Cash and Short Term Investments (Quarterly) data by YCharts
BlackBerry's current price tells you one thing: the market doesn't have confidence in this company. But, if you've followed John Chen's history, and you do have confidence in him and the company, BlackBerry could still pose itself as having massive potential for the long side.
BBM, one of BlackBerry's main assets, is currently being valued (on the high end) at almost half of the market cap of the company. Aside from BBM, BlackBerry's QNX and BlackBerry server all continue to be assets - alongside BlackBerry's patent portfolio, and it's waning handset business.
For BlackBerry, one of the main questions I'd be thinking of is "how can we best monetize BBM, and then when can we sell it when we're going to get a saturated value for it?" The last thing BlackBerry wants is for BBM to even offer up a suggestion of slowing growth or regression while it belongs to them. Finding the apex in the BBM bell curve is going to be critical.
As for handsets - the interesting thing is that the choice of BlackBerry isn't really being made by the rank and file employees - it's being made by whomever sits at the top of the IT department for all of these companies. If the tech-savvy people working in IT realize the benefits of the phone's security, the underlying workers are going to have to use the phone, no matter what they think of it. If BlackBerry can produce a nice looking, but functionally secure phone, there could be a chance to introduce the phone to people via this medium, as well.
Handsets are going to be the wild card here. My dear friend, who works for the government, assures me that his division is considering other options - such as Android and Apple - but so far, hasn't moved on from BlackBerry.
If I was John Chen, I'd make sure that I'm reaching out to these people with whatever it is that they're going to need to continue to make BlackBerry look like an appealing choice for their particular agencies.
As was pointed out by Kraig Smith in an article over at Forbes:
The government is a big user of the Blackberry network because of its emphasis on security. In my research, I found an article discussing how the President of the United States currently uses Blackberry, but the secret service is trying to identify if there is another equally-secure device that he could use. I believe this was in a recent issue of Government Technology. In addition, many companies restrict company phone issuance to Blackberry as well. Lastly, you have the group of people who have merely become familiar with the Blackberry interface and have no desire to change.
But again, BlackBerry isn't trying to go forward being "the phone company." Chen's job is to stop the bleeding, cut the fat, and leverage the company's assets to return it to growth - even slow growth. Once the market sees that BlackBerry can just stop losing money (it won't even have to go profitable), the market is going to give this stock a new, massive, vote of confidence - and Chen's hard part will be over.
Yes, there is risk here, but I believe that risk to be mitigated by the extremely strong foundation of cash this company has, coupled with the track record and common sense of its current CEO.
I continue to contend that BlackBerry is going to be a massive turnaround success, and I remain long the company accordingly, through calls. I fully expect BlackBerry to approach, and then pass, $10 before 2014 ends.
Best of luck to all investors.
Disclosure: I am long BBRY. I wrote this article myself, and it expresses my own opinions. I am not receiving compensation for it (other than from Seeking Alpha). I have no business relationship with any company whose stock is mentioned in this article.