Prothena Corporation (NASDAQ:PRTA) is an early-stage, biotechnology company developing targeted antibody-based therapies for patients with AL amyloidosis, Parkinson's disease, and inflammatory / oncology conditions. Prothena's business is derived from Elan Pharmaceuticals (developers of now Biogen's successful Tysabri), and consists of a substantial portion of Elan's former drug discovery business platform, as well as its management team. PRTA's shares began trading on the NASDAQ on December 21, 2012 at $8/share. Since then, the shares have risen to as high as $49/share on the initial release of positive Phase 1 data for lead candidate NEOD001 in patients with amyloidosis in mid-March. Recently, the shares have fallen dramatically to approximately $21/share on the release of additional, patient level data of the Phase 1 trial. In summary and detailed below, the company's Phase 1 data for lead drug candidate NEOD001 demonstrates a promising and meaningful therapeutic effect, and that the recent sell-off is the result of investors overanalyzing the data. In addition, the shares are also suffering from the broader sell-off of development stage biotech companies, and I believe the short-term weakness creates a buying opportunity for long-term investors looking for a promising early-stage company.
Amyloidosis - Primary or AL amyloidosis and AA amyloidosis are rare and fatal diseases with an unknown cause. Patients with amyloidosis suffer from the build-up of amyloid proteins in their organs, commonly the heart, kidneys, liver, spleen, etc. Treatment currently involves chemotherapy, targeted plasma-cell based therapy, and occasionally stem cell transplantation, which all address the source, temporarily, the production of amyloid protein from the bone marrow. However, these treatments do not address the formation of amyloid fibrils in the bloodstream, deposition into vital organs, and the resulting organ dysfunction. It is estimated that approximately 15,000 people in the US and Europe suffer from AL amyloidosis and that approximately 8,000 suffer from AA amyloidosis. The incidence of the disease in the US is estimated at 1,200 to 3,200, and median survival is approximately 3-4 years, depending on the involvement of certain organs. For patients with cardiac involvement, survival is generally lower, and ultimately, it is often a cardiac-related event that causes death for the majority of patients.
NEOD001 - NEOD001 is a monoclonal antibody targeting a specific component of the misfolded amyloid deposits (both AA and AL), leading to the removal of amyloid from affected organs. Through this novel mechanism of action targeting the aggregated amyloid fibrils in the bloodstream and the organ, NEOD001 has the potential to reverse or stabilize the course of disease, currently fulfilling a major unmet need. Furthermore, through the novel mechanism of action, NEOD001 may be used in conjunction with the plasma cell directed therapies currently used, as opposed to competing with them for market share. PRTA has orphan drug designation for NEOD001 in US and EU.
In general, Phase 1 trials are used to demonstrate safety and tolerability, usually in small numbers of patients with various dose escalation designs. On the surface, PRTA's Phase 1 trial is no different; treatment with NEOD001 was evaluated in 18 patients to determine the maximum tolerated dose for the Phase 2/3 trial along with serum PK properties. However, the trial also looked at hematologic response and organ response by measuring NT-proBNP levels, a sensitive cardiac function biomarker in patients with cardiac involvement (common in amyloidosis). NT-proBNP has been shown by numerous research groups to be a prognostic indicator, i.e. elevated levels reflect a poor prognosis and decreased survival, but it has shown demonstrate utility as a treatment response biomarker. Furthermore, as a standard lab-based diagnostic blood test, the biomarker is not likely to be susceptible to investigator bias, although there is some evidence that the NT-proBNP biomarker may be "noisy" from month to month.
The Phase 1 trial was conducted in patients with good performance status and with NT-proBNP values (<5000 ng/L) who had previously undergone at least 1 plasma cell directed therapy with a best response to treatment of either a complete response (NYSE:CR), partial response (PR), or very good partial response (OTCPK:VGPR). For the biomarker analysis, 9 patients were evaluable (baseline levels > 650). Guideline criteria for "responder" were used, and 5 patients (56%) were classified as responders, 3 (33%) were classified as stable, and 1 (11%) patient progressed. The dataset is notable in that the responders all responded very quickly, generally within the first few cycles (see patient level data below). There were a total of 4 discontinuations, and the safety profile was good with no related serious adverse events or dose-limiting toxicities reported. No anti-drug antibodies were detected.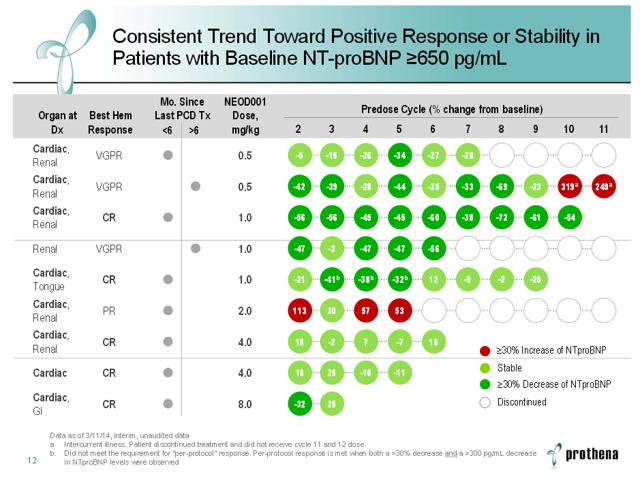 Source: Prothena Investor Presentation (May 2, 2014)
Unfortunately, the response from Wall St has been a dramatic sell-off in the shares. Based on the questions from analysts on Friday's call, questions about the efficacy data may center on:
The perceived lack of a dose response (i.e. the "best" looking data were in the lower dose cohorts)
The hypothesis that a prior PR, VGPR, or CR to plasma cell therapy may be causing the potential NT-proBNP reductions, thus masking the effect of the drug
The lack of a control group to measure disease progression
While the dose response is a valid question and still an open question, the exact nature of the underlying mechanism of action for NEOD001 is not fully understood yet, and it's not clear if there should be a robust dose response early in treatment or later in treatment. However, this is something to monitor going forward as we learn more about the biology and the mechanism of action in the expansion phase. To the second point, the masking effect of treatment is an important one, as reductions in NT-proBNP have been seen with plasma cell therapy. However, this widely cited paper reports that "The changes in NT-proBNP and FLC concentrations were simultaneous and obtained after only 3 cycles of chemotherapy," suggesting that any effects from prior therapy in the PRTA trial were already "built-in". Furthermore, the prior PR, VGPR, and CR's were not necessarily the immediate prior treatment to NEOD001. Additional work by the group confirmed these initial NT-proBNP findings. While there is no formal control group due to the Phase 1 nature of the trial, comparison with the literature indicates that such a NT-proBNP response is unexpected in these patients. In summary, the initial promising data in the 9 evaluable patients lends credibility to the drug's efficacy.
Additional sources - (Amyloidosis survival presentation, PRTA investor call transcript, investor presentation, and poster presentation)
Phase 2/3 Trial Design - While there are issues to work through for the upcoming Phase 2/3 studies (expected to begin later this year), including endpoint selection and trial duration, the promising biomarker response augurs well for future clinical trials. In addition, given the serious nature of the disease and the high unmet need, there may be the potential for accelerated approval based on the biomarker response, which would need to be confirmed with clinical endpoints (e.g., survival data, organ function, etc.). There is some literature evidence that suggests NT-proBNP has clinical significance (improved cardiac dysfunction) and is predictive of improved survival. However, an accelerated approval pathway is speculative and it should be assumed that going forward the NT-proBNP data will need to be supplemented with clinical endpoints in the larger Phase 2/3 trial prior to approval.
Fundamentals and Valuation - According to the 10-k, PRTA's balance sheet as of December 31, 2013 shows $176 M of cash and cash equivalents. However, the balance sheet has been further strengthened with the $30 M upfront payment in Q1 2014 from Roche as well as a $15 M milestone payment in Q2 2014 related to PRX002. Approximating a ~$10 M cash burn, cash and cash equivalents are expected to stand at ~$210 M. Overall, PRTA is in a strong financial position, and management has shown foresight in capital raising activities, taking advantage of the broad-based optimism in the sector to raise ~$85 M in a follow-on in Q4 2013. This substantial war chest allows Prothena to weather the recent biotech storm.
With the recent sell-off and weakness in the stock, the market cap is now ~$470 M (EV of ~$260 M) implying a significantly undervalued company, given the preliminary efficacy in an orphan indication with high unmet need. The company also has strong institutional ownership, which provides stability and confidence for retail investors. In addition, the ability to secure a $30 M upfront payment with another $15 M early milestone payment with a top pharmaceutical company for an early stage asset demonstrates the strength of the science and management team, as well as providing additional capital and de-risking the pipeline.
Conclusion and Future Directions - It appears that investors are overreacting to what is promising preliminary Phase 1 data for NEOD001, thus creating a buying opportunity for savvy, contrarian, long-term investors. While the biomarker analysis is based on a small number of patients, a review of the NT-proBNP and amyloidosis literature indicates that NEOD001 has shown preliminary signs of efficacy with a valid biomarker, de-risking the upcoming Phase 2/3 trials. With an experienced management team, a substantial war chest, and a premium partnership, the risk / reward looks favorable for investors looking to add an early stage biotech company and profit from an unwarranted selloff.
Disclosure: I have no positions in any stocks mentioned, and no plans to initiate any positions within the next 72 hours. I wrote this article myself, and it expresses my own opinions. I am not receiving compensation for it (other than from Seeking Alpha). I have no business relationship with any company whose stock is mentioned in this article.