Pershing's Documentary Puts Faces on the Issue
If you haven't watched Pershing Square's documentary inclusive of testimonials of real life Herbalife distributors, you can watch the video in its entirety here.
If possible, I'd recommend taking a look at it before reading through the rest of this article. If you're not as blown back by the testimonials of these brave individuals that came forward, I don't know what's going to convince you that Herbalife preys on good natured people.
The more the Herbalife saga plays on, the less amused I am by the way unsuspecting people are parted from their money in a fraudulent manner. The further we get into this saga and the more evidence presented, the more perverse the company's response seems to be. It's almost as if they have no idea of the harm they're ultimately causing.
But, I don't believe that. I believe the company knows exactly what the issues are, exactly where their bonuses are coming from, and it's evident from the changes the company has made since the beginning of Ackman's campaign, inclusive of:
a new return policy
an attack on Mr. Ackman instead of addressing the issues at hand
claims that distributors sign up for a "small, part time income," after 34 years of promising a massive growing annuity of an income to potential distributors
a PR campaign focused on making the products the topic, when the business opportunity has always been the selling point
It's my opinion that these changes are way too little, and definitely way too late.
Rather than focus on the low-income Latino niche that we already know Herbalife (HLF) has sought out to go after, yesterday's documentary on Herbalife victims introduced a focus on hard working middle class citizens, duped into Herbalife through the guise of "making income from home."
They were introduced to the opportunity either from e-mail spam, internet advertisements, or radio advertisements for "Income at Home," run alongside conservative radio talk shows like Glenn Beck and Sean Hannity.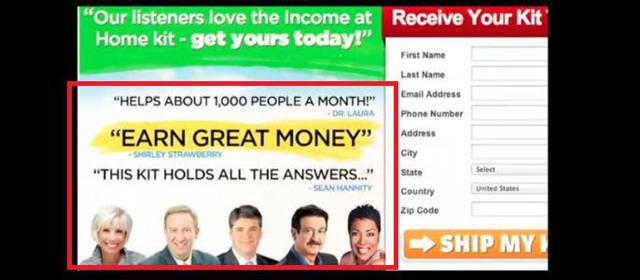 I think one of the items that bothered me so much about the PSQ documentary was that a couple of the distributors were former veterans - the people that fought for our country and fought for companies like Herbalife to have the privilege of doing business in this country are the same people being fleeced by them.
If I were Sean Hannity, Glenn Beck, or other conservative commentators who are usually the first to commend our veterans and show appreciation for our troops, I would seriously rethink my association with Herbalife, and perhaps make a public statement.
The whole situation is incredibly disturbing to me, and should be to you, too.
Income At Home
Making money from home is the guise that many Herbalife lead generation sites use to put a shiny coat of polish on the Herbalife opportunity before they eventually sell it to you. As the distributors on the video said, no one tells you exactly what the opportunity is until money has already been shelled out.
Is it any wonder that a simple image search for "working from home" turns up hundreds upon thousands of people trying to dupe other people into the very same business opportunity?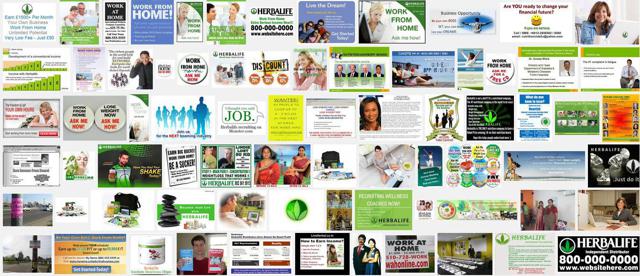 Most of the victims on Pershing Square's documentary claim that they were solicited via e-mail or via conservative talk show radio advertisement for a business opportunity to work from home.
One way or another, a few of them were led to incomeathome.com, where they were greeted by this happy family, no mention of what the business opportunity was, promises of "no selling soap" (whatever the hell that means), and a legal disclaimer at the bottom of the page that - I'm not joking here - starts with the sentence, "We are not here to fool you."
Now, I'm not the smartest guy in the world, but in my short time here and in my lengthy business experience I've learned, that's generally a sure fire sign that someone is trying to fool you.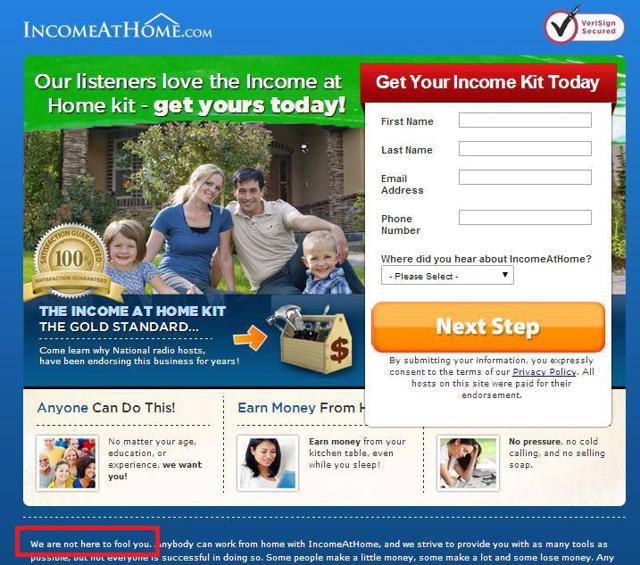 The systems that brought these people in and cost them tens of thousands of dollars by making them hoard Herbalife products to achieve SUPERVISOR level are no different that the system profiled at herbalifepyramidscheme.com by those high up in the Herbalife pyramid.
The main issue with the distributors in the documentary wasn't just that they were lied to about income claims and false health benefits behind the products - but more so that they all had a moral quagmire at some point when asked to do the same thing to recruit others. While Herbalife's rules dictate that you're not allowed to lie to people to get them to sign up, Herbalife:
doesn't enforce these rules
backhandedly rewards this behavior, in the cases of their top distributors that continue to receive bonuses paid for by the bottom of the pyramid
Intrinsically, these distributors made it clear that they knew what they were asked to do was disingenuous at best, fraudulent and illegal at worst.
The "Income from Home" and "iOffice" lead generation subgroups (formerly all required to be registered with Herbalife) have been par for the course for Herbalife selling its product. And, in "what's good for the goose" news, John Tartol's similar sub-scheme, successconnection.com, also made claims like these: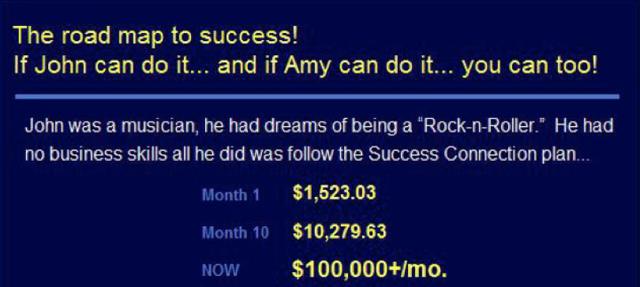 John Tartol sits on Herbalife's board of directors. Ipso facto, there's no way that Herbalife can deny that it doesn't know what the culture of its "contractors" are. Not only are they rewarded with bonuses but, in the case of John Tartol, they were rewarded with a seat on the Board of Directors.
Again, Tartol suggests by following his plan, you can make $10k a month in just ten months. However, 94.9% of people on Herbalife's own statement of gross compensation fail to even make $10,000 annually.
Immoral, absurd, and outrageous on Herbalife's part.
Perverse Response
Watch former U.S. veterans talk about maxing out their credit cards and being fleeced by a fraudulent business opportunity where they needed to lie to push it onto others - then compare that to Herbalife CEO Michael Johnson, who seems to think the whole thing is hilarious. "I'm sorry, I'm trying not to laugh at this guy, with all the stuff he's throwing at us," was Mr. Johnson's comment on the situation, according to the Wall Street Journal.
I doubt the people that were separated from their money, in addition to the FTC, find this a laughing matter.
I sure as hell don't.
Aside from Mr. Johnson's bonehead commentary, which clearly shows that he doesn't care for those duped out of money by lead generation, Herbalife has recently started a new Twitter account, @HerbalifeTRUTH.
I'm already blocked.
The company is paying to have the account promoted through Twitter, knowing that the social media company has been a battleground for those to push their ideas forward and spread the truth about Herbalife. You can tell by the little "Promoted by HerbalifeTRUTH" tags littered under the account's posts when they show up at the top of your Twitter feed after searching for "$HLF".
One look back through the account's past thus far, and it's clear as to what its purpose is: defame, discredit, and attack Mr. Ackman via half truths, ad hominem attacks, and misinformation.
Look at the classy response via Twitter - reminder, this is from Herbalife corporate: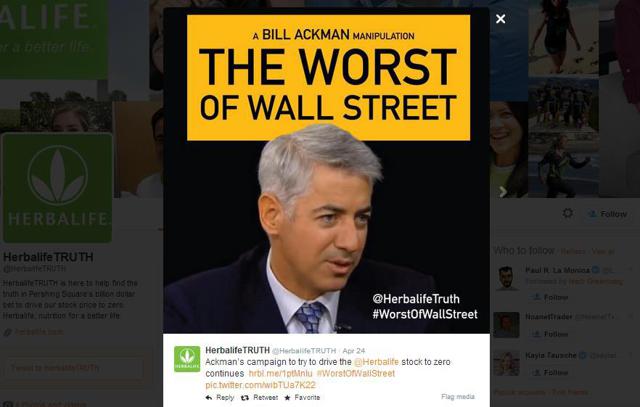 Sure, Mr. Ackman may be unrelenting in his attempt to spread the truth about the company - but could you imagine if Pershing Square issued a PR with a doctored photo of Des Walsh? Longs would lose their minds.
But, again, Mr. Ackman operates on another level of class, in this investor's opinion.
In addition, Herbalife's formal press release to the documentary being shown said the following:
Herbalife believes Mr. Fitzpatrick's involvement is further evidence that this "documentary" is merely another biased attack on our company. As such, Herbalife has not been asked to nor has any intention of participating in Friday's media event.

Since 2008, approximately 1.6 million new members have joined Herbalife in the U.S., including nearly 84,000 in the first quarter of this year alone. Studies have clearly shown that the vast majority of Herbalife members have realistic expectations and a positive experience.
Biased attack on the company? Yes, of course. Mr. Ackman's bias, however, just happens to be based on the evidence. So, it's not really bias, inasmuch as it is a conclusion drawn from critical thinking and years of research.
But, if that's what Herbalife wants to call it to make themselves feel better, that's fine.
And yes, 1.6 million new members have joined since 2008 - but they fail to mention the pesky 2 million distributors that have quit over the last five quarters, according to Mr. Ackman in his introduction to the documentary.
More Political Support for Herbalife Probes & Conclusion
In addition to the documentary, New York City Council Member Annabel Palma went on the record on Thursday, praising Attorney General Eric Schneiderman's involvement in looking into Herbalife. Palma made the following statement:
"Attorney General Schneiderman has proven himself to be a champion for the Latino community by taking action to protect our families from predatory schemes like Herbalife. I support his investigation and urge him to engage in an in-depth review of this company that looks beyond those who have come forward to share their stories. Victims of pyramid schemes are often too ashamed to file complaints, which allow for these deceptive practices to continue."
I applaud Ms. Palma's stance on the issue.
Additionally, Herb Greenberg at The Street points out the obvious: Herbalife is trying to discredit the critic in lieu of providing evidence to the contrary. It's an age old tactic, and one that's employed often when you don't have the facts to back up your end of the case.
I'd encourage reading Herb's article here. He talks about how Herbalife paid off a critic of the company years ago - the same critic they cite in their recent PR about the documentary.
He writes:
In my world, when companies attack a critic, in an effort to discredit, it often means one thing: It's an effort to make people look over here, not there.

So when I read Herbalife's (HLF) press release from Thursday aimed at pre-responding to a Herbalife event sponsored by Bill Ackman, I couldn't help but think about the classic crisis PR ploy of discrediting the critic.
Herb is right.
Herbalife is now a company that is:
propping up its own stock price
overleveraged
attacking its critics instead of addressing the issues
It's never been clearer to me that Herbalife is a global confidence game that unfairly dupes people from their money under the guise of a business opportunity. As the days go by, the case becomes clearer and clearer. Herbalife's actions show that it's backed into a corner and the regulators looking at the company are going to be forced to act on critical conclusions sooner, rather than later. Herbalife, as we know it now, will likely no longer operate when the regulators do draw their conclusion.
Though current employees of Herbalife will find themselves out of work, millions of potential distributors will have been spared of life changing losses, like the ones in Mr. Ackman's documentary.
The fast the regulators put a freeze on the company's assets, the less time the company has to leverage them in an effort to keep their stock propped up. I imagine regulators already know this, and are working with up tempo pace accordingly.
I remain steadfastly bearish and short on Herbalife.
Disclosure: I am short HLF. I wrote this article myself, and it expresses my own opinions. I am not receiving compensation for it (other than from Seeking Alpha). I have no business relationship with any company whose stock is mentioned in this article.