SandRidge Energy, Inc.'s (NYSE:SD) troubles are a popular topic on internet discussion boards. SD offers no dividend and its two Mississippi Lime trusts, SandRidge Mississippian Trust I (NYSE:SDT) and II (NYSE:SDR), have done nothing but destroy unit holder value.
Despite SD's publicity, SandRidge Permian Trust (NYSE:PER) has not received much attention. While PER's market price has suffered, just like its brethren, it also maintains a substantial distribution. Don't get me wrong, PER has not met original expectations. But with its stable production, a low cost profile, and near-term protected distributions, PER offers far better value than any other SandRidge trust. In fact, the value may be better than any other trust that I have reviewed.
PER's production and cost trends are great news
As those familiar with my articles know, I analyze oil and gas trusts using a bottom-up, engineering-style model that considers forecasts of future production, sales prices, and expenses, as well as their unique underlying circumstances. For PER:
Future well production is fit to a power curve applied to historical production
Sales prices are NYMEX futures adjusted for the historical spread (-$10.67/bbl for oil and -$0.62/mcf for gas)
Future expenses are proportional to sales volume, revenue, and time
Subordinated shares are expected to convert on March 31, 2016 and hedge revenue end on March 31, 2015
PER will terminate in 2031 and pay a residual, estimated as a multiple of prior year revenue
I explicitly avoid consideration of published reserves.
As forecast by the model, PER offers a robust NPV-10 of $13.59/share and a ROI of 11.5% (given today's market price of $12.60). These results suggest PER is undervalued by the market, especially when compared to other SD trusts. Let's look at the reasons why...
PER's production is holding steady
As part of its obligation to the trust, SD has added nearly 700 producing wells (out of an eventual 888) to the PER's portfolio. Although total production has fluctuated, there is a clearly-defined, upward trend. This suggests that, on par, the production from new wells has been exceeding the losses from older wells and that PER's wells are better than those of SDT and SDR.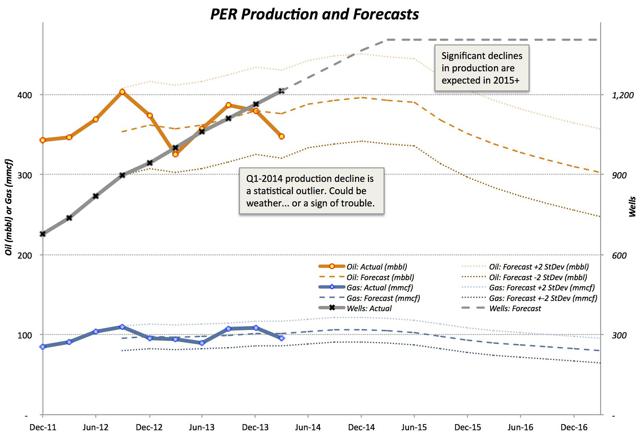 Source: PER SEC filings and author's analysis
Once SD completes its obligation (likely 2015), no new wells will be added and total production will decline. The severity of the production decline is of key interest to investors because it will determine the value of distributions in the medium and long terms. The model's results, which consider total production and the estimated completion date of PER's wells, suggest that declines will be moderate, but not nearly as severe as those for SDR and SDT.
Before I continue, it is worth discussing the significant production decline in the last quarter, Mar-14. The model identifies the decline as a statistical outlier, which is consistent with it being due to weather, as noted in PER's most recent 8-K. However, the decline could also signify the beginning of a longer trend. Those invested in or considering an investment in PER should pay close attention to PER's Q2 results to see if production rebounds.
PER's near-term distribution is buffered by subordinated shares
PER's distribution is also protected against moderate, near-term production declines by subordinated shares, which only receive a distribution after PER's regular unit holders are paid at a minimum level. Although PER's production has underperformed original expectations, it has been more than sufficient to maintain the minimum for regular shareholders. The subordinated shares will convert to regular shares at a to-be-determined date in 2016 (possibly March 31st). This conversion will dilute the distribution substantially.
PER's offers a better value proposition than other trusts
As stated above, the model's forecast for PER results in a NPV-10 of $13.59/share and an ROI of 11.5%, which is best among the trusts that I follow
PER's distribution will outperform other SD trusts
Despite sharing the same proprietor, PER's value proposition is a sharp contrast to that of SDR and SDT. PER's production has held steady over time and its larger allotment of development wells means that not only should production continue to hold, but also that the dilutive effects of subordinated share conversions are farther into the future. Whereas SDR and SDT distributions are near the edge of the cliff-or already over-PER's unit holders should enjoy another two years of great returns.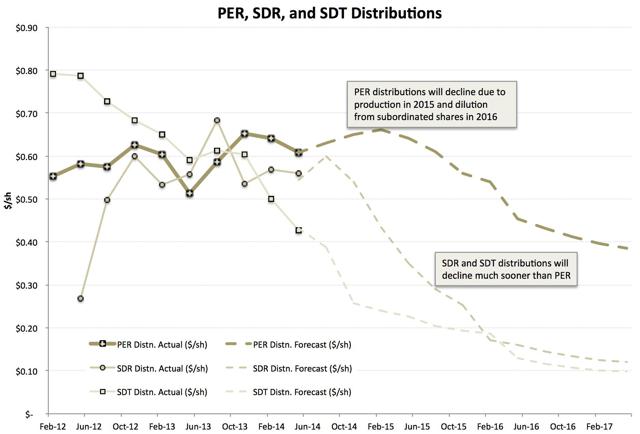 Source: PER, SDT, SDR SEC filings, NYMEX price futures, and author's analysis
Of course, the good days won't last forever. PER revenues are based on a declining asset and its distributions will decline over time, especially in 2016.
PER's valuation is attractive under alternate assumptions
As part of valuing each trust, I evaluate the sensitivity of the model's valuation to alternate assumptions for production and sales price. PER's results are noteworthy because the trust offers a 6% annual return even under the "worst case" outcome, in which production declines by 2 standard deviations and sales prices also decline by 15% (in addition to declines captured in NYMEX forecasts).

Source: PER SEC filings, NYMEX price futures, and author's analysis
PER investment approaches
PER's good valuation, especially as compared to other trusts, makes it a good candidate for a long position. Distributions for the next two years are very likely to stay at, or near, current levels, which should provide investors both income and the time to ride out swings in market price should they choose to exit their position before the conversion of subordinated shares.
The timing of the entry and exit of a position is critical to determining the overall yield. PER's current price is attractive for establishing a new long position; but investors should always be aware of general swings in the pricing of oil and gas trusts (which are up nearly across the board since December). For this reason, PER may be an excellent candidate for investors wishing to swap out from other trusts that may be overvalued in this market.
Similarly, PER's share price may decline notably after May 12th, once it goes ex-dividend. Since announcing its May 30th distribution, PER's shares have rallied (though not as much as other trusts), even though production dipped. This could suggest buyers going after the dividend and indicate a bubble in the market. That said, at $12.60, the model suggests that PER is relative bargain. I plan to maintain my long position and may add to it.
Disclosure: I am long PER. I wrote this article myself, and it expresses my own opinions. I am not receiving compensation for it (other than from Seeking Alpha). I have no business relationship with any company whose stock is mentioned in this article.