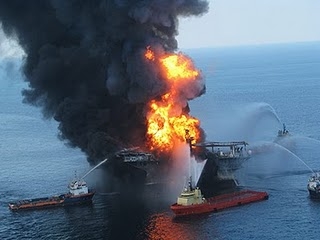 The other day, I read an article from a local newspaper of an area directly affected by the BP oil spill. It was in the business section and focused on the impact of the spill on small businesses. The primary source was a family that owned a western wear store. You know, cowboy hats, boots, bolo ties, etc. The matriarch told the tale of how they were inspired to start the business in the wake of the John Travolta film, Urban Cowboy. Now, sales have declined significantly since the Deepwater Horizon accident.



After doing a little Google look up, I discovered that their business was located at least 40 minutes from the waterfront where oil actually washed up. I'm not trying to make light of the situation. Everyone from shrimpers to local banks to the restaurant in Boston that serves the shrimp are affected by the mess. But is an oil spill going to make someone less likely to buy a hand tooled belt with a huge, hubcap sized rodeo champ belt buckle? Cancelling the decision to buy a condo at the beach is understandable. Furniture for the condo will not be purchased either. Fuzzy Sheriff Woody chaps won't be bought either. but, they probably weren't on the shopping list to begin with.

I'm not a huge fan of the Austrian School theory of creative destruction (how's that for oxymoronic?), but in some cases it does seem to hold true. Newspapers are probably the best example.

Since the rise of the Internet in the mid 90's, pundits have been trumpeting the pending death of the daily newspaper. All of that content can be delivered online. Print media did begin to lose ad dollars to online and other forms of new media. However, the print business did more than just hang on for the better part of a decade. Then the financial crisis of 2008 came down on the industry like a roll of newsprint. The body blow wasn't everyone deciding overnight to get their news on line rather than wait for it to be delivered to their front doorstep the next morning. The body blow was the media companies running out of money.

Although newspapers can be profitable businesses, they are horrendously expensive to run. When the companies couldn't access cash via banks or the capital markets, They began to convulse violently. Venerable names such as the Chicago Tribune went bankrupt and other papers across the country, many with 100 plus year histories, folded all together. Granted the newspaper business farted around figuring out how to make money digitally. But by the time the money ran out, it was probably too late. My Sunday paper (yes, I still take it) no longer makes a "thud" when I drop it on the counter before pouring coffee. It's more of weak "splat".

In 2007, I listened as my business partner urged a prospective client to lighten up on large concentration of shares in three regional banks. His thesis was that once the yield curve steepened (rates go up), bank earnings would be compressed due to money being more expensive. Once the earnings declined, naturally, stock prices would move in lockstep. He was dead on with the effect but the cause was wrong. The catalyst was the housing bubble popping and the negative feedback loop created by paralysis in the credit markets. Rates had very little if anything to do with it. That particular portfolio, incidentally, lost 78% of it's value. Ouch.

Whether it's a short sighted regional bank handing out money like a drunk sailor on shore leave, a soon to be cash strapped daily paper twiddling it's thumbs while it's business model receives a digital coup de grace, or a cowboy store near the beach that's been taken to the canvas by an oil spill, a lot of businesses were already standing at the edge of the cliff. Maybe all they needed was a little push.

Let's dive right in and meet this week's three little piggies.



"Control freaks…"



Ituran Location and Control Ltd. (NASDAQ:ITRN)
Recent Price: 13.60
P/E: 16.39
Current Yield: 11.02%

The Skinny
It's weird that we covered Garmin (NASDAQ:GRMN) last week and here we are profiling another GPS business. It's purely unintentional. Anyway, this one's a lot different from the last one. ITRN is an Israeli company that provides stolen vehicle recovery and tracking services and also sells wireless communications products associated with location based services and other apps. The majority of the company's sales come from Israel and Argentina. A mere 4% comes from the U.S. Good numbers. Revenues are projected to increase 17%. Their gross margins are right at 49% as the bulk of their sales come from higher margin products. S&P has a "…positive view of the company's dividend distribution strategy given it's stable revenue stream." Good to know especially if you're looking for yield. There's no long term debt. And with a global focus and such a small percentage of sales coming from the U.S. , the crappy economy here is a non-factor.

The Danger
ITRN is a good looking prospect but the risks are just as compelling. While management owns nearly 32% of the shares, that's not always as great as it sounds. Owners tend to act in their best interest rather than those of the minority shareholders. There's also some regulatory overhang. ITRN is considered a monopoly in the eyes of Israeli law. A ruling on this could definitely temper growth. While revenues are projected to increase nicely, sales did decline by 8.5% last year. Lastly, don't forget that the company is domiciled in Israel where a day without Hezbollah rockets is a good day. Makes foreign tax issues kind of trivial.



"What's the deal?"



Gabelli Global Deal Fund (NYSE:GDL)
Recent Price: 13.77
P/E: NA
Current Yield:

The Skinny
Rarely does an investor get expert management, a creative strategy AND a discount to NAV in a closed end fund. GDL might be the total package. Managed by valuemeister Mario Gabelli's shop, GDL's objective is to achieve absolute returns by investing mainly in merger arbitrage transactions as well as opportunities created by corporate reorganizations, spin offs and spin-offs. The fund trades at an 8.5% discount to NAV which is right in our wheelhouse (we don't pay no premiums!). The top sectors are healthcare, telecom, and energy/utilities. When it comes to owning a fund, there's no substitute for accomplished, active management.

The Danger
GDL is only three years old and, granted, the financial markets haven't been exactly cooperative since 2007. However, GDL has turned in an anemic -2.20% total return since inception. T-bills performed better with less risk. One reason for current sluggish performance could be that the fund is at 56.3% cash. That much cash is almost guaranteed to slow a fund down. Also, uncertain and jumpy markets throw cold water on any potential M & A activity. Liquidity fears, depressed equity prices, and the fear of the unknown aren't particularly ideal conditions for a fund that specializes in merger arbitrage to practice it's craft. Cap gains distributions should also be a concern. The fund's turnover rate for 2009 was 371%. That's gonna generated some 1099's.



"Where the hell's Oneonta?"


Otelco, Inc. (OTT)
Recent Price:14.70
P/E: NA
Current Yield: 11.42%

The Skinny
When yield's in doubt…buy telcos. Or something like that. OTT is a small telecom company headquartered in Oneonta, Alabama. Not exactly a huge regional hub for, well, anything, but it's kind of an interesting story. With 100,356 voice and data access lines, OTT provides wire line phone services to residential and business customers in north central Alabama, Maine, New Hampshire, western Massachusetts, central Missouri and West Virginia. Last year's revenues were right at around $104 million which is nearly $1000 per line. Not bad. Operating margins are 22% which is a little higher than the industry average and there's $1.60 in cash per share. Shares are 15% off of the 52 week high. It's not a terribly sexy story. However, those small, rural phone companies, historically are monopolies in their respective domains. Good to know when you're waiting on the dividend check.

The Danger
The company lost 3 cents a share last year. Guidance is kind of iffy. And historically, telcos suck cash and require debt, both of which are tight these days. The macro picture is probably the greatest concern, though. Sure, this company provides service to isolated areas (the Federal government is always talking about getting rural America on the broadbandwagon), however, how many people do you know who have established brand new wire line service at home, save for cable? Our offices just received the new yellow and white pages for our area. It's the thinnest I've seen since I've lived here and I've lived here all of my life. That's the trend. Why is Verizon (NYSE:VZ) selling off rural hardline assets left and right? The writing is probably on the wall. The telecom battlefield is littered with the carcasses of hardline companies and the body count will more than likely continue to rise.