UniCredit is none too optimistic about the European economy. In a recent research note they cite the equity rally to a strong reporting season and nothing more. They believe the underlying macroeconomic news will remain weak and that equity investors are ignoring the many Q3 headwinds:
A large number of economic indicators point to a pending slowdown of the growth dynamic (e.g. the OECD leading indicator for many geographical regions). If this impression were to harden in the coming months, then a new topic could assume importance on the equity market: What scope do governments and central banks have with their fiscal and monetary policy? Low key interest rates and high government deficits limit their scope. Faced with this dilemma, there is the possibility that equity investors will react more cautiously with investments in the current cycle on signs of a slowdown – and will be more reluctant to increase the equity ratio on signs of a possible (but still uncertain) economic improvement.

Bottom line: Falling leading indicators will ultimately prove to be the stronger input factor for share price performance than positive 2Q company reports.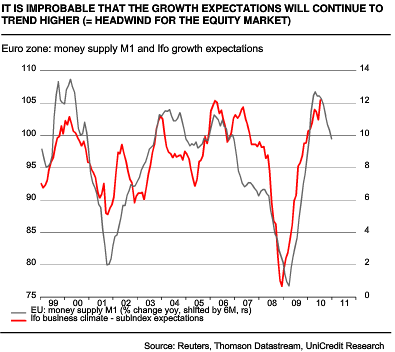 Source: UniCredit