Endocyte (NASDAQ:ECYT) shares, and some would say long shareholders as well, got taken out to the back of the barn and shot at Friday morning after the company announced a clinical update in its Q1'14 financial report. It indicated in the update that the independent Data Safety Monitoring Board (DSMB) recommended that the study's sponsors, Endocyte and Merck (NYSE:MRK), stop the Phase 3 PROCEED trial of its Vynfinit experimental drug in platinum-resistant ovarian cancer (PROC) based on an analysis of the progression-free survival (NYSE:PFS) interim data from the trial. The trial was recommended to be stopped based on futility, i.e., an assessment based on interim results that the trial was unlikely to achieve its objective of statistical significance towards its chosen primary end-point of PFS.
The announcement came completely unexpected, especially given recent positive news on Vynfinit six weeks ago, including a positive opinion by the European Committee for Medicinal Products for Human Use (NASDAQ:CHMP) for Vynfinit for the treatment of platinum-resistant ovarian cancer patients, and positive Phase 2 results evaluating Vynfinit in non-small cell lung cancer (NSCLC) patients. In the wake of both positive announcements on the same day, March 21, a number of brokers raised price targets on the stock, including $65 by Wedbush, $46 by RBC, $44 by Credit Suisse, $43 by Chardan Capital Markets, $41 by Brean Capital. Endocyte also made it into the Top Picks list for many brokers, including Chardan and Wedbush, with shares rising as high as over $33 the day of the announcement.
As a result, after today morning's early surprise announcement, Endocyte shares opened significantly lower at $6.75, down 62% from the close yesterday, and off by 80% from the $33 high hit six weeks ago (see Chart).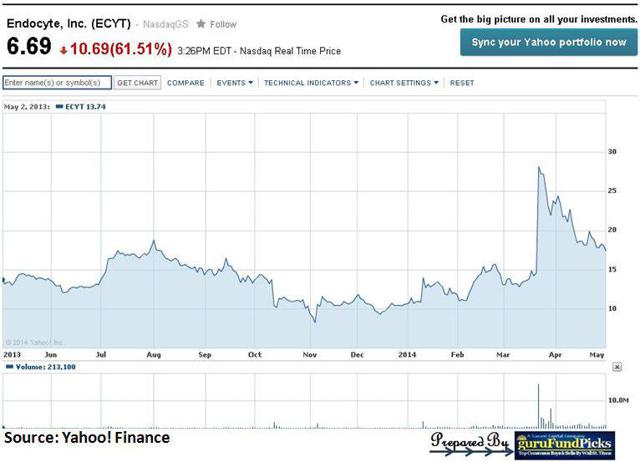 Endocyte shares closed near lows today, at $6.61, which amounts to a market-cap of $269 mill. based on 40.7 mill. shares outstanding. Merck's shares are off just 2.4%, but due to its larger size, they are off a much larger $4.23 bill. in market-cap. Some of it, granted, is due to the biotech index being off by about 1.5%, but even after filtering that out, Merck shares have still given back about $1.5 bill., with at least some of that resulting from this morning's negative DSMB-related announcement that affects both Endocyte and Merck.
For those not as familiar with the DSMB and its power in moving biotech stocks, it is a group of experts, typically three to seven, who are independent of the company sponsoring the trial. The experts are tasked with monitoring patient safety and treatment efficacy data during a trial. They typically include at least one statistician, clinicians knowledgeable in the indication being treated, clinicians knowledgeable in the fields of any major suspected side effects, and possibly even an ethicist or a representative from a patient advocacy group.
The DSMB plays an important role in protecting the rights of patients, ensuring that unproven treatments do not go on for years without someone outside of the company sponsoring the trial overseeing the results, and if necessary stop stem, either because the trial is unsafe, has severe side effects, or is simply non-effective, thereby subjecting patients to a non-beneficial treatment and possibly even keeping them away from an alternative treatment that could be beneficial. Awkwardly, their analysis can ultimately, or in the long-term or in aggregate, be also beneficial to biotech companies, as it can lead them to stop spending additional funds into trials that possibly have no chance of approval.
Regardless of its merit, that would be a difficult argument to make right now, to most Endocyte longs, or for that matter any biotech investor who has been hurt similarly by these left-field announcements that infrequently come out from the DSMB. Their recommendations can often be damning, as in Endocyte's case, as they have the power of altering the fortunes of biotech companies and their investors alike. But such is the manic world of biotech investing, that any investor in this industry would be familiar with, with its pack of daily blow-ups and multi-baggers.
What this recommendation means to the future of Endocyte, and whether it can reach back to its recent highs anytime soon, will only be clear with time. However, what is clear to us is that in the wake of the DSMB recommendation, shares have been dropped to insane lows below $7 where there is an opportunity for the risk-tolerant investor or trader to buy at these levels.
If you look at any of the financial portals, like Yahoo! Finance, you will see that the company has $123.8 mill. in cash, cash equivalents and short-term investments. However, that data is dated, as the company raised $101.8 mill. in cash just a month ago, when they sold 5.175 mill. common shares in a public offering completed on April 2nd, bringing their current cash position to $233.3 mill. Compare this to its current market-cap of $267 mill., and you can see that the market is not giving too much value to its remaining assets, including mid-stage trials of Vynfinit in NSCLC and triple negative breast cancer (see drug pipeline chart below).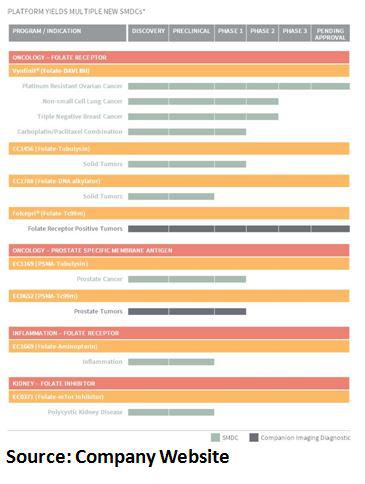 The market in the wake of the severe disappointing announcement, is currently factoring in most of the possible negatives, as it typically does. This includes assuming that since the Phase 3 trial in PROC has been halted, the European CHMP might withdraw its earlier support for conditional approval of Vynfinit in PROC patients that was based on Phase 2 trials. While that is certainly possible, maybe even probable, it is not certain yet. Also, given that the company still has not finished reviewing and validating the data, and given that there no safety or other concerns relating to the trial, the decision still has not been formally made regarding continuation of the PROCEED trial.
While the halting of any trial is a negative for the compound being tested, it is important to remember here that the Phase 3 PROCEED trial of Vynfinit in PROC was halted for efficacy, not safety or tolerability. If the trial was halted for safety or tolerability, it would be much more reasonable to conclude that all other trials of the compound in other oncology indications would also meet with the same problem, and you could probably discount out all future value of the compound. Furthermore, in the case of Vynfinit, results from its earlier Phase 2 PRECEDENT trial in PROC met its primary end-point, with median PFS improving from 2.7 months to 5.0 months in the intent-to-treat population. Furthermore, Vynfinit also met its primary endpoint of improving PFS in the Phase 2b TARGET trial in NSCLC, announced earlier this year in March.
This indicates to us that while it is reasonable to assume that the failure of Vynfinit to meet its primary endpoint in PROC would most likely have a negative impact on its chances for the same indication in the EU, its chances of an approval for NSCLC could be assumed to be only slightly lower than before. Indeed, many of the brokers that lowered price targets on PROC following Friday's announcement would agree with our assessment, with Chardan Capital Markets, RBC Capital Markets and Brean Capital, all indicating as such in their assessments, lowering their price targets to $26, $20 and $22 respectively, still about 200% above its closing price on Friday. Besides PROC and NSCLC, Endocyte is also testing Vynfinit in a third indication, triple negative breast cancer, and is expected to commence a Phase 2 trial sometime in Q2'14. Furthermore, the market size for NSCLC is estimated to be much larger than the market size for the failed PROC indication, and the overall revenue for Vynfinit was estimated earlier last year by Brean Capital at $2 bill. in 2026, only $250 mill. of that being accounted for by the failed PROC indication. Assuming even that the probability for success in the other indications fell by about a third due to the failure in PROC, it would seem that the overall revenue target in 2026 would only fall by about 40% to $1.2 bill. based on Brean Capital's earlier revenue target of $2 bill.
Besides Vynfinit, Endocyte also has several other drivers in the pipeline, including compounds in early-stage and preclinical trials for various cancer indications, based on its small molecule drug conjugates (SMDC) with companion imaging diagnostics platform (see drug pipeline chart above). These include a Phase 1 trial of EC-1456 in solid tumors, Phase 1 trials of EC-1169 and EC-0652 in Prostate Cancer, and Preclinical trials of three additional compounds in solid tumors, inflammation and polycystic kidney disease. These are all currently early stage, so it is difficult to assign any specific value to these. However, earlier in the year, in late-March, there was talk that a big pharmaceutical company like Merck, AstraZeneca (NYSE:AZN) or Roche Holding AG (NYSE:ROG) could buy-out Endocyte due to the success of its vintafolide platform, with buyout prices mentioned in the $50 range. Although that would clearly be off the table, it is not inconceivable even in the event of a failure of Vynfinit in all indications, that the company with its underlying small molecule drug conjugate (SMDC) and companion imaging platform, and the rights to future therapies associated with it, could be sold off to potential suitors at a significant premium to its cash-on-hand.
In addition to fundamental analysis, we have also typically found strong merit in analyzing the collective or consensus buying and selling by our hand-picked 330+ leading fund managers (see Table). On our site, GuruFundPicks.com, we scan, track and analyze their latest buying and selling to determine their top collective or consensus picks in over 200 industry groups. Their ownership change over multiple quarters, and net buying and selling, both in shares and in number of funds, and the percent outstanding shares held by these leading funds, especially when compared to similar sized peers in the same industry, is like reading tea leaves. It gives us the extra edge, increasing the probability of making the right decision, and in many cases saving us from making a wrong decision on a stock.
The collective or consensus buying and selling activity of these leading fund managers in Endocyte in the last seven quarters, up to 2Q/2012 is shown in the Table below.

The largest holders of Endocyte shares in the latest 4Q'13 were:
mutual fund company FMR or Fidelity Investments, with $1.6 Trill. in AUM, that holds 3.54 mill. shares, including adding 0.32 mill. shares in 4Q'13;
Swiss biotech-focused hedge fund BB Biotech, with $1.87 Bill. in 13-F assets, that holds 2.64 mill. shares, including adding 0.37 mill. shares in 4Q'13; and
BlackRock, the world's largest and most prominent asset manager, with $3.6 trillion in assets under management, that holds 1.74 mill. shares, including cutting 44,493 shares in 4Q'13.
You can view complete summarized 13-F's of all of these funds, and over 330 more for free on our website, GuruFundPicks.com.
As illustrated in the Table, leading fund managers, like most experts, may have been taken by surprise by today morning's announcement. They were adding shares in Endocyte in the last few quarters, with ownership rising from 10.55 mill. shares at the end of 1Q'14 to 13.13 mill. shares in the latest 4Q'13. While ownership did rise, the increase was quite tepid to what we have seen in many other similar capitalization biotech companies in mid- and late-stage trials, and overall the number of holders actually fell from 34 at the end of 2Q'13 to 28 in the latest 4Q'13. This suggests that there may have been some caution by these expert investors, possibly based on an earlier announcement from the DSMB recommendation that while the Phase 2b TARGET trial in NSCLC be allowed to continue, an amendment to informed consent be added that required that patients be informed that vintafolide monotherapy was not likely to be declared superior to docetaxel.
Consensus Picks using our system for 1Q'14 will be out shortly after the deadline for SEC filings for 1Q'14, falling on May 15th, so we will have to wait and see if many of these top managers bought or sold into the rally in late-March. However, typically in our research, we have observed strong correlation between leading fund manager ownership, including their consensus buying and selling activities every quarter, and the stock's immediate and long-term performance. We have documented many such cases on our website and in our archive of articles on Seeking Alpha, including five cases we discussed in just the last two weeks on Gilead, Facebook, BlackBerry, Micron, and Apple.
In summary, we believe that Endocyte shares are attractively priced here for risk-tolerant investors, priced only slightly above its cash-on-hand. While there are clearly tangible risks, like with any biotech stock, including, for example, Merck suspending its collaboration with Endocyte or the CHMP withdrawing its earlier support, the stock has substantially priced in most of the negative outcomes, with the bias now to the upside from these low levels, whether there is no more significant new news, or in the event of any news that even mildly lifts up the doom and gloom. As an example, Endocyte shares traded down to almost $8 last October, falling after the DSMB recommended continuation of the Phase 2b TARGET trial in NSCLC, but with an amendment to informed consent. Following that, on almost no significant news, they were up above $14 by early January.
Endocyte currently burns through about $3 to $5 mill. per quarter, so with $233.3 mill., there is more than adequate cash for the foreseeable future. We believe the downside based on its cash position and burn rate, and the potential attractiveness of its underlying small molecule drug conjugate and companion imaging platform, is near the $6.60's lows it hit early Friday, even if we assign little value to its current pipeline. The upside however is high given the attractiveness of its platform technology, and the potential for oncology therapies based on Vynfinit and other early-stage drugs in its pipeline. This is also confirmed based on price targets by four brokers that downgraded the stock, three of whom, as explained before, lowered their price targets to between $20 and $26, while one, Robert W. Baird lowered it to $8, putting their average price target at $18, arrived at even after the failure of Vynfinit in meeting the primary PFS endpoint in PROC.
We believe Endocyte shares offer an attractive risk-reward for the risk-tolerant investor or trader. At a minimum, shares should rebound at least to the $9 to $10 resistance level in the short-term, with the potential for it to rise significantly in the long-term, possibly near or above the update broker targets in the high-teens to over $20 range.
Disclosure: I am long ECYT.
Business relationship disclosure: Business Relationship Disclosure: The article has been written by the Hedge and Mutual Fund Analyst at GuruFundPicks.com. GuruFundPicks.com is not receiving compensation for it (other than from Seeking Alpha). GuruFundPicks.com has no business relationship with any company whose stock is mentioned in this article.
Additional disclosure: Additional Disclosure: Use of GuruFundPicks' research is at your own risk. You should do your own research and due diligence before making any investment decision with respect to securities covered herein. You should assume that as of the publication date of any report or letter, GuruFundPicks, LLC, has a position in all stocks (and/or options of the stock) covered herein that is consistent with the position set forth in our research report. Following publication of any report or letter, GuruFundPicks intends to continue transacting in the securities covered herein, and we may be long, short, or neutral at any time hereafter regardless of our initial recommendation. To the best of our knowledge and belief, all information contained herein is accurate and reliable, and has been obtained from public sources we believe to be accurate and reliable, and not from company or persons who have a relationship with company insiders. Also, in our preparation of this article, we referred investor resources such as Zacks.com, Marketsmith and Sentieo.