We are believers in the growth of solar, and have recently written about several U.S. companies in this space. In this article, we take a look at what we believe is the premier solar company from China, JinkoSolar (NYSE:JKS).
JinkoSolar had a checkered history in the recent past - including the posting of a loss of $247M on revenues of $769M in 2012. And, the JinkoSolar ADS has been a roller coaster ever since it went on the market (see chart below). An investor looking at this past history must wonder if this dog can hunt.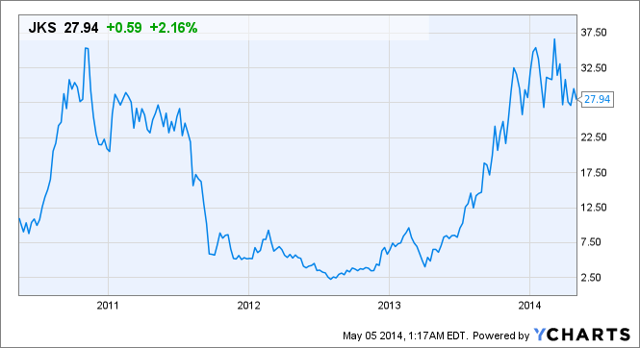 To analyze this company, one has to start looking at the industry as a whole and look at the company's place in the industry. Unlike First Solar (NASDAQ:FSLR) [Buy - see here] and SunPower (NASDAQ:SPWR) [Speculative Buy - see here], JinkoSolar does not have a differentiated solar panel technology. The major solar cell/module companies from China, including JinkoSolar, Yingli Green Energy (NYSE:YGE), Canadian Solar (NASDAQ:CSIQ), ReneSola (NYSE:SOL), and Trina Solar (NYSE:TSL) are commodity manufacturers with very little in the form of product or technology differentiation.
Commodity companies typically tend to do well during times of industry undercapacity, track the overall economy when supply/demand are in balance, and do poorly when the industry is in an overcapacity situation. It is a matter of simple economics that when demand exceeds supply, the prices rise and profit margins go up. When profitability goes up, companies in the industry invest in new capacity, which typically results in excess capacity, leading to dropping prices. With dropping prices, margins go down and profitability goes down. Over time, demand catches up to the new capacity, and the cycle repeats all over again. Currently, the solar industry is coming from a period of massive overcapacity to a period of tightening capacity. From a timing perspective, it may be an excellent time to make short-term investments in these companies.
But the recent memories have been bitter. The last down cycle was particularly traumatic for the industry, and many companies went out of business - including the volume leader of the last cycle - Suntech Power (OTCPK:STPFQ). Much of the overcapacity during this last cycle was a result of indiscreet funding of solar companies by various Chinese government entities. Noticing the excesses of the government-induced bubble, China's Ministry of Industry and Information Technology, in 2013, mandated limits on capacity expansion in the solar industry. These limits discourage the addition of brand new capacity and encourage stronger players in the industry to add capacity through M&A with troubled or defunct companies.
Regardless of the temporary mandate by China, the biggest risk for investors in solar companies is that overcapacity in the industry can develop rather quickly and take investors by surprise. The other major risk to investors is that Chinese companies lack strong regulatory oversight, and a foreign investor may be unpleasantly surprised by how poorly Chinese companies are run in terms of investor disclosures and protections. In light of these and other country risk factors, we are not long-term investors in Chinese solar manufacturing companies.
However, for an investor who can comprehend and manage the country and industry risk profile, JinkoSolar is worth evaluating. An investor considering an investment in a commodity solar company should only consider companies with excellent cost structures. A low-cost structure enables a company to outperform it peers in the up cycle and allows it to survive its peers in the down cycle. JinkoSolar absolutely fits the bill under this particular criterion. However, there are other factors that one needs to take into consideration about this company.
What We Like About JinkoSolar:
- 2013 revenue growth of almost 50%, and the rapid growth is expected to continue in 2014 and possibly 2015.
- Module costs at $0.48 per watt are likely the lowest in the industry.
- Gross margin of ~25% in Q4; JKS has the highest profit margins among all the Chinese solar companies, and is the first Chinese company to have reached profitability after the solar meltdown (First Solar is the only company in the industry with a superior track record).
- Access to cheap manufacturing capacity through acquisition of assets of defunct or underperforming solar companies reduces capex costs and increases profit margins going forward.
- Project pipeline in China and ROW currently is at 1.1GW and expected to grow dramatically - especially in the China market. In terms of project business, we like that JinkoSolar is more like SunEdison (SUNE) than SolarCity (SCTY) [Avoid - see here].
- Applications for solar cells are increasing rapidly, and we expect to see a strong uptick in sale of solar cells - a dynamic we believe is being unappreciated and undervalued by the industry. This business, unlike the module business, is likely to be less cyclical in the future. As a cost leader, we expect JinkoSolar to do well in the solar cell business.
- JinkoSolar, as a leading supplier of modules, is also at the forefront of smart modules. We expect these modules to significantly increase JinkoSolar's module ASPs, revenues, margin per module, and overall profit margins. We also expect this dynamic to be a net negative to Enphase Energy (NASDAQ:ENPH) [see our thesis here].
- Preferential access to the largest solar market in the world (China) makes it likely that JinkoSolar will remain one of the leaders by the end of the current cycle.
- A billion-dollar line of credit from China Development Bank gives JinkoSolar access to high-leverage loans, which dramatically increase JinkoSolar's capability to build a large downstream solar business. The project business can also reduce JinkoSolar's susceptibility to the commodity market dynamics.
- Ownership of power plants in China may be a strong long-term positive and may help reduce the downside of the commodity manufacturing business.
- And finally, unlike in the past when it was not a top-tier player, JinkoSolar is starting to become a known Chinese brand. Going forward, JinkoSolar does not need to discount its products to other known names, such as Yingli, Canadian, and Trina, as it has done in the past. The brand recognition should start giving JinkoSolar a slight ASP bump, which will go straight to the bottom line.
What We Do Not Like About JinkoSolar:
- The company has a high debt load, and the balance sheet is weak.
- Secondary stock/ADS offerings improve financial position, but result in earnings dilution.
- Business and project climate in China can change at the whim of local, regional, or county politics.
During the last earnings call, the company forecasted continued growth this year and provided a guidance of 440 to 470MW for Q1 2014 and 2.7 to 2.9GW for full-year 2014. This compares to 339MW for Q1 2013 and 1.9GW for full-year 2013. While the midpoint of topline guidance indicates a top line growth of about 47%, we believe that the market is underestimating the impact this guidance will have on profitability.
We believe that JinkoSolar's manufacturing leverage, project benefit, increasing ASPs, and the impact of muted competition is poorly understood by the market, and the current consensus of $3.44 of earnings per ADS is substantially below what JinkoSolar is likely to deliver this year. While each quarter results may be somewhat lumpy, depending on M&A and project completions, the current-quarter analyst estimates of $0.40 seem very conservative. The likelihood of a dramatic earnings beat for Q1 2014 is quite high.
Regardless of any earnings beat this quarter, we expect significant EPS upside throughout the year, and believe that a current-year earnings per ADS will be in the $4-6 range. The forecast for 2015 would be in excess of $6. In spite of the lack of appetite for Chinese stocks and the commodity nature of the business, we believe a multiple of around 10 would be realistic for JKS. This could put this stock in the $60+ range by the end of the year.
While the near-term upside to JKS is considerable, the commodity nature of its current manufacturing business, coupled with the regulatory environment in China makes this stock unsuitable for a conservative long-term investor. For long-term investors, we believe the better options are Guggenheim Solar ETF (NYSEARCA:TAN) [Buy - see here] and Market Vectors Solar Energy Index ETF (NYSEARCA:KWT) [Buy - see here].
Our Sentiment: Speculative Buy
Disclosure: I am long FSLR, JKS. I wrote this article myself, and it expresses my own opinions. I am not receiving compensation for it (other than from Seeking Alpha). I have no business relationship with any company whose stock is mentioned in this article.