The Social Media Tech-Wreck of 2014 has many interesting casualties. And some are more interesting than others because they had achieved nearly "blue-chip" status in the land of triple-digit P/Es, only to be exposed recently for a lack of follow-through in the earnings department.
One such "social media blue-chip" is LinkedIn (LNKD), which offered a mixed earnings report last week and dropped 8% on Friday with heavy volume of 10 million shares.
If you follow the Zacks Rank, you already know there was trouble coming into this report. In fact, LNKD became a Zacks #4 Rank Sell in late January when the stock was trading at $220. Since then, it has consistently been a #4 or #5 Strong Sell as shares dropped steadily for over 3 months.
The chart below marks the date of January 24 when LNKD became a Zacks #4 Rank. That was after their Q4 report when analyst earnings estimates plunged for this year and next from a projected profit of $0.97 to a loss of $0.02 in 2014 and from $2.08 to $0.76 in 2015.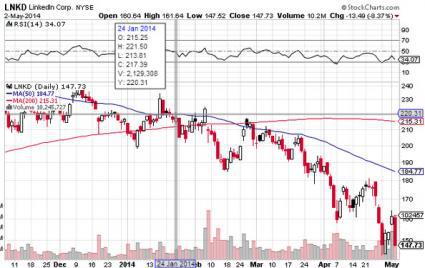 A Growing Niche, But No Moat
LinkedIn generates its revenues through three main segments, namely Talent Solutions (previously Hiring Solutions), Marketing Solutions and Premium Subscriptions. Talent Solutions derives its revenues from the sale of the company's Corporate Solutions and LinkedIn Jobs products.
The third segment is Premium Subscriptions, which derives revenues primarily from online sales of the company's Business, Business Plus and Executive subscription products. In this segment, the company offers monthly or annual subscriptions to members.
The professional network market is still in a developmental stage, so LinkedIn does not face any direct competition at this point. On the other hand, there is a good possibility that companies like Facebook (NASDAQ:FB), Google (NASDAQ:GOOG), Microsoft (NASDAQ:MSFT) and Twitter (NYSE:TWTR) could bring competing solutions to the market going forward.
Finally, the company's expansion initiatives in China are encouraging with the launch of a Chinese-language website. Considering the growth potential in the country and the size of its population, it is a good long-term strategic move for LinkedIn.
Connection Denied
Anecdotally, I became concerned about LinkedIn business directions last year with the awkward website function they called "Endorsing." The presentation seemed shallow with constant prodding to endorse dozens of people for dozens of skills with a couple of clicks of the mouse. I just checked the site and it seems this practice may have been discontinued.
More importantly, given the mixed reaction to a complicated earnings outlook, with several analysts reiterating their ratings while others lowered price targets significantly on Friday, the chances of LNKD remaining in the sell block are high.
That's because earnings estimates are unlikely to rise this week. If you are a LNKD bull, who still believes in the long-term growth story and those $200+ price targets, just keep your eye on the Zacks Rank for a turn-around in the earnings momentum.