Recently, Citi Equity Research released an updated list of global bond refugee stocks. Stocks with higher dividends and lower volatility as an alternative to bond investments. Among companies making the cut is Merck (NYSE:MRK), with a current dividend yield of 3.0%. Below, we continue our review of MRK in Part XV of this series, evaluating MRK from a relative value and dividend stability perspective.
Bond Refugee Ratings:
Overall Bond Refugee Rating: Accumulate
Relative Valuation: Attractive
Dividend Stability: Highly Stable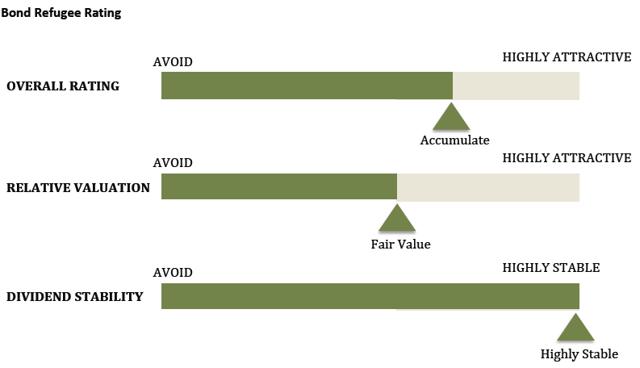 Background
MRK is engaged in the health solutions business, and operates in several segments including:
Prescription Medicines
Vaccines
Animal Health
Consumer Products
Valuation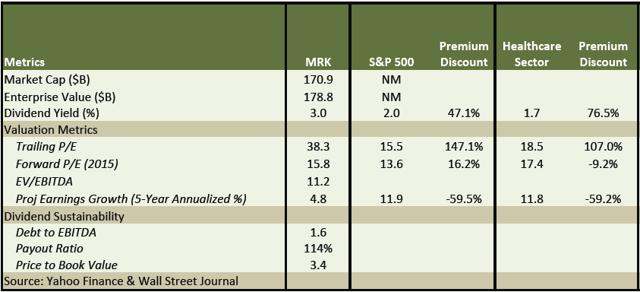 MRK has a market capitalization of $170.9 billion and enterprise value of $178.8 billion. MRK has a trailing PE ratio of 38.3, reflecting a number of earnings drags in the current trailing twelve months and unfavorable product mix with patent expirations. On a forward basis, MRK's earnings multiple is 15.8 times 2015 earnings, largely reflecting an earnings recovery.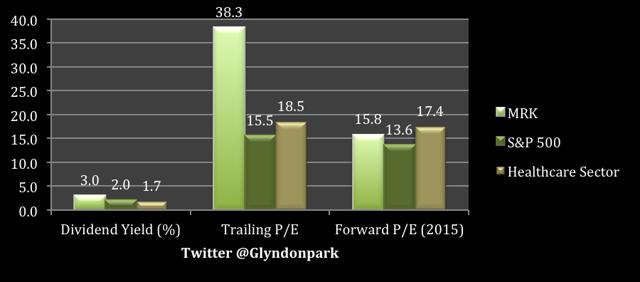 MRK's metrics on a trailing basis are not meaningful relative to the S&P 500 (NYSEARCA:SPY) or healthcare sector. On a forward basis, MRK trades at a premium to the S&P 500, but at a nearly 10% discount to the healthcare sector.
Analysts expect MRK's earnings to grow at a 4.8% annual rate over the next five years versus 11.9% and 11.8% for the S&P 500 and healthcare sector respectively.
We rate MRK's valuation as fair value on the bond refugee criteria based on:
Favorable forward earnings to healthcare sector provides relative upside
Uncertainty surrounding future regulatory approvals and low projected growth rate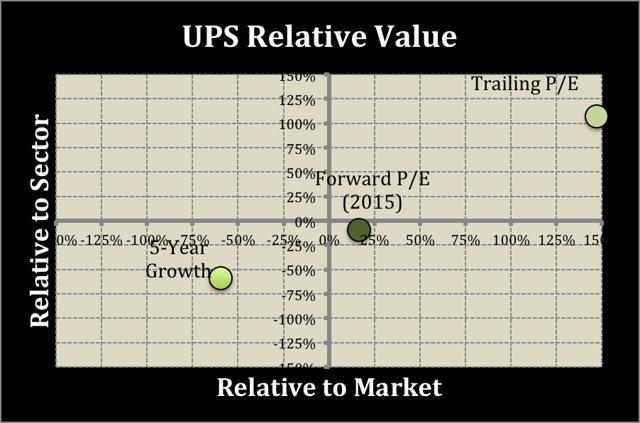 Dividend Stability
MRK has a long track record of dividends and increases. Management is committed to the return of shareholder capital either through share buybacks or dividend payments.
From a financial point of view, MRK's current payout ratio is high, however earnings recovery will bring it back to more reasonable levels. MRK's debt-to-EBITDA ratio is conservative and provides substantial flexibility. Further, MRK has a number of valuable brands, should a divestiture be required. Overall, we rate MRK's dividend as highly stable given:
Management commitment to shareholder return of capital
Conservative balance sheet
Key brands that can be easily divested.
Sources:
Yahoo Finance
Wall Street Journal
S&P
MRK Company Presentation
Disclosure: I have no positions in any stocks mentioned, and no plans to initiate any positions within the next 72 hours. I wrote this article myself, and it expresses my own opinions. I am not receiving compensation for it (other than from Seeking Alpha). I have no business relationship with any company whose stock is mentioned in this article.