We are believers in the solar industry growth story. In the past, we have written about the US public companies exclusively focused on the solar industry, and in this article, we cover yet another public company in this business, RGS Energy (NASDAQ:RGSE) aka Real Goods Solar.
During the brutal solar module price wars earlier this decade, investors realized that companies with project businesses, such as First Solar (NASDAQ:FSLR) (see our thesis here), SunPower (NASDAQ:SPWR) (see our thesis here) and SunEdison (SUNE) have done particularly well in terms of withstanding the industry downdraft. As investors realized the value and growth curve of the solar project business, this market segment has become the hottest segment of the solar market over the last two years. Things in the project sector have become further heated once SolarCity (SCTY) went public with a rich valuation. Owning and retaining value of the projects has become a new mantra, and based on flawed assumption behind retained value, SolarCity valuation has now reached an insane level (see our view here).
To understand RGS Energy, one needs to first understand its place in the industry. While First Solar, SunPower and SunEdison are vertically integrated in terms of panel manufacturing and project development, SolarCity and RGS Energy are more of pure play project development/installation companies. Without any significant technology or IP, RGSE is an installer with an operational model that is closer to SolarCity than the other three companies.
To be sure, there are some distinct advantages to being a pure project company instead of being hybrid panel/project companies like First Solar or SunPower. The first and a very important advantage is focus. Focus is one of the most under-rated corporate attributes that investors tend to ignore. The second key advantage is that a project developer is much more likely to adopt best-of-breed solar technology solutions for a customer problem, compared to companies like First Solar and SunPower whose in-house solutions tend to constrict the management and the sales force. As an example, management and sales forces of the pure project development companies are well aware that First Solar and SunPower are significantly handicapped with their solutions in certain product attributes, and have exploited this dynamic to their benefit.
However, being a pure play project developer has its own disadvantages. To enter project business, a company does not require a significant amount of technology or intellectual property. The value added is primarily in terms of sales channels, system deployment and financing. These attributes are the typical skill sets of a contractor - and contracting is a low-margin business. With low barriers to entry, competition in this market segment will get increasingly intense over time. We do not view any of the pure project developers gaining sustainable long-term barriers that enable high profit margins. Nevertheless, over time, the dominant players in the industry can develop a significant amount of brand equity to deliver reasonable return on investment.
But, is RGS Energy likely to be one of the leaders? We find that unlikely. As we mentioned earlier, RGS Energy has very little in the form of product or technology differentiation or cost leadership. Its nearest public competitor, SolarCity, has developed manufacturing and installation competencies in racking/BoS technologies, and is the dominant installation force in the U.S. solar industry. SolarCity has a decisive edge over RGS Energy in almost every significant metric when it comes to project development. To the extent that there is a minor regional or other advantage to RGS Energy, there is nothing that we can categorize as sustainable differentiation.
RGS Energy's core business financial metrics are awful (see chart below). In the rapidly expanding residential and commercial markets, the company organic growth has been NEGATIVE. The minor growth shown in the revenues in the recent past is a result of M&A. The company lost money in each of the last three years, and is likely to post yet another quarter of losses when it announces earnings on May 14th.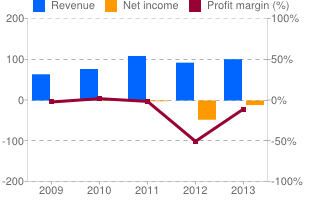 (Chart from Yahoo Finance)
To give credit where credit is due, company's management has been resourceful in terms of financing and M&A. RGS Energy is using its public company liquidity mechanisms to acquire smaller regional private installers at a rapid pace. And, we believe that it will continue with its acquisition strategy in the near future. RGS Energy has also developed sufficient third-party and in-house financing solutions to support its project business.
However, all financial engineering and M&A is nothing more than putting a lipstick on a pig. Given the high overhead of a public company, RGS Energy is likely to have a significant disadvantage compared to local and regional contractors, and is likely to see increasing margin pressure in the future. RGS Energy's core business is unlikely to ever yield an acceptable return on shareholder investments. The company is likely to lose money or be barely profitable for the foreseeable future.
The only ray of hope for investors is that some other project development company in the industry buys RGS Energy to gain access to the projects and sale force and to rapidly establish a footprint in the company's markets. Barring an acquisition, this company is destined to yield subpar returns to investors.
Our Sentiment: Avoid
Disclosure: I am long FSLR. I wrote this article myself, and it expresses my own opinions. I am not receiving compensation for it (other than from Seeking Alpha). I have no business relationship with any company whose stock is mentioned in this article.