WWE Network
Since the beginning of 2014, World Wrestling Entertainment Inc. (NYSE:WWE) shares have swung wildly from as low as $15.31 on January 6th and as high as $31.98 on March 13th. On Friday, May 2nd, WWE shares closed at $18.83. Based on high expectations for the launch of the WWE's network due to WrestleMania 30, and a myopic focus on rear view mirror financial performance, short interest has dramatically increased. The number of shares short WWE has risen from 2.673 million shares as of December 31, 2013, to north of 8.28 million shares as of April 15, 2014. This represents 26.5% of WWE's available floats. (Yikes!) Please note that the McMahons (Vince McMahon is Chairman of the Board and CEO) own 43.9 million Class B shares, so fully diluted shares outstanding are 75.3 million.
In FY2013, WWE generated total revenue of $508 million, with pay-per-view (PPV) events making up $82.5 million or 16.24%. This is important because this is a major aspect of the bears' thesis. Moreover, WWE has consistently and clearly laid out at its December 2013 Analyst Day presentation and during its two subsequent earnings calls that inclusive of pay-per-view cannibalization, breakeven for its WWE Network would be based on roughly 1 million steady subscribers. Additionally, WWE said that each incremental cohort of one million subscribers would generate incremental OIBDA of $50 million.
In fact, I have read articles from the investment community declaring that after six weeks of subscriber data that a launch of 667K subscribers means that the network will fail. Think about how utterly ridiculous that sounds. To add insult to injury, some folks are Monday morning quarterbacking the decision to move away from the pay-per-view model. I couldn't disagree more. Anyone who has read WWE's FY2013 10-K can clearly see that its total FY2013 viewers from its twelve PPV events including the marquee WrestleMania only generated 3.838 million pay-per-view buys in FY2013, down from 4.023 million. As I learned in business school, progressive companies are willing to cannibalize existing revenue streams to position for the future. Moreover, as I articulated in my first bullish WWE piece, published on Seeking Alpha, the cable and satellite broadcasters were the true beneficiaries of these PPV events, not WWE.
To illustrate this point, on page 25 of WWE's 10-K, the average revenue per pay-view buy generated an average price of $21.41, despite the domestic retail prices for its regular events of $45 and $60 for WrestleMania. As the widespread adoption and consumer awareness of OTT devices increases, this should create a positive network effect tailwind. The WWE Network offers WWE fans an attractive entertainment value proposition with its bundled price of $9.99 per month with a six-month commitment. With a subscription, WWE Network subscribers gain access to all twelve PPV events and all of its 120K hours of historical archived content. Remember, WWE owns 100% of its content, has a great brand measured by its 220 million global Facebook (NASDAQ:FB) fans, and "generates economics" (the exact phrase stated by the CFO) in 40 countries (with 27% of total revenue occurring outside the United States).
Television Broadcast Rights
In FY2013, WWE generated $160.9 million in revenue from its television rights fees. This consisted of $105.9 million domestically and $55 million internationally. Here is the exciting part of the bullish story: The WWE's two major U.S. television broadcast rights are up for renewal. Specifically, WWE's "Monday Night Raw" currently featured on the U.S.A. Network (owned by NBC), and its Friday night program "SmackDown" featured on the Syfy network are expiring at the end of FY2014. As the WWE has a larger cumulative weekly U.S. audience than the National Hockey League (NHL), Nascar, and is somewhat comparable to the National Basketball Association (NBA), bears should take notice. Moreover, the terms of the deals inked by the NHL, Nascar, and the whisper number for the 2015-2016 NBA deal, logically validates the WWE's significant upside revenue potential as its existing contracts are underpriced.
In 2013, the WWE generated $105.9 million in revenue. However, the WWE has more Gross Rating Points than NASCAR. Check out this quote from the December 17, 2013 article written by Marc Graser and published in Variety Magazine:
"The company cites Nascar's impressive dealmaking this summer as an example. The racing league secured a new 10-year deal with NBC and Fox worth $820 million a year. And that increase came in the face of declining ratings for many of its races. WWE argues that "Raw" and "SmackDown" alone are just as attractive, with a rabid fanbase that's helped build networks, and its series are diverse in ethnicity and age.

Combined, the shows air 156 episodes a year that average a 2.2 household rating. Nascar airs 154 races and averages a 1.38 household rating among viewers, who are 92% white and over 50. WWE's audience is far more diverse and broken out fairly evenly among age groups. A selling point is that 44% of them are under 34.

That's helped boost gross ratings points, something Madison Avenue keeps a close eye on. Another plus for WWE: 90% of "Raw's" and "SmackDown's" viewers watch the shows live plus same day, making the shows DVR proof."
Now although the WWE isn't exactly the same as live sports, its audience consumes its product in a live fashion, as cited above, 90% of WWE's audience watch it live. This is very similar to sports where 97% of people watch games or events live. Given that a live audience is DVR proof and the dramatic re-pricing landscape measured by sports deals over the past three years, it's fair to say that the WWE could reasonably double or triple its existing U.S. television revenue. More specifically, Nascar signed a ten-year deal with NBC for $4.4 billion for the exclusive rights to the second half of the racing season, and a $2.7 billion deal for an eight-year deal with Fox for exclusive rights to the first half of the Nascar season.
In terms of the NHL, in 2012, NBC signed a $2 billion, ten-year deal for the U.S. broadcast rights to the NHL. In November 2013, Rogers Communication signed an exclusive $4.9 billion twelve-year deal for the exclusive Canadian television broadcasting rights starting in the 2014-2015 season. Attention readers, this Canadian deal averages out to $433 million per year, up from the $160 million average the last time the NHL sold its exclusive Canadian television broadcast rights. Also, the NBA's existing annual broadcast revenue is currently $930 million and expires after the 2015-16 season. There are already whisper numbers speculating that its broadcast rights could double to upwards $1.8 billion on an annual basis.
So although Nascar is a better comparison, it is factually compelling to establish the connect that the market clearing price for live television content has re-priced. Please note, and in the interest of fairness and objectivity, the WWE's Chief Strategy and Financial Officer, George Barrios, stated on December 10, 2013 at the UBS Analyst Day conference that broadcasters pay large premiums for live content for two reasons. These include the ability to generate a return on investment from selling advertising (about 30% of revenue) as well as generating subscriber fees called affiliate fees when it negotiates with cable and satellite providers (about 70% of revenue). Moreover, when NBC renegotiates its affiliate fees, it will command a dollar value per subscriber, say a hypothetical $3 (this is solely an example not necessarily the exact amount) for every subscriber. These costs then get bundled and passed through to the end consumer in the form of higher monthly cable and satellite television bills. There are 115.6 million households with a television to provide perspective on the total addressable market.
Outside of the United States, in January 2014, the WWE reached a five-year deal with its existing U.K. broadcast partner BSkyB, and is currently in the middle of negotiations with its partner in India, Ten Sports. This is significant as the U.K. and India are the WWE's second and third largest television broadcast markets, respectively. Specific terms of the BSkyB deal were not disclosed.
Continuing on the objectivity theme, I think the WWE Network may give television broadcasters slight pause, but it's hard to argue the WWE's audience isn't attractive. Also, as mentioned above, although WWE's gross ratings points are higher than Nascar's, strategically, WWE doesn't have data on what broadcasters can charge on a CPM basis for an ad campaign during a Nascar event versus say "Monday Night Raw". Also, the NBCs of the world need to calculate how much adding certain content enhances their leverage during negotiation for its affiliate fees. That said, it's logical that the WWE's broadcast rights could easily re-price at $200 million-$300 million up from $106 million in FY2013. Moreover, I have even read the WWE is willing to broadcast its event live, which is more expensive, if it can ink a deal closer to Nascar term parity to justify the added expense.
Supplemental Short Interest snapshot.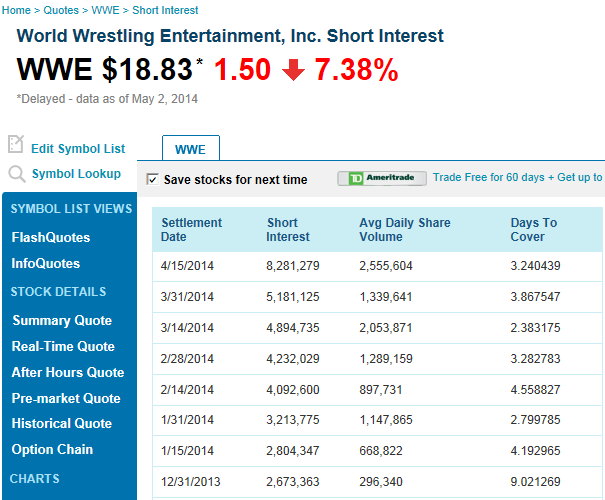 Source: Nasdaq.com - Short Interest Section
Conclusion
Management has consistently said its FY2015 OIBDA goal of doubling or tripling its FY2012 OIBDA of $63 million is achievable. Based on the outlook for its WWE Network, its broadcast rights re-pricing, and its organic growth in live events, licensing, and merchandise sales; I'm strongly inclined to believe management.
Disclosure: I am long WWE, GCI, MNI, WTW, MOVE. I wrote this article myself, and it expresses my own opinions. I am not receiving compensation for it (other than from Seeking Alpha). I have no business relationship with any company whose stock is mentioned in this article.