As seen in the performance of the PowerShares S&P 500 High Quality ETF (NYSEARCA:SPHQ) relative to SPDR S&P 500 ETF (NYSEARCA:SPY), the market clearly hasn't been concerned about balance sheet strength and earnings reliability since the March 2009 low: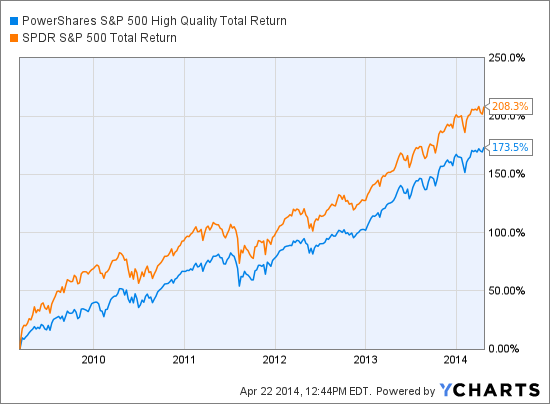 SPHQ Total Return Price data by YCharts
The lack of love for quality has been fairly consistent. The Leuthold Group's proprietary data on 1,500 stocks shows the low quality segment outperforming high quality in four of the past five calendar years.
While low quality is always the fastest horse out of the gate when the market makes its turn from bear to bull, the fact that low quality has continued to lead the way six years on is a bit of an anomaly. As a recovery lengthens, more stable quality firms typically take the lead in a pricier market where pullbacks become more of a concern. For good reason: In 2008, the mother of all pullbacks, Leuthold's stable of low quality companies lost 49% compared to a 34% loss for high quality firms.
The high-quality habit of losing less in down markets also pays off over the long term. According to Leuthold, while high quality firms have outperformed low quality in only 16 of the past 28 calendar years, their 13% annualized gain is three percentage points better than the return for low-quality firms.
All of which is to say, now sure looks like a pretty reasonable time to consider a high quality tilt to your portfolio. Not just because of the timing. Using its 5-year normalized P/E ratio calculation, Leuthold found that as of early April high quality was trading at a 23% discount to low quality, cheaper than the long-term norm of a 13% discount. (During the last recession, the flight to quality erased the discount.)
S&P Capital IQ makes a similar point in a recent research note: its proprietary earnings and dividend quality rankings of the S&P 500 shows low quality companies trading at more than 26 times estimated 2014 earnings compared to 16.9 forward P/E ratio for high quality firms.
S&P Capital IQ identified 16 high quality stocks trading at compelling valuations. From that list, Chevron (NYSE:CVX), McKesson (NYSE:MCK) and Comcast (NASDAQ:CMCSA) also made it onto a Leuthold quality screen.
The case for Chevron stock is well established; these days it's hard to find a dividend or valuation screen it doesn't show up on.
Now add "quality" to its screen bona fides. While its balance sheet has taken on more debt of late (to finance big projects expected to come on line in the next few years) it's by no means at a worrisome level. And in terms of Bottom Line quality, it ranks in the top quartile of energy stocks, according to Leuthold. That ranking involves a variety of metrics including the stability and growth trajectory for earnings and cash flow: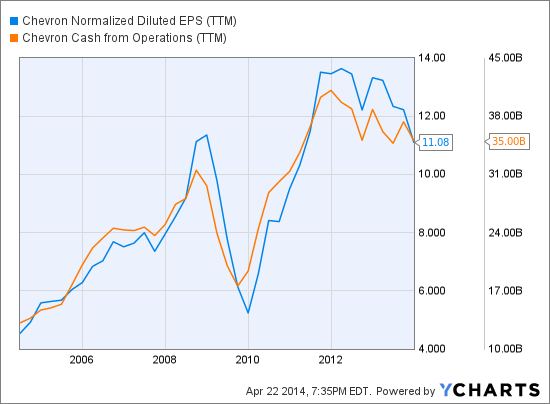 CVX Normalized Diluted EPS (TTM) data by YCharts
With a 3.2%+ dividend yield, a dividend growth history that is as rock-solid as they come and a P/E ratio less cash hovering around 10x, Chevron is a cheap way to play some defense right about now.
That Comcast turned up on both lists is a testament to both a rock solid balance sheet: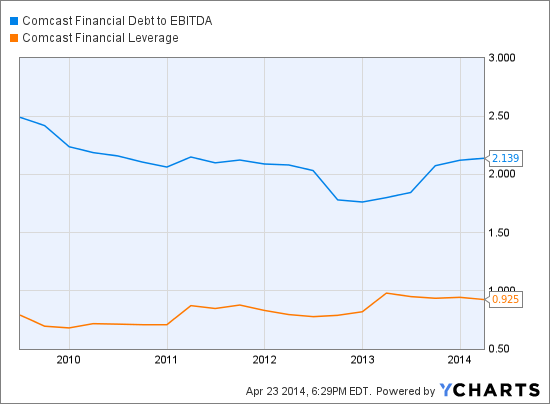 CMCSA Financial Debt to EBITDA data by YCharts
As well as stellar earnings and cash flow growth over time that hasn't been baked into the price: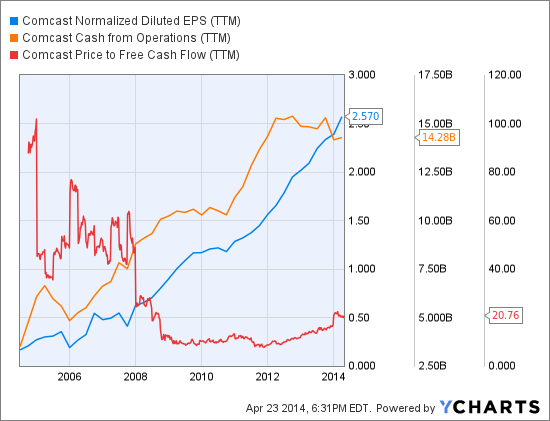 CMCSA Normalized Diluted EPS (TTM) data by YCharts
Comcast stock is down since its mid February announcement it will shell out $45 billion to buy Time Warner Cable (TWC) -- a deal that is now being hotly debated by regulators, and opposed by the likes of Netflix (NASDAQ:NFLX). That said, it's not as if Comcast must have this deal to grow. In its just released quarterly results, Comcast reported revenue growth of 14% and net income rose 30% (part of that is a significant Olympics bump in subsidiary NBC's Winter Olympics ad revenue.) Yet even though Comcast stock has more than doubled since the start of 2012, Comcast's valuations have not followed suit, offering a decent entry point for a high quality stock.
Drug and medical supply distributor McKesson offers high growth in an expanding market, given our seemingly voracious appetite for meds and tests. While pressure may mount for more price transparency for drugs and devices, to date that has only translated into a slower growth rate, but one that continues to stand far above the rate of inflation. And as seen in a chart, McKesson has ridden that trend to strong growth.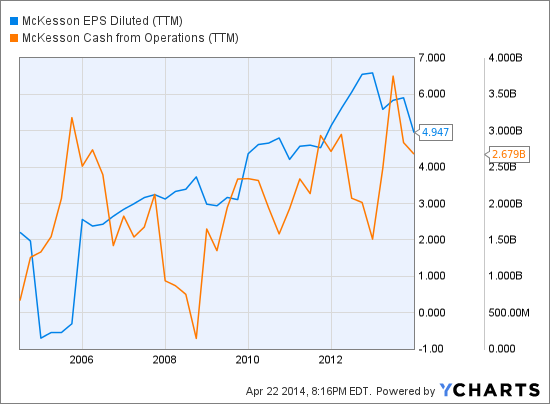 MCK EPS Diluted (TTM) data by YCharts
On YCharts' McKesson rating, the company scores a 9 out of 10 for fundamentals, but this is one quality stock that isn't exactly selling at a Chevron or Comcast-esque valuation. A torrid price run since last fall has pushed the valuation up as well. At the first sign of a pullback, this is a quality company with a strong growth story.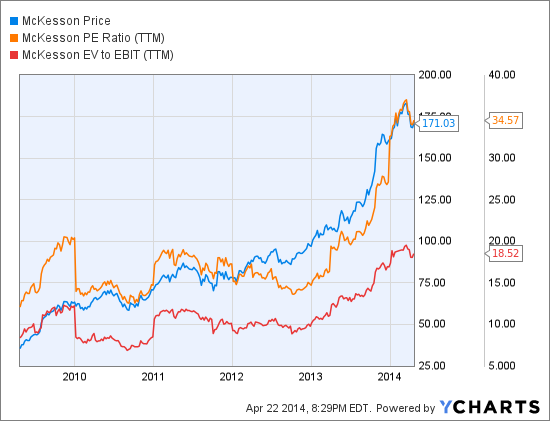 MCK data by YCharts
Carla Fried, a senior contributing editor at ycharts.com, has covered investing for more than 25 years. Her work appears in The New York Times, Bloomberg.com and Money Magazine.
Disclosure: None