KLA-Tencor's (NASDAQ:KLAC) stock tanked recently when CEO Rick Wallace stated in the company's earnings call that:
Now in logic and foundry with the introduction of the new 3D gate architectures, the yield issues our customers are grappling with today are proving to be the most challenging that the industry has ever faced and even the smallest variation in process margin can cause significant yield losses for these devices. Some of these issues with these process margin people are dealing with are CD dimensional changes, fin height control, process challenges such as difficulty in optimizing implant recipes, and then there are unique defect issues associated with new CMP steps, new etch steps that are all part of the FinFET process and that's just a small sampling of the complex technical challenge that is associated with bringing new 3D device architectures to market.

Consistent with the widely reported slowdown in leading edge logic demand seen in the industry today as customers have delayed plans for additional production capacity for 20-nanometers following a strong initial ramp.
In the semiconductor metrology and inspection sector of the equipment market, also referred to as the process control sector, KLAC sells the eDR-7100 electron-beam (e-beam) review and defect classification system for 3D devices. Applied Materials sells the SEMVision G6 defect review system. So, if KLAC is being impacted for yield problems and pushouts on 3D, so is AMAT.
Of more importance is that AMAT sells etch and deposition equipment for 3D to companies such as Intel (NASDAQ:INTC) and TSMC. Since 3D is being pushed out, it is having a significant impact on AMAT.
According to Applied's own slide, shown below, the 3D NAND market alone is worth $350 million for etch equipment sales. Combine that with etch equipment revenues for 3D FinFETs, and revenues that are pushed out represent well over 10% of AMAT's revenues for 2014. If we add deposition equipment that is also being pushed out, we are now in the 15-20% range of revenue pushouts for AMAT that may extend into 2015.
Others with exposure to the 3D space are ASML (NASDAQ:ASML) and Lam Research (NASDAQ:LRCX). Lam's exposure in the 3D space is much smaller than AMAT's. ASML's stock is down about 13% since it announced 3D FinFET pushouts in its most recent earnings call. AMAT will disclose its quarterly revenues later this month, but the results will mirror those of ASML and KLAC with respect to 3D pushouts. With such a large exposure to 3D, AMAT's results will be significantly worse.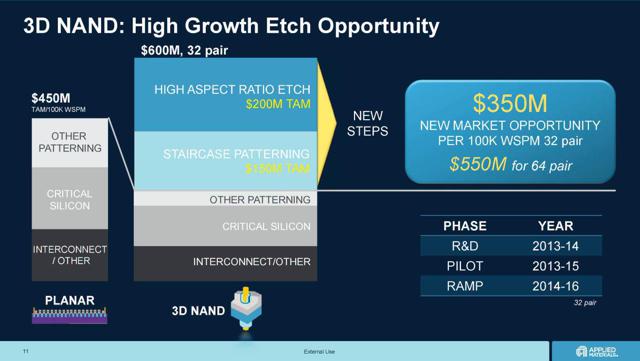 Disclosure: I have no positions in any stocks mentioned, and no plans to initiate any positions within the next 72 hours. I wrote this article myself, and it expresses my own opinions. I am not receiving compensation for it (other than from Seeking Alpha). I have no business relationship with any company whose stock is mentioned in this article.