When I last wrote about ADTRAN Inc. (NASDAQ:ADTN) on June 7, 2013, it had moved up over 25% over a two-month period, starting on April 5, 2013, to close at $24.06 on June 7, when it was trading at $18.55 per share. At that time I questioned if it could continue its growth trajectory, as I believed it was being rewarded beyond its performance because prior to that expectations had been low.
In the short term my thesis was premature, but over time it has been proven correct, as it has dropped to $22.28 at the close of trading on May 2, 2014. This was after a nice run in 2013 where it handily beat expectations every quarter.
The key reason for the upward move in share price came after beating earnings expectations. Yet the share price was never able to hold long before it came back down once investors absorbed the overall performance and outlook for the company, as well as the risks associated with the market it competes in.
We'll look at the reasons behind why the company hasn't been rewarded for its apparent outperformance, and whether or not there are any significant catalysts the company can count on to take it to the next level.
Recent Performance
source: Yahoo Finance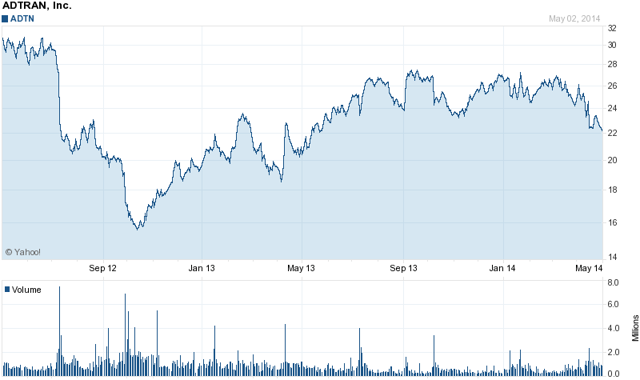 You can see in the middle of the above chart where it hit the low on May 5, 2013. From there it kept on moving up until July 23, which you can identify from the first point on the shoulder between May and September.
From that time through April 15, 2014, it traded in a range of $23.00 to $27.00 per share. It briefly surpassed $27.00 on January 22, 2014, the day of its earnings report, but it quickly moved back to its predictable range.
The bad news for ADTRAN is for the first time since June 5, 2013 it dropped below the $23.00 per share mark. That happened on April 16, 2014. A mixed earnings report after several decent quarters was the negative catalyst there.
I also believe investors are starting to seriously consider the ramifications of the share price remaining flat after several straight quarters of beating expectations. This could be the beginning of a downward tumble for ADTRAN. Since the share price moves in wide swings because of the small size of the company, it could test the $20.00 per share mark or lower.
It has done that numerous times over the last twenty years, and is likely to continue to do so.
Long-term Performance
source: Yahoo Finance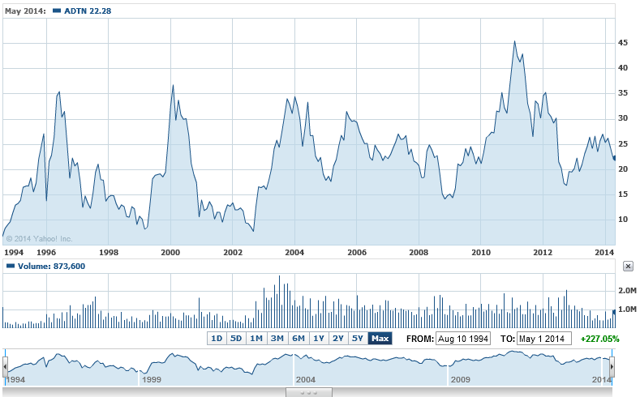 The twenty-year chart above really tells the story of the struggles ADTRAN has had for a long time. At numerous points during that period of time an investor could have acquired shares, and many years later have made no money at all.
This could of course be applied to a lot of companies, but for ADTRAN, the volatility of its share price and performance makes it a lot riskier than a lot of companies.
One positive thing that can be taken away from the share price movement is since 2002 the lows moved higher than past performance, although other than a brief period in 2011, the highs have remained the same for almost two decades.
The reason is the specific industry ADTRAN operates in.
Business Model Challenges
There is no way to get around it, the business model of ADTRAN and its competitors is a difficult one because the carriers they sell products to make the decisions on when and if they're going to spend on projects.
So selling broadband and internetworking products is extremely susceptible to a variety of market forces beyond the control of the company. In many cases this means the quality of product or service is irrelevant. This can be because of budget cuts, adjustments, or deciding to go in another direction, among other reasons.
I'm not saying quality doesn't matter. What I'm saying is if a customer changes his mind on buying products from ADTRAN, the product isn't the issue, it's something other than that. If customers decide to hold back their budgets, there's nothing ADTRAN can do.
This may sound like any business practice, but its far more heightened in this market than most, if not all others.
This isn't only ADTRAN that suffers an impact from these realities, but competitors like JDS Uniphase and F5 Networks suffer similar effects in their businesses.
International Markets
On a geographic basis the U.S. market has been slow, while international business has been growing. This is a positive and negative for the company. It's positive because of increased revenue, but negative because margins are lower.
One thing to understand about the customers ADTRAN serves is various customers have different margins. So a geographic mix favoring international markets result in lower margins. This is especially true in the European market. The company is attempting to offset this in international markets by lowering costs.
It is able to do this for now because the price of components has fallen, which gives it some room to cut costs.
So far in 2014 international sales have been able to offset the slow U.S. market. Growth was especially pronounced in Latin America and EMEA. The catalyst there is the Broadband Access products of ADTRAN.
This is expected to continue in this quarter, and probably in the third quarter as well; although that's not as visible at this time. Again, the nature of the carrier business specifically, which is fluid and volatile, makes it hard to give guidance in any way other than the immediate quarter.
The biggest thing to watch here is whether or not the proposed cost cuts will make up for lower international margins.
CEO Thomas Stanton believes the company has done well in the current geographic shift, saying that absorbing more international business while still producing gross margin in the mid 40s to low 50s range is a good result. I don't think investors are as positive on that as he is, in light of the fact the current trend is that international markets are driving revenue and earnings.
This is a major reason the latest earnings report wasn't received as well as past reports.
With little in the way of catalysts in the U.S. market, the fact that international markets are the growth area for the immediate future means gross margin is a major concern. We'll have to see how long cost cuts can prop margins up, and what happens afterwards.
This all assumes the company can continue to expand it footprint internationally.
While international markets are the driver for ADTRAN now, it appears that means the margins and earnings may come under pressure as that business grows. Now the question is whether or not revenue growth and help overcome lower margin. That's a major element of the company that will need to be closely watched.
If increased revenue isn't able to make up for lower margin, the company could take a big hit.
How to Play ADTRAN
Taking into account the performance of ADTRAN as seen in the long-term chart above, you know this is not a stock you want to buy and hold. Some investors actually do this, but I can't see any reason why they would do so. There is no way you can project out 15 to 20 years into the future and know if this company is still going to be around.
Even shorter periods of time are full of risk because of the volatility of the market and share price.
The best play is to look for good entry points after the stock drops in a big way. Even this can be difficult with ADTRAN though, as evidenced by its recent share price movement and performance.
For example, after the four straight quarters of exceeding expectations, the stock did very little. So now after a weaker performance, how can it be known how far the share price will fall, or if it will in a big way?
I say this because past share price moves have been volatile, and now that it has dropped below $23.00 per share for the first time in a number of months, it's a risk to consider it in the same way you would have over the last 16 months.
Nonetheless, if you believe ADTRAN will continue to perform fairly well in the future, waiting to see the magnitude of the fall in its share price would be a good strategy to embrace. I don't believe it is through with its downward move, and it's likely to be too early to invest at this time.
There is no doubt in my mind that ADTRAN will eventually rebound, as its historical performance has proven it is able to do time after time. I would get in at a good price and only hold it until it makes its predictable upward move. It's a matter of when, not if.
Nothing in the market points to any type of major weakness in the industry, so this should help that tide to raise up all ships. Only a poor internal performance by ADTRAN could change that inevitability.
If it wasn't for the mixed earnings results, I would be looking at getting into ADTRAN at this time, because it has dropped so quick and deep since early March 6, 2014, when it closed at $26.98.
Since it hasn't had this type of weak performance for over a year, it's not clear how the share price will react. This is why I think investors should wait and see if it has further to go before getting in. I could be wrong, but I'd rather be wrong on that side of things than get in and have the stock price fall much further before it rebounds.
Conclusion
The major problem for ADTRAN is the industry is operates in. It's unpredictable and prospects can change very quickly because of decisions made by its customers.
What materialized from that is very uneven quarters. That comes from business being cancelled, or in many cases being pushed out further into the future. It makes guidance and projections almost impossible, and companies like ADTRAN rarely offer long-term guidance for that reason. Even providing sequential quarterly guidance is not always offered.
Add to that the weak U.S. market and the migration to international markets, where there is revenue growth opportunity but less earnings potential, and it reveals a company that is likely to continue to perform similar to what is has in the past. That's not something to look forward to.
And if the U.S. market continue to struggle, and margin does come down, it could put pressure on the share price over the long term, with the highs and lows decreasing over time.
All of this must be taken against a background of extreme volatility associated with the industry, which offers opportunity to make money if a good entry point is gained and you don't mind holding the stock for a short period of time.
I see nothing ADTRAN offers for long-term investors, and I would stay away from it if you incorporate that investing strategy.
Disclosure: I have no positions in any stocks mentioned, and no plans to initiate any positions within the next 72 hours. I wrote this article myself, and it expresses my own opinions. I am not receiving compensation for it (other than from Seeking Alpha). I have no business relationship with any company whose stock is mentioned in this article.