The market has not been particularly stable thus far in 2014. Each week seems like a new version of a thrill-a-minute roller-coaster ride - at least in some sectors, if not the market as a whole.
We can also add to the instability a little unpredictability, where the market seems to gravitate downwards on good news (take the market's response to positive labor figures released on May 2 - the Dow down 0.28%, S&P down 0.13%, NASDAQ down 0.09%), and jumping upward on "bad" news (Russia's annexation of Crimea on March 18 - Dow up 0.54%, S&P up 0.72%, NASDAQ up 1.25%).1
From the outset, 2014 seemed to be determined to confront investors with a variety of changes that seemed to defy rational expectation, which is why, in mid-January, I pulled a substantial amount of my money out of the market, bound and determined to find some way to keep my portfolio from acting like a yo-yo.
My search for alternative investments was governed by four things:
I am retired, so I don't relish seeing my capital disappear, even if it's only temporary, and especially if it yo-yos;
Being retired, I do like dividends - the more the merrier;
The traditional wisdom governing the distribution of one's portfolio between bonds and equities is - at least for the time being - nonfunctional, if not downright dysfunctional;
I have a spouse who swings a mean cast-iron skillet if I mess with the portfolio too much.
With the above in mind (especially number four), I started looking at ETFs. Of course, ETFs are not immune to market changes, but there is a plethora of options in the ETF marketplace that can satisfy virtually any goal one has in mind. Plus, ETFs have the advantage of being managed (hopefully effectively, and on a regular basis), so the investor does not really have to worry about them as much as one would a collection of individual equities.
After some rather lengthy research, I found five ETFs that seemed to fit together well as the basis for a respectable retirement portfolio. They are:
Below, I describe the ETFs which seem, collectively, to take advantage of the flexibility the medium affords in order to pursue some measure of growth, provide good dividends, maintain effective diversity between fixed income and equities, would seem to be less susceptible to gross market swings, and are accessible.2 As a result of my research, I purchased each of these for my own portfolio, and have been satisfied with their performance so far.
The ETFs Individually3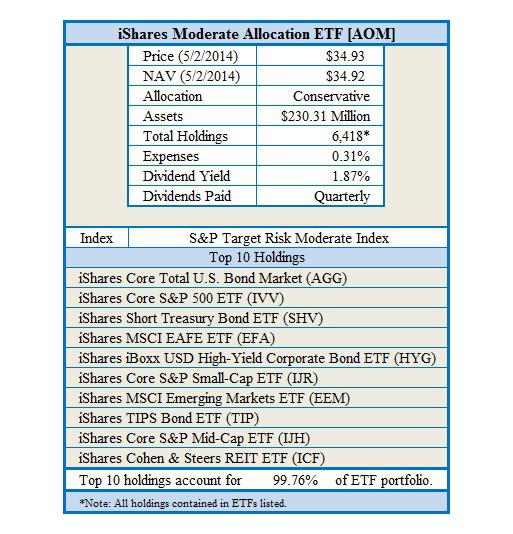 AOM is one of the four "allocation" ETFs - AOR, AOA, AOM and AOK - that are offered by BlackRock, Inc. (NYSE:BLK)'s iShares, each one designed to track a growth portfolio, aggressive portfolio, moderate portfolio, and conservative portfolio, respectively. The principal difference amongst them is a matter of how much is allocated towards fixed-income sources, and how the equity ETFs are balanced.
Although iShares considers the AOM portfolio to be "moderate" Morningstar, Inc. (NASDAQ:MORN) rates it as conservative in its allocation, due no doubt to the fairly heavy weighting on bond funds. Indeed, in terms of equity holdings, the most heavily invested sector is financial services, with technology, industrials and consumer sectors following.
Bond holdings are balanced between government and corporate issues, but mortgage-backed securities constitute a not insignificant 13%+ of the bond holdings. While this may not seem like much, cash (and equivalents) is the weightiest component here, with nearly 37% of AOM's fixed-income investment here.
All holdings are iShares ETFs - essentially a fund of funds, which is rather nice, as it enables the ETF to offer a low expense ratio as low as 0.31%. On the negative side, this fund offers a rather small dividend yield of 1.87% (the lowest of the group). Share performance for AOM this year has been a modest 1.31%, with a total return - YTD - of 2.19%.4
AOM is currently the most expensive of the five ETFs I consider here; it is priced close to the fund's net asset value ("NAV"), as most of these ETFs are. The following graph illustrates the fund's performance so far this year: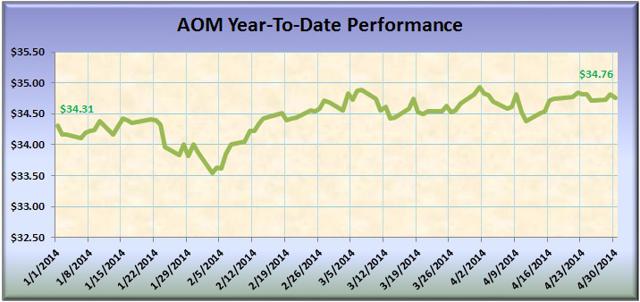 The aim behind including AOM in the portfolio is the weighting it gives to fixed income, and the expectation that the traditional relation between bonds and equities would work to maintain fairly stable price, although that may come at a sacrifice, as growth may be muted, and dividends, coming as they do from ETFs, are diluted twice - once by the original ETF, the second time by the ETF that includes it.5 That said, some advisors consider AOM to be a worthy consideration as a core holding in an ETF portfolio.6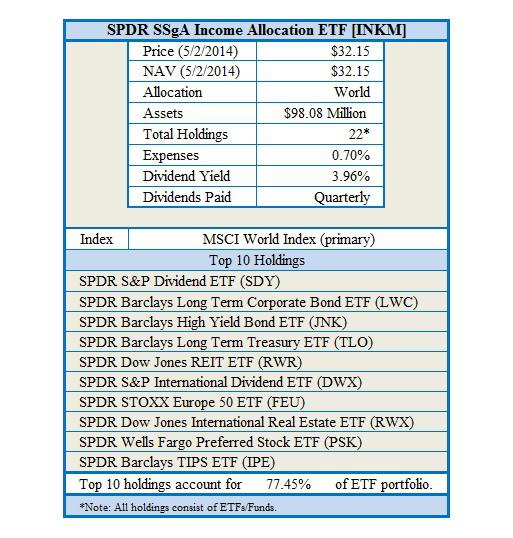 State Street Corporation (NYSE:STT)'s INKM is designed to provide a variety of dividend sources. INKM offers a yield of 3.96%, although it comes at a price: the expense ratio for this fund is 0.70%.
While it does have holdings in Treasuries, its bond holdings are tipped towards the long-term corporate and high yield ("junk") bonds. It is more diversified than AOM, although at root it is another "fund of funds." Its equities are weighted towards cyclical businesses, with a heavy emphasis on real estate. Other, more moderately weighted, focuses are on industrials and financial services. Bonds are heavily weighted towards corporate issues.
Share growth so far this year has been a healthy 5.01%, with YTD total return of 5.83%. The following chart shows share performance: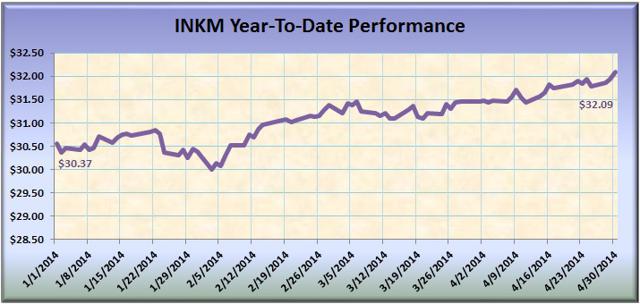 My primary reason for including INKM in my new portfolio is its diversity, particularly in terms of international investments - it is the only one of the five ETFs to be categorized as having "world" allocation. Not that it is essential to me to have global range in the portfolio, but if it can be achieved while also securing a good return, it becomes the icing on the cake.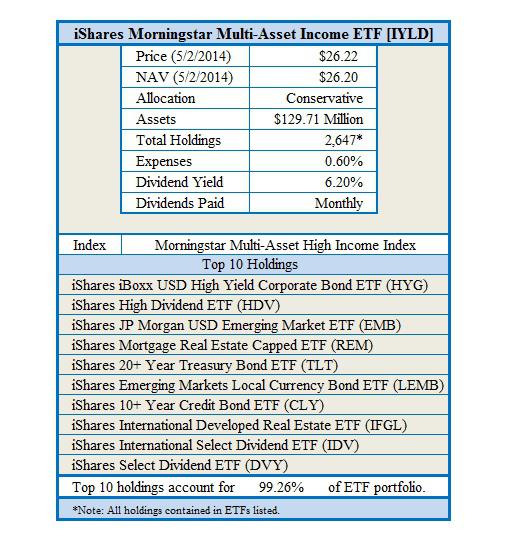 With IYLD, we come to the meat of the portfolio. This ETF consists of ten funds with a history of offering high dividends. As a result, it is able to offer a yield of 6.20%, which seems fairly high for an ETF, while still offering diversity. Expenses take a 0.60% cut.
The fund's main holding is iShares junk-bond ETF (NYSEARCA:HYG), accompanied by ETFs focusing on emerging markets, REITs, Treasury bonds, and select corporate dividend offerings. Its equity holdings are heavily weighted towards real estate, while its bond holdings are balanced primarily between government and corporate, with slightly more weight on government bonds. Just under 80% of its assets are in North America (U.S.: ~60%), with Europe and Asia getting approximately 11% each.
The YTD total return for this portfolio is a very handsome 7.73%, achieved by combining its dividends to a share growth of 5.01%. Its share performance is shown below: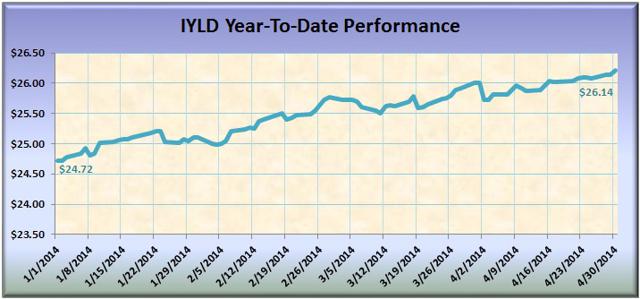 The reason for including this ETF in the retirement portfolio should be clear; it provides a substantial dividend to the portfolio overall. An additional payoff is acquired by the excellent performance IYLD has shown. So far this year, IYLD outperforms every other ETF in the portfolio. I am hoping that this represents a turnaround for the fund's management team, as IYLD was one of the worst-performing ETFs of 2013, posting a loss of approximately -2.26%.7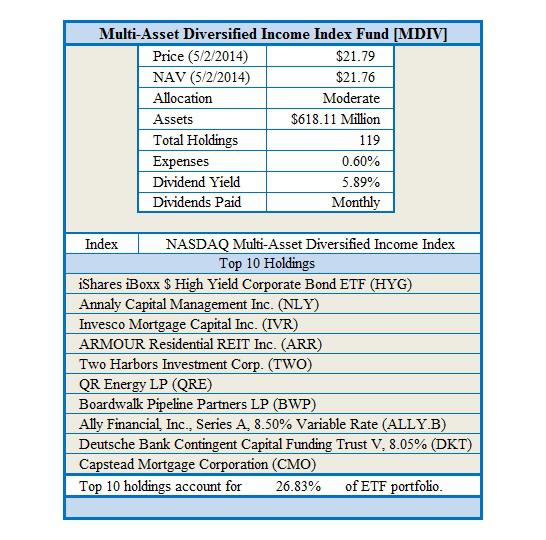 Next to IYLD, First Trust Portfolios L.P.'s MDIV is the second-best performing ETF in our retirement portfolio. With a "moderate" allocation rating by Morningstar, the fund focuses on high-yield, value, investments, enabling it to maintain a 5.89% dividend yield. Again, the yield comes at a price, with an expense ratio of 0.60%.
Investments are allocated amongst four types: dividend-paying equities, major limited partnerships ("MLPs"), preferred securities and real-estate investment trusts ("REITs"). Its equity investments tend to focus on the real estate, energy and utilities sectors. Its bond holdings are almost exclusively high-yield corporate bonds. Nearly 90% of its investments are in the U.S.; approximately 7% in Europe (primarily Luxembourg), and less than 2% in Asia (almost exclusively emerging Asian markets).
So far this year, MDIV has not performed as well as either INKM or IYLD, share growth amounting to 4.47%; however, its substantial yield has enabled it to produce a total return YTD of 6.32% - second only to IYLD.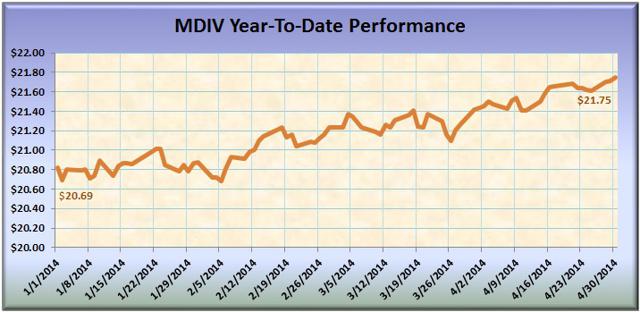 Perhaps the main attraction MDIV has for me - and why I give it a place in the portfolio - is that it adds the element of risk to what otherwise seems to be a fairly safe portfolio. I'm not looking for bland, after all; MDIV has the prospect of introducing some spice to the mixture. At the same time, its focus on REITs and MLPs could cause some holdings to lose value if interest rates were to rise suddenly.8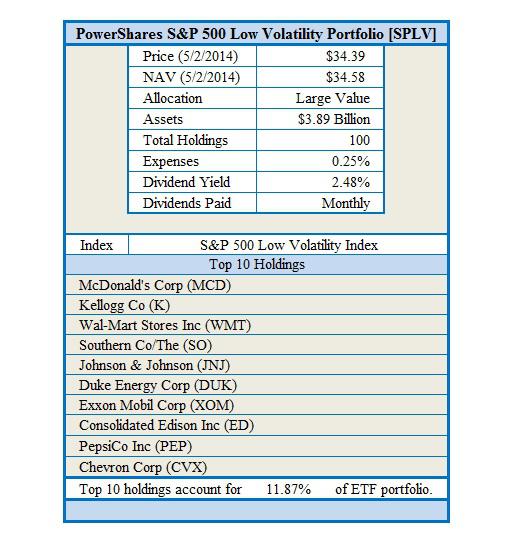 Invesco Ltd. (NYSE:IVZ)'s SPLV may be one of the more discussed ETFs on the market today, because it represents one of the "trendier" trends in investing: "smart beta." The principle behind the smart-beta portfolio is to structure the portfolio so as to either exploit market inefficiencies or avoid market deficiencies, and thus enable higher returns/lower risk.9
SPLV is designed to minimize volatility by focusing on the 100 companies in the S&P 500 that display the lowest volatility for the trailing twelve-month period. The companies are equally weighted, and the portfolio is adjusted quarterly. Its expense ratio is very small at 0.25%, and its dividend yield is somewhat light compared to some other holdings in our portfolio - but still reasonable - at 2.48%.
Given the index on which the ETF is based, SPLV is considered a "large value" fund by Morningstar. At present, its predominant holdings are in the consumer defensive, utilities, healthcare and financial services sectors. Nearly 99% of its holdings are in the U.S., with approximately 1% in developed Europe investments. All of its holdings are equities.
As with all of the funds we are considering, SPLV has enjoyed a productive year so far, as the following chart illustrates: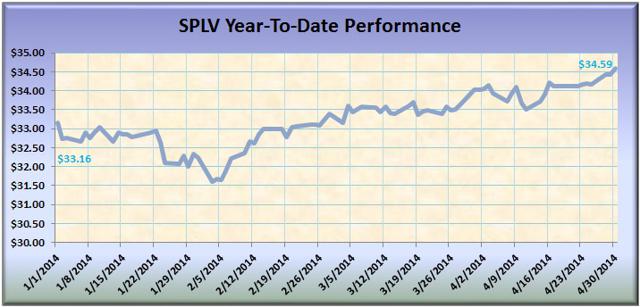 The fund has experienced share growth of 4.31%, with a total return so far of 4.58%.
I think the main reason I opted to include SPLV in the retirement portfolio was to mitigate the increase in risk introduced by MDIV. As any investor will tell you, however, you avoid risk at a price. The downside to SPLV is that a portfolio aimed at minimizing volatility may avoid significant losses, but does so at the expense of return, a point acknowledged by PowerShares executives.10
The Retirement ETF Portfolio
So, how do the five ETFs fit together?
The best thing about the funds is that they are sufficiently different that the portfolio can be modified to accommodate almost any investment attitude. If one wants to make the portfolio conservative, increasing AOM (and possibly SPLV) relative to the other holdings should work. If one wants to maximize dividends, focusing on IYLD and MDIV should satisfy one's thirst.11 If you want to maximize total return, IYLD by itself is a good focus.12
In what follows, I am assuming a portfolio constructed of an equal number of shares of each ETF. My own holdings are designed to maximize dividends.
The following chart shows how the portfolio breaks down in terms of major segments:13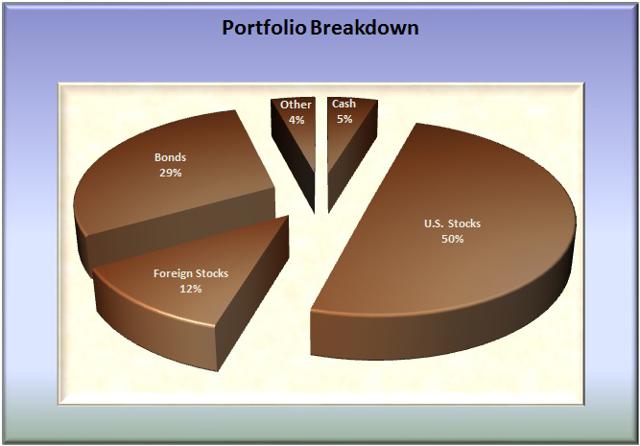 The portfolio is ~ 50% in U.S. equities, which seems to be a solid foundation for growth, although the conservative nature of the investments indicate slow, rather than aggressive, growth. The ~ 12% investment in foreign stocks is focused primarily in developed European countries, with a substantial presence in Asia/Japan/Australia, as well. Bonds are weighted towards high-yielding issues.
The portfolio as a whole is considered to be "moderately risky" by Morningstar. It carries an average expense ratio of 0.29%.
A YTD comparison of the performance of each of the ETFs, the Dow Jones Industrial Average, the S&P 500, the SPDR Dow Jones Industrial Average (NYSEARCA:DIA), the SPDR S&P 500 (NYSEARCA:SPY), and the combined retirement portfolio is presented below: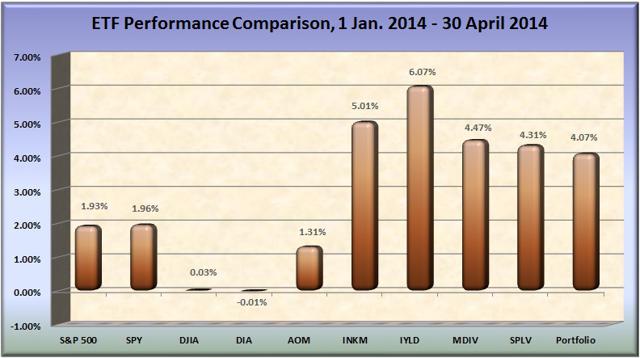 The relatively poor performance of AOM has had the effect of pulling the performance of the portfolio as a whole down to a growth of 4.07% - certainly not bad, and still better than the S&P and the Dow, but lower than the performances of four of the five component ETFs. A question that needs to be addressed is whether the exposure AOM gives to bonds is, in the current economic climate, an effective way to direct resources?
In light of the fact that more than 55% of the fund's investment in bonds is with issues that have coupons yielding 4% or less, and considering that interest-rate increases are about one year away, one has to wonder if it might not be better to divert more of one's resources to a more profitable venue, at least for the time being - especially if one is interested in taking advantage of growth opportunities available now.
The following graph highlights the quandary AOM puts us in: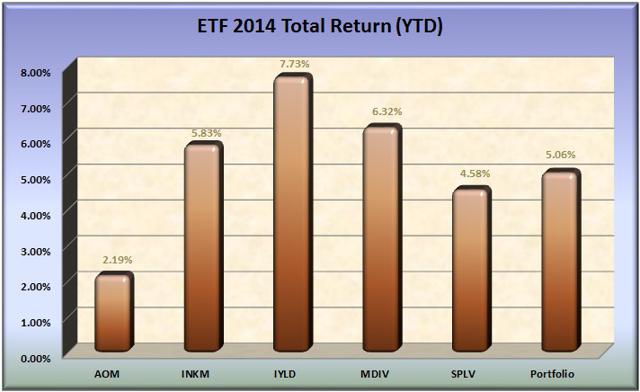 If we delete AOM from the portfolio, the total return for the portfolio as a whole becomes 6.12% - a difference of 106 basis points more than the original portfolio. That might strike growth-oriented investors as a significant increase in returns; someone more inclined towards a safer portfolio may prefer to leave AOM alone.
In general, bond-oriented ETFs tend to have low returns, unless one turns to long-term bond funds, such as iShares Core Long-Term U.S. Bond ETF (NYSEARCA:ILTB) or Vanguard Long-term Bond ETF (NYSEARCA:BLV) which have YTD total returns of 11.24% and 10.35%, respectively. However, these funds also carry substantially more risk than AOM.
Concluding Remarks
I believe that the portfolio I have described is a solid foundation for a retirement portfolio. It gives the security to be found in fixed-income investments, while affording the investor the opportunity to grow the portfolio gradually through a fairly conservative combination of equities.
As it stands, the portfolio could constitute a solid core, with additional holdings added to emphasize specific interests the investor may have. The core will provide good income and gradual growth while limiting volatility. I would not expect the portfolio to consistently beat the S&P 500, but it should perform well enough that one need not worry about sudden downturns.
Disclaimers
This article is for informational use only. It is not intended as a recommendation or inducement to purchase or sell any financial instrument issued by or pertaining to any company or fund mentioned or described herein.
All data contained herein is accurate to the best of my ability to ascertain, and are drawn from the issuers' websites specific to the funds described to the extent possible. All tables, charts and graphs are produced by me using data acquired from the issuers and Morningstar; historical price data from Yahoo! Finance. Data from any other sources (if used) is cited as such.
All opinions contained herein are mine unless otherwise indicated. The opinions of others that may be included are identified as such and do not necessarily reflect my own views.
Before investing, readers are reminded that they are responsible for performing their own due diligence; they are also reminded that it is possible to lose part or all of their invested money.
Please invest carefully.
1 Data from Wall Street Journal Online (wsj.com).
2 Read "cheap."
3 Data provided in the descriptive table for each ETF is drawn from the web-page describing the relevant ETF. In order to provide some standardization to "allocation" for each ETF, I relied on Morningstar's categorization for each ETF, as each fund's management company has their own way of characterizing the fund with no meaningful way to compare them. Historical price data courtesy Yahoo! Finance. Clicking on the main table for each ETF will take you to that ETF's home page.
4 All four "allocation" ETFs have performed roughly the same so far this year.
5 In the interest of being up front, for reasons that will become clearer as this article goes on, AOM is the only fund I am considering replacing once I find a suitable candidate.
6 "Why The Market Doesn't Care Where You Think It Should Go," Seeking Alpha, Feb. 9, 2014. See also note 8, below.
7 "Is Your Multi-Asset ETF Ready for 2014?," Minyanville, Dec. 10, 2013.
8 "Multi-Asset Menagerie With These ETFs," Yahoo! Finance, April 28, 2014.
9 "Is Smart Beta an Improvement Over Standard Indexing?," The Wall Street Journal, March 16, 2014.
10 "New analysis: Smart beta ETFs haven't scored the holy grail," MarketWatch, May 2, 2014.
11 According to ETF Database, both funds would place among the top-ten dividend yields in its database (although they are not apparently in its database).
12 Again, relying on ETF Database, IYLD would place in the top ten. MDIV would place in the top twenty. INKM is included at number 21.
13 Data based on analysis of the portfolio by Morningstar.
Disclosure: I am long INKM, IYLD, MDIV, SPLV. I wrote this article myself, and it expresses my own opinions. I am not receiving compensation for it (other than from Seeking Alpha). I have no business relationship with any company whose stock is mentioned in this article.
Additional disclosure: While I currently own shares of AOM, I may divest myself of the shares within the next 72 hours.