Disney (NYSE:DIS) is a powerhouse. Aside from their traditional brands and theme parks, Disney is a content powerhouse. They are in movies, television, and retail products, as well - aside from what they're best known for - their theme parks. Disney has been growing non-stop, and analysts are expecting continued growth as the company tees up earnings for today, Tuesday, after the bell.
With a $142 billion market cap, Disney is in the running to be one of the biggest companies in the world. Disney has traded at all time highs of late near $83.65 and the company currently offers a 1.1% dividend yield for those who are invested.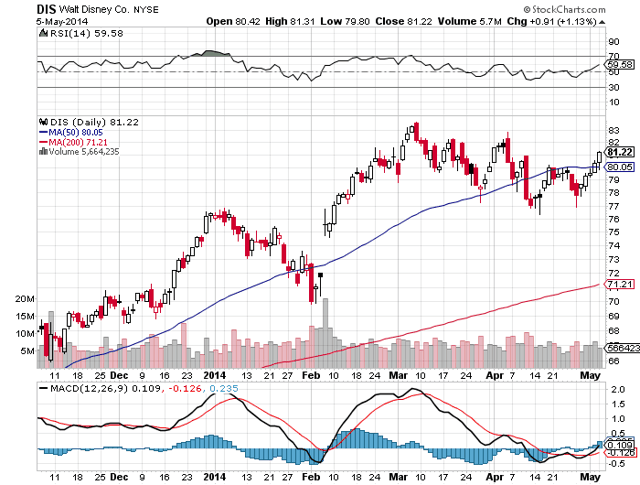 Disney has raised its dividend several times over the last 8 quarters, but the yield remains around 1% due to how quickly the stock is growing alongside of it.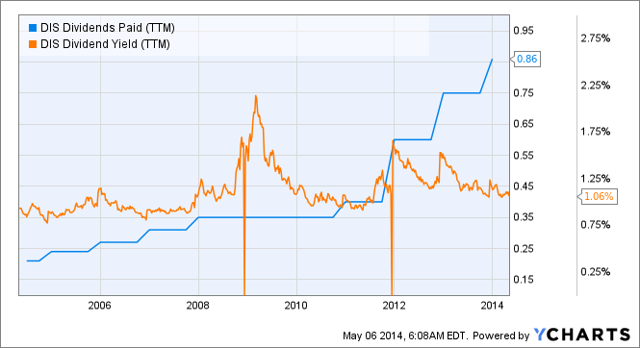 DIS Dividends Paid (TTM) data by YCharts
Disney is set to report today, Tuesday, May 6th, after the market closes. Analysts are expecting Disney to report $0.96/share on revenues of $11.24 billion, versus $0.79/share on revenues of $10.55 billion in the same quarter last year.
(source - Yahoo! Finance)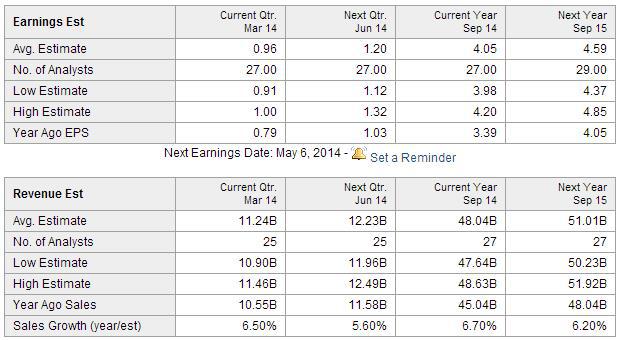 Recent news from Disney has included the fact that ESPN is going to offer live streaming every World Cup match coming up for a fee - monetizing the biggest soccer event in the world. ESPN remains one of Disney's golden children, and it will hope that it can continue to add top line revenue through advertising on its ESPN networks - which really seem to continue to have no competition. If you're looking for sports in the U.S., ESPN is the network - no questions asked.
Additionally, Disney's Hulu continues to expand and grow, as it tries to get itself inside of cable boxes in people's homes to help monetize.
The buzz for the new Star Wars film, "Episode VII" is also starting to brew. Although we are years away from Disney monetizing this potential "reboot of the franchise", this film is supposed to represent the beginning of a new trilogy. Depending on how Disney is able to monetize this worldwide, there has been a $27 billion price tag slapped on the face of the Star Wars franchise.
Analysts that have been covering Disney have seemed bullish on this quarter's earnings - they've boosted their projections by $0.02/share over the course of the last quarter. Since last quarter's earnings, Disney is up over 10% on a 33% net income increase.
Additionally, Disney caught an upgrade yesterday, just one day before its earnings. Seeking Alpha reported:
Topeka has upgraded Disney to Buy ahead of tomorrow's FQ2 report, and upped its PT by $13 to $91.
The firm thinks improving Parks attendance, favorable ESPN affiliate fee contracts, and a strong film lineup will work to the media giant's favor.
Shares go for 20x estimated FY14 (ends in September) EPS, and aren't far removed from a 52-week high of $83.65.
The company also continue to plunge into the Marvel Universe to monetize the comic book characters that it own the right to - this has been an extremely lucrative success over the last ten years, and Disney shows no sign of slowing down.
In this investor's opinion, Disney could give Apple a run for its money for one of the best potential growth stocks to simply put your money in and hold. The dividend isn't massive, but when you're growing at the rate that Disney has grown in the last five years, a dividend is simply an afterthought.
Essentially, Disney has so much content and is spread out and so diversified, it always has a leg on the ground to stand on. Couple that with the fact that guys like me will never stop watching SportsCenter for as long as I live, and I wouldn't really be able to come up with a reason why I wouldn't want to be in Disney stock for the long haul. Any pullbacks after earnings can be looked at as long-term buying opportunities here.
Best of luck to all investors.
Disclosure: I have no positions in any stocks mentioned, and no plans to initiate any positions within the next 72 hours. I wrote this article myself, and it expresses my own opinions. I am not receiving compensation for it (other than from Seeking Alpha). I have no business relationship with any company whose stock is mentioned in this article.