In my recent article I wrote how the falling dollar is acting as a fuel to the rising prices in the materials sector. But which materials stocks are good choices to invest in? Here are 5 stocks, at least one of which might be worth considering as a falling dollar play.
In narrowing down the list, I scanned the stocks in the materials sector. I required that the stock have reasonable volume (over 100k). I want the stock to be rising right now in the current market, so we need a new 20-day high today, without a selloff. I also want a stock with room to appreciate, so I limited the list to stocks which are at least 20% below their 1-year peak price. But the stock must be above its 200-day moving average too, because such stocks are capable of attracting money from large funds and they behave in a more positive manner, with longer moves. And finally, the stock must be optionable, because... well we just like options. It is interesting that, out of the thousands of stocks trading every day, there are exactly 5 which fit. Here they are. Note: two of these stocks even pay dividends.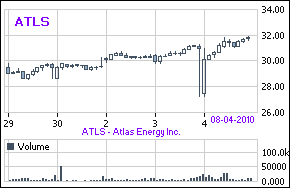 Atlas Energy, Inc. (NYSE:ATLS) operates as an independent developer and producer of natural gas and oil in the Appalachian, Michigan, and Illinois Basins. It primarily holds interests in the Marcellus Shale of western Pennsylvania, the Antrim Shale of northern Michigan, the Chattanooga Shale of northeastern Tennessee, and the New Albany Shale of west central Indiana. The company also provides natural gas gathering services in the Anadarko and Permian Basins in the southwestern and mid-continent United States, as well as in the Appalachian Basin in the eastern United States. As of December 31, 2009, Atlas Energy owned and operated 8 active natural gas processing plants with aggregate capacity of approximately 900 MMcfd and 1 treating facility with a capacity of approximately 200 MMcfd located in Oklahoma and Texas; and 9,100 miles of active natural gas gathering systems situated in Oklahoma, Kansas, and Texas. It also owned and operated a 1,800-mile natural gas gathering system in the Appalachia Basin located in eastern Ohio, western New York, and western Pennsylvania; and an 80-mile natural gas gathering system situated in northeastern Tennessee. The company was formerly known as Atlas America, Inc. and changed its name to Atlas Energy, Inc. in September 2009. Atlas Energy, Inc. was founded in 2000 and is based in Moon Township, Pennsylvania.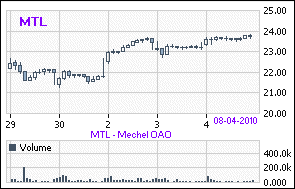 Mechel OAO (NYSE:MTL), through its subsidiaries, operates as a mining and steel company in the Russian Federation and internationally. The company operates in four segments: Mining, Steel, Ferroalloys, and Power. The Mining segment produces coking and steam coal, as well as iron ore and iron ore concentrate. This segment operates four open pit mines and three underground coal mines in the Kuznetsky Basin, near the city of Mezhdurechensk in southwestern Siberia; two open pit mines and one underground mine in the Sakha Republic in eastern Siberia, as well as holds the license rights to mine the undeveloped Elga coal deposit; four mining complexes in West Virginia in the United States; and Korshunovsk, Rudnogorsk, and Tatianinsk open pit iron ore mines in the Irkutsk region in central Siberia. It also offers coal washing services. The Steel segment produces and sells semi-finished steel products; carbon and specialty long products; carbon and stainless flat products; and value-added downstream metal products, including wire products, stampings, and forgings, as well as steel industry materials, such as limestone, coke, and coking products. The Ferroalloys segment engages in the production and sale of nickel ore, ferronickel, ferrochrome, and ferrosilicon. The power segment produces and sells electricity to internal and external customers. It markets electricity and heat energy from its steam coal. This segment also has interests in a power distribution company. The company was founded in 2003 and is based in Moscow, the Russian Federation.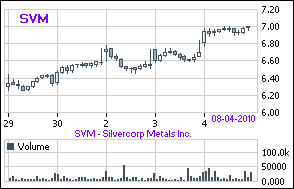 Silvercorp Metals, Inc. (NYSE:SVM) engages in the acquisition, exploration, development, and mining of precious and base metal mineral properties in the Peoples Republic of China. It explores for silver, gold, lead, and zinc properties. The company primarily operates and develops four Silver-Lead-Zinc mines at the Ying Mining Camp, Henan Province; and the Na-Bao Polymetalic Project in Qinghai Province, China. The company is growing its resource base through continuous exploration of existing projects as well as acquiring new development and exploration projects in multiple jurisdictions. Silvercorp is listed on the Toronto Stock Exchange and the NYSE under the symbol T.SVM and SVM respectively.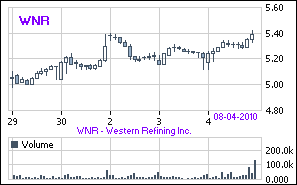 Western Refining, Inc. (NYSE:WNR) is an independent crude oil refiner and marketer of refined products headquartered in El Paso, Texas, and operates primarily in the Southwestern region of the United States, including Arizona, New Mexico, and West Texas. They have invested a significant amount of capital in refinery initiatives that will allow us to improve our crude oil processing flexibility, expand refinery capacity, increase production of higher-value refined products and satisfy certain regulatory requirements.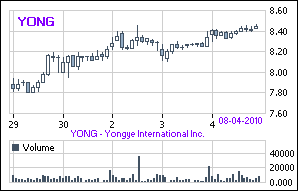 Yongye Biotechnology International, Inc. (NASDAQ:YONG), headquartered in Beijing, is engaged in the development, distribution and sales of fulvic acid based nutrients for plants and animals. The Company's patent pending processes and proprietary formulas allow it to create products which increase crop yields and improve the health of livestock. The Company sells its products through distributors and directly to farmers located in ten provinces throughout China.
ATLS Atlas Energy, Inc. [Oil & Gas Drilling & Exploration] $31.84 +2.8% Div=0% [Quote]
MTL Mechel OAO [Steel & Iron] $23.75 +2.4% Div=0% [Quote]
SVM Silvercorp Metals Inc. [Silver] $7.00 +4.5% Div=1.08% [Quote]
WNR Western Refining Inc. [Oil & Gas Refining & Marketing] $5.40 +3.5% Div=4.44% [Quote]
YONG Yongye International, Inc. [Agricultural Chemicals] $8.48 +1.3% Div=0% [Quote]
Disclosure: No positions