This article is a follow up to my "April Profit Rankings", and takes into account the latest financial results from 7 out of the 26 BDCs that I follow that have already reported. As a part of ranking BDCs, "Profit" is a key category, because it indicates dividend sustainability and the potential for dividend growth or reductions. Profitability takes into account many things, but the four key categories that I use are historical and projected dividend coverage, EPS growth and operating expense efficiency. The following table breaks out these categories and my updated profit rank for each BDC. The table does not contain whole numbers, and the overall rank is weighted more toward sustainability than the other measures.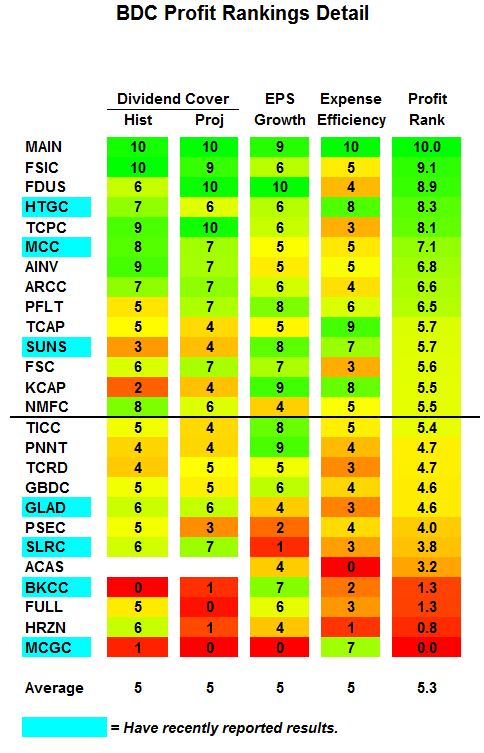 Most of the recent changes to the profit rankings were due to reported results and revised EPS estimates, including:
EPS Beat: Hercules Technology Growth Capital (NASDAQ:HTGC) and Solar Senior Capital (NASDAQ:SUNS) beat projected EPS, and analysts have increased projections going forward.
EPS In Line: Medley Capital (NYSE:MCC), Gladstone Capital (NASDAQ:GLAD) and Solar Capital (NASDAQ:SLRC) reported in line earnings with adequate dividend coverage.
EPS Misses and Dividend Cuts: BlackRock Kelso Capital (NASDAQ:BKCC) and MCG Capital (NASDAQ:MCGC) missed projected EPS (by 24% and 14% respectively), and cut dividends, as predicted in my last profit rankings.
These rankings will continue to change and take into account results over the next two weeks, as well as the research that goes into my reports for each BDC. Whenever possible, I use "core net investment income" that excludes capital gains and associated expenses, such as one-time incentive fees on gains, and when projecting core NII, I use conservative estimates for "recurring non-recurring" income and expenses. This core NII is more representative of recurring income available to cover dividends.
Highlights for today:
Ares Capital (NASDAQ:ARCC) will be reporting this morning, and in my latest "ARCC Report", I have projected quarterly core NII of $0.40 that is between my worst- and best-case scenarios of $0.35 and $0.46, which is a wide range and mostly due to lumpy one-time income from dividends and fees. Analyst estimates are for $0.39.
Prospect Capital (NASDAQ:PSEC) is also reporting later in the day, and I have projected core NII of $0.30 (below analysts with $0.32), based on average shares of 318 million. My worst- and best-case scenarios are around $0.29 and $0.33, and mostly related to "other income". More importantly, I will be watching "undistributed NII", as shown in my "PSEC Undistributed NII Chart". Currently, there is $68 million in this cushion used to bridge the gap when NII falls short of covering dividends, but there are now 336 million shares, which would imply around $0.20 per share of undistributed NII and less than the $0.31 earlier this year.
Also reporting later today is Horizon Technology Finance (NASDAQ:HRZN) that I have personally not done projections for, but is expected to earn $0.25 for the quarter compared to dividends paid of $0.35, and is why it currently has a lower-than-average profit rank. Investors should only use this information as a starting point for due diligence. See the following for more information:
Disclosure: I am long FSIC, HTGC, PSEC, MAIN, TCPC, FSC, ARCC, TCRD, NMFC. I wrote this article myself, and it expresses my own opinions. I am not receiving compensation for it (other than from Seeking Alpha). I have no business relationship with any company whose stock is mentioned in this article.