Brown-Forman (NYSE:BF.B), a manufacturer and seller of alcoholic beverages worldwide, has one of the most intoxicating growth stories. While the S&P 500 index is struggling to post gains, the liquor company's stock is already up 20.7% year-to-date, driven by strong fiscal third-quarter earnings and improved full-year growth outlook. During the quarter, diluted earnings per share increased 13% to $0.82, surpassing both analysts' estimates and year-ago EPS of $0.73.
Considering its fantastic business with steady earnings growth of over 8.5% per year on average over the last 10 years, one can find more than a few reasons to invest in Brown-Forman, but below, I highlight three key reasons that reinforce the view.
Both risk-on and risk-off play
The spirits industry has been a noteworthy alternative investment. Not only has it consistently outperformed the stock market, but also has materially emulated the returns from safe-haven investments, such as gold and treasury bonds, during the recent financial crisis.
While the value of gold rose 138.3% in the five-year period from 2007 to 2012, Brown-Forman posted a reasonable 75.05% gain in the same period. In comparison, the S&P 500 (SPY) index fell 11.2%, while the iShares Barclays 20+ Years Treasury Bond ETF (NYSEARCA:TLT) gained only 36.14% in the 5-year period.
With players like Diageo (NYSE:DEO), the alcoholic spirits industry usually fares better than the broader market during recessionary and other downturn periods. However, the outperformance is not limited to risk-off periods. Unlike gold - or any other safe-haven investment - the spirits stocks thrive in risk-on periods as well.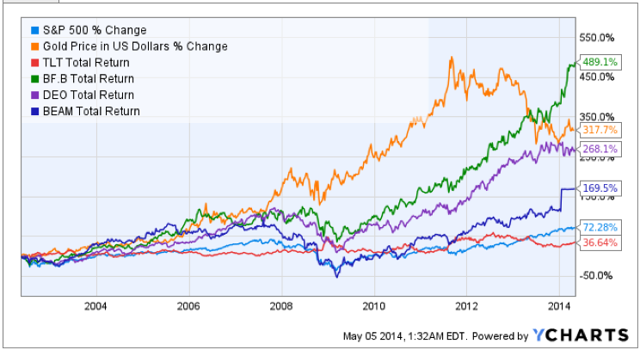 As illustrated in the chart above, Brown-Forman managed a 489% return since the turn of the century, compared to lesser returns from gold, the S&P 500 Index, and Treasury bond ETF.
The bar chart below shows the period-wise performances of the stock market, treasury bonds, and gold in comparison to Brown-Forman and some of its peers. Clearly, Brown-Forman has outperformed or at least returned attractive gains in all types of market conditions.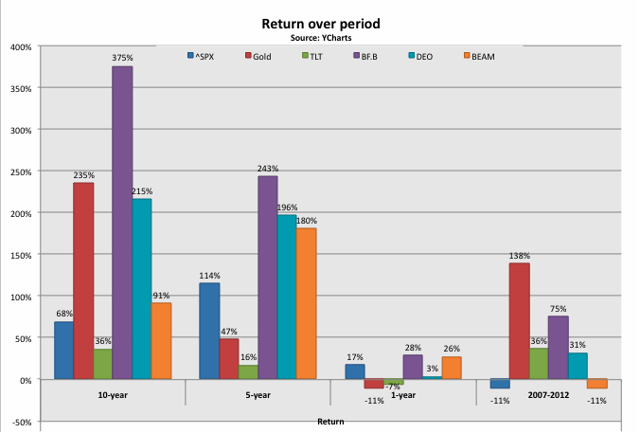 Surviving industry-related issues
Not only recessions or market downturns, the Louisville, Kentucky-based liquor company has navigated through some difficult periods marred with industry-related issues. Brown-Forman has survived significant industry challenges, such as underage imbibing, drunk driving, excessive drinking, growing awareness about the dangers of alcoholism and other health concerns.
Obviously, a liquor company would want customers to consume as much liquor as possible without suffering any health issues, but Brown-Forman has taken a strong stand against alcohol abuse by adults and minors. To think of it, if number of people started having alcohol-related illness, liquor companies will have to continuously look for new consumers to offset the difference. On the contrary, teaching people about responsible alcohol consumption would keep the consumer base safe and drinking for considerably longer period. On that note, Brown-Forman uses a strict marketing code to target appropriate audiences, while combating alcohol abuse through various other initiatives. The company also has a website, OurThinkingAboutDrinking.com, which addresses alcohol-related issues. Altogether, the company's focus on moderation or responsible consumption will serve its long-term interests.
Furthermore, the company received its fourth-consecutive perfect score of 100% on the 2014 Corporate Equality Index (CEI), also dubbed as the gold standard for corporate policies and practices, administered by the Human Rights Campaign Foundation. This shows that Brown-Forman is working hard to continue to be a workplace that is inclusive and respectful of all employees, an important feat for a successful company.
This costumer-friendly and responsible attitude, which stems from a strong understanding of industry-related risks, is helping it further strengthen its overall position.
Thanks to the nature of the industry, it isn't plausible for someone to just open up a new distillery and begin to compete. There are numerous regulations and the making processes are time-consuming, so much so that a company has to wait a while after initial investment before making any revenues. Of course, it will still have to establish itself to be competitive in the industry.
Strong brands
Brown-Forman has been making American whiskey, one of the spirits' fastest-growing categories, for over 144 years. Led by flagship brand, Jack Daniel's, the company has a number of powerful brands that includes names like Woodford Reserve, Southern Comfort, Canadian Mist, Finlandia, Herradura, Korbel, and Sonoma-Cutrer, among others.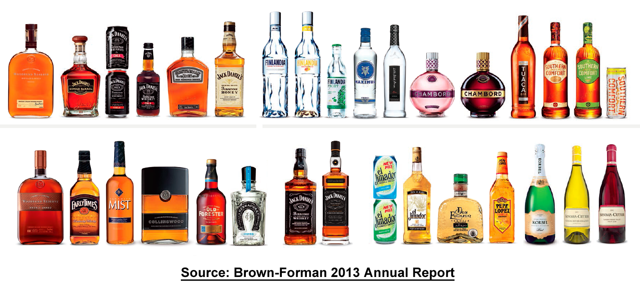 The ability of the company to grow these brands, both by expanding to new geographies and by creating new expressions, has been a key growth driver of Brown-Forman over the years.
According to Bloomberg data, Jack Daniel's is the top seller among whiskeys in the US. Internationally, it is the fifth-largest spirits brand and the largest-selling American whiskey brand, according to the company's 2013 Annual Report.
Furthermore, according to the latest Impact Databank's report, big brands like Smirnoff, Johnnie Walker, and Bacardi struggled last year, but American whiskies were the key growth driver of premium spirits during the year. All five Bourbon brands in the premium top 100 rankings of 2013 achieved solid growth. Jack Daniel's led the way among them, selling 11.5 million cases globally in 2013, up 5.1% from 2012.
Other leading global brands include Finlandia, the sixth-largest selling vodka, Southern Comfort, the third-largest selling liqueur, Canadian Mist, the fourth-largest selling Canadian whiskey, and el Jimador, the fourth-largest selling tequila.
While Brown-Forman plans to keep building innovative new brands that thrive and endure for generations, it will continue to capitalize on its strong, 25-plus brand portfolio.
Final thoughts
Consistent growth, new products, growing markets, strong financials, a long history of returning cash to shareholders, improved growth outlook, a highly regulated industry, and the list of positives just goes on and on for Brown-Forman. However, the three reasons that cannot be overlooked are risk-on/risk-off candidacy, surviving industry-related issues, and brand presence. The combination of these factors is what makes Brown-Forman, one of the oldest and best-known players in its market, a winner even in tough market conditions.
Disclosure: I have no positions in any stocks mentioned, and no plans to initiate any positions within the next 72 hours. I wrote this article myself, and it expresses my own opinions. I am not receiving compensation for it (other than from Seeking Alpha). I have no business relationship with any company whose stock is mentioned in this article.