Apple (NASDAQ:AAPL) closed yesterday above $600 a share for the first time since October of 2012. The stock has been on the move since breaking out of its trading range of $500 to $570 a share that was in place throughout 2014 until recently.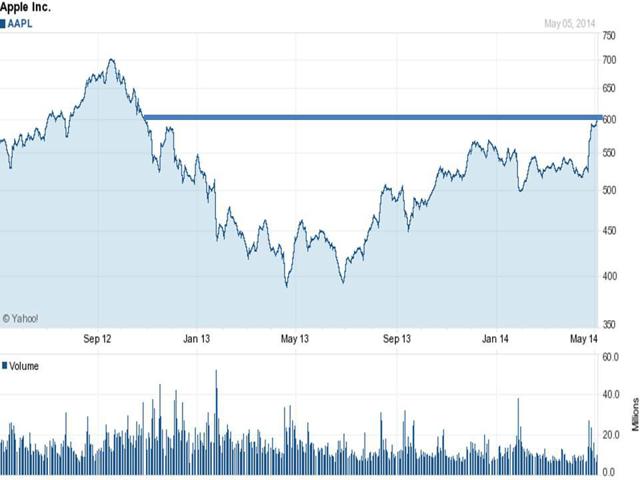 The catalyst to break out of this relatively tight 2014 trading range was its recent quarterly earnings report where Apple announced an additional $30B will go to stock repurchases in coming quarters. The company also boosted its dividend by 8% and easily beat bottom line expectations. The company also produced quarterly iPhone sales that exceeded the consensus by some 6mm units.
At the end of 2013, I predicted that this tech giant would hit $650 a share by the end of the year. Not only does it now appear that this prediction will prove to be accurate, we might get to that level much sooner than expected. The $650 a share level also might prove to be a conservative forecast. There are three major reasons I believe Apple will go higher from here and soon put $650 a share in the rearview mirror.
Sentiment:
One of Warren Buffett's favorite sayings is "In the short term the market is a voting mechanism, in the long run it is a weighing mechanism." It is hard to believe that Apple was trading at under $400 a share near the end of June of last year. At the time the shares were trading at approximately 6x forward earnings after its cash hoard was taken out of the equation.
The fact that Apple was past dirt cheap did not matter then as "sentiment" was absolutely dismal back then. I remember writing articles "pounding the table" for why the stock was ridiculously undervalued in that time frame. I also remember all the comments from Apple shareholders on those columns of the unfairness of the stock's decline.
However, sentiment is a fickle beast. As my late father used to say "Life is like a pendulum. It swings too far to the right, its swings too far to the left and it is rarely in the middle where it belongs." The good news for Apple longs is sentiment has slowly swung their way since the announcement of the launch of the iPhone 5c/5s last summer. In addition, we are not near to even the midpoint of that pendulum swing in my opinion. Momentum is a major factor in the market and individual stocks and until something changes, Apple has momentum behind it.
Near-Term Catalysts:
Apple also has several predictable near-term catalysts in front of it. First, consensus earnings estimates should continue to go up in the coming weeks as analysts factor in Apple's quarter. The additional $30B allocated to the company's repurchase program should boost earnings per share by approximately 5% for both FY2014 & FY2015 in and of itself.
In addition, the relatively new carrier deals with China Mobile (NYSE:CHL) and NTT DoCoMo (DCM) will continue to show up in year-over-year (Y/Y) results throughout 2014. Chinese sales gained ~13% and Japanese revenues popped nearly 30% Y/Y in the recently reported quarter. These were prime catalysts on why Apple sold some 6mm more iPhones than the consensus estimated for the quarter.
Finally, there is potential for a significant new product announcement in the near future. Some have speculated on a new wearable technology item like an "iWatch." Others see Apple increasing its presence in smart televisions. My personal belief is the company is poised to get into mobile payments.
This would leverage Apple's massive ecosystem. Download revenues are over a $1B a month through its App Store and sales are growing like a weed. The company also has some 800mm iTunes users. Apple getting into this space in a big way is just too logical of a development to ignore.
iPhone 6 Launch & Valuation:
Another major catalyst will be the upcoming announcement of the launch date of the iPhone 6 which should incorporate larger screens according to the consensus. The announcement of the new version of the iPhone drove the stock higher last year and it should be a significant positive catalyst this year as well.
Samsung seems to have fallen flat with its new version of the Galaxy which has garnered mainly lukewarm reviews so far leaving the playing field open for the iPhone 6. I also think the larger screens will be a bigger catalyst to new sales than most analysts are factoring into their analysis currently.
My own informal observation around Miami is this. Every woman here seems to have an iPhone already. It is a fashion statement and easily fits into purses and clutches. However, the male segment of the population is more diverse in their smartphone choices and tends towards larger screens.
I did a survey among five traders I met with at a happy hour this last Friday. Of which, one already has an iPhone, two will definitely ditch their Samsungs (OTC:SSNLF) and HTCs (OTC:HTCCY) for the iPhone 6 (including this author and his old eyes) and the other three will consider it once they see the new version of the iPhone. Yes the survey is very anecdotal but also encouraging.
Finally, even after the stock's huge run over the past 10 months, the shares are relatively cheap compared to the overall market. Apple goes for under 14x forward earnings compared with ~16x forward earnings for the overall market. Subtracting the ~$150B in net cash & marketable securities on the company's balance sheet and the forward PE ratio goes down to around 10. Add in a 2.3% dividend yield and upcoming catalysts; it is hard to see the stock not having another 8% upside to $650 a share by the end of the year if not substantially higher. ACCUMULATE.
Disclosure: I am long AAPL. I wrote this article myself, and it expresses my own opinions. I am not receiving compensation for it (other than from Seeking Alpha). I have no business relationship with any company whose stock is mentioned in this article.