For the last 8 months, Valero Energy Corporation (NYSE:VLO) has been on a tear. Refining margins have benefited the company and the street loves the stock. The share price has rallied from $33 in October, to $59 today.
Insiders are taking profits. Yesterday, an 8-K report along with numerous form 4's were filed with the SEC, including an accelerated stock incentive plan. You can view that document by clicking here.
Let's take a brief look at where the sector stands.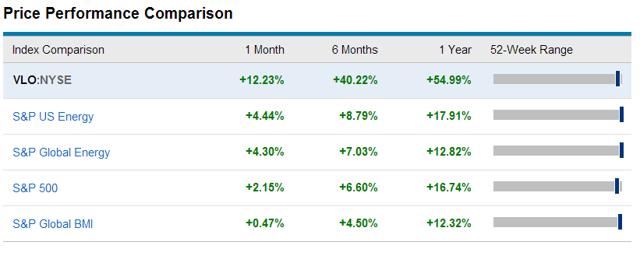 Here is a weekly chart of Valero.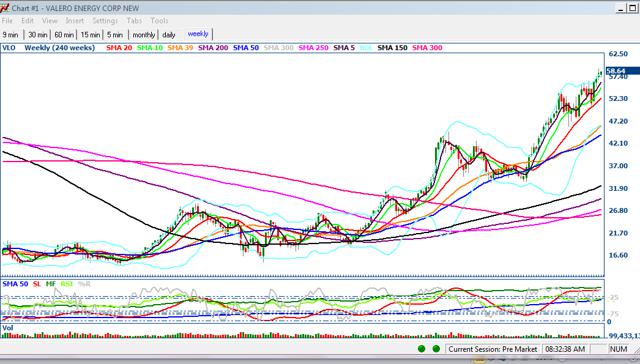 The stock appears to be in the process of topping out as I write this article. The chart price is showing a piercing of the upper Bollinger band; a good sign of a stock that needs a breather at least. In my opinion, investors would be wise to wait for a pullback before jumping into this stock.
Why are insiders selling?
Corporate executives love to make money. The CEO and crew have a very nice pay package.
Take a look at executive pay and inside trades from yahoo finance.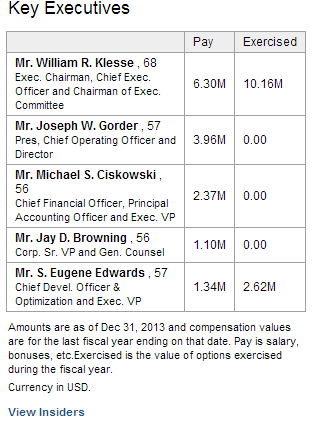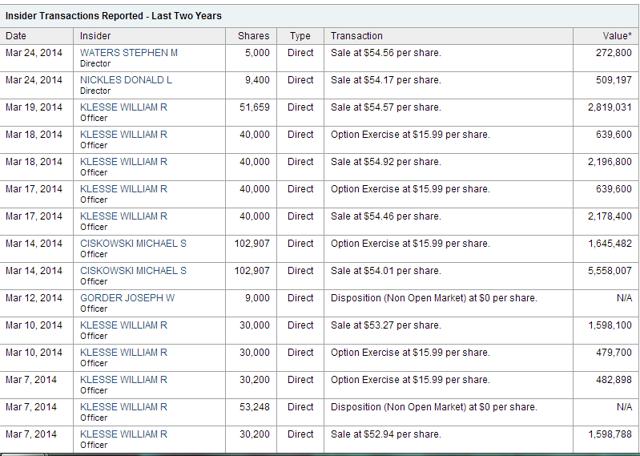 The clip above is only part of the sales taking place. Insiders were selling pretty heavy in the $54 range. Yesterday, several more form 4's were filed after the markets closed.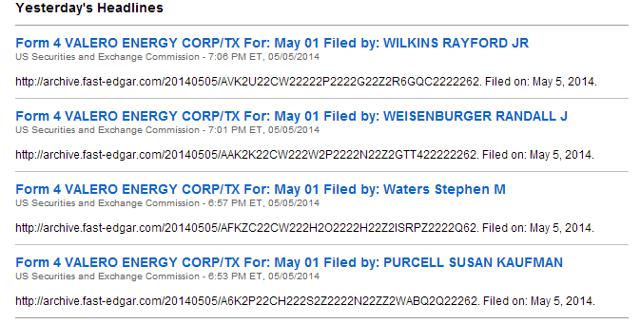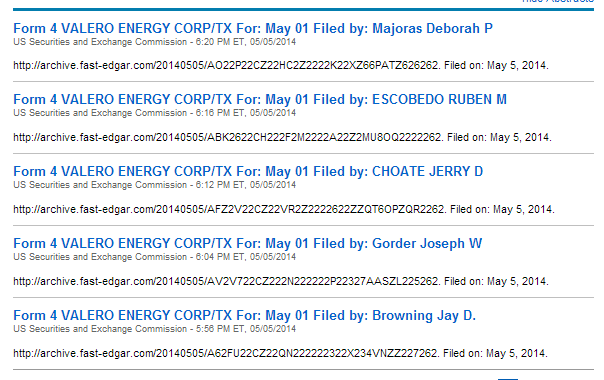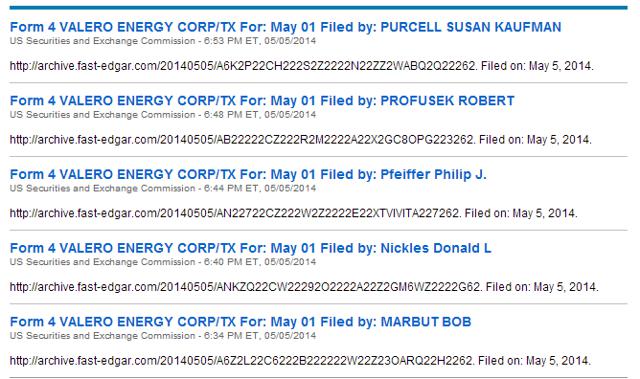 Valero is up over 40 % in the last six months alone. It's obvious to me that insiders think it may be a good time to sell. While I think the company is doing a decent job, there is no doubt in my mind that executives are lining their pockets quite nicely.
Recently, company executives voted for and approved an accelerated vesting of performance shares.
Why do they need an accelerated vesting of shares? I can only assume they would like to take advantage of the current share price, and cash in as quickly as possible. I am constantly dumbfounded by the lavish stock options, and salaries that corporate executives award themselves. Is it any different with Valero?
I don't think so.
Earnings
Valero reported earnings last week. The company reported $1.54 a share in net income, which was their best earnings since 2007. However, revenues were flat. The company ended the quarter with over $6 billion in total debt and $3.6 billion of cash and temporary cash investments, of which $384 million was held by Valero Energy Partners LP, Valero's majority-owned midstream master limited partnership. The CEO said the company expects to have over $3 billion in capital expenditures in 2014.
Latest upgrade
Oppenheimer upgraded Valero to market outperform with a price target of $70 this morning. Personally, I see $46 before I see $70. I find it interesting that Oppenheimer would upgrade Valero at a 5 year high, on a revenue miss with insider selling all over the place.
It makes me wonder what forces are at work and in collusion. I have seen this too many times. Valero is ripe for profit taking. While it may go a bit higher in the short term, there is a correction on the horizon. I liked this company much better when it was trading at $16 with potential of a 4 bagger. A word of advice: Watch out for upgrades on stocks at their peak highs in multi-year market peaks.
Conclusion
Insiders are selling Valero as we speak. Avoid the stock until you get a pullback and see panic selling. I believe the spike in price is due to shorts getting squeezed at the peak. This can go on for a while; no one rings the bell at the top of the market. Do your own research and always have an exit strategy in place before investing in any stock.
Disclosure: I have no positions in any stocks mentioned, and no plans to initiate any positions within the next 72 hours. I wrote this article myself, and it expresses my own opinions. I am not receiving compensation for it (other than from Seeking Alpha). I have no business relationship with any company whose stock is mentioned in this article.