Integrated Cannabis Solutions, Inc. (OTCQB: IGPK) is a $246-million publicly traded company that has recently run up from $0.15 a share to a high of $0.82 so far, solely because of stock promotion. Investors not yet invested should avoid Integrated Cannabis Solutions at all costs, and anybody currently in the stock should not dither and sell the entirety of their stakes immediately because it is being illegally promoted through spam.
My track record at identifying stocks that are targets of pump and dump schemes speaks for itself.
The Setup
Integrated Cannabis Solutions follows the typical pattern of most shells that end up getting promoted. The share count to me is what is important. After going through the filings, you come to the conclusion that there are 81,679,462 free trading shares.
Most companies that end up being promoted usually tend to have little-to-no trading history. Integrated Cannabis Solutions is the same. Those seed shareholders cannot turn their shares into cash unless there are buyers. This is where they turn to stock promoters. Stock promoters get paid to send out overly bullish, professional-type mailers and emails to retail investors to lure them in. Let me show you what I mean:
Integrated Cannabis Solutions, Inc. Trading History
You can see that Integrated Cannabis Solutions, Inc. didn't start trading higher volume until May 5th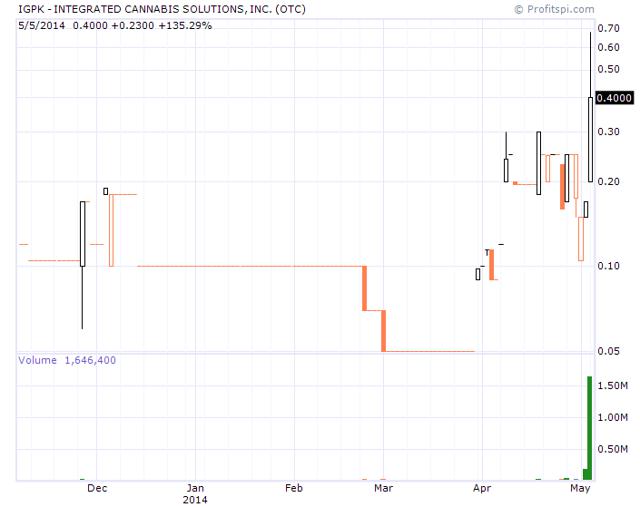 Spam started being sent out Monday morning. Coincidence? Absolutely not.
Stock Castle's Illegal Spam Promotion
Spam is defined as irrelevant or inappropriate messages sent on the Internet to a large number of recipients. I have never opted in to receive Stock Castle emails. They continue to send to me anyway. I have experience with Stock Castle. I wrote a report on a couple one of their past plays here and here.
Last Two Plays
Stock Castle's last two plays were both halted during their promotion lets take a look.
Imogo Mobile Technologies Corp.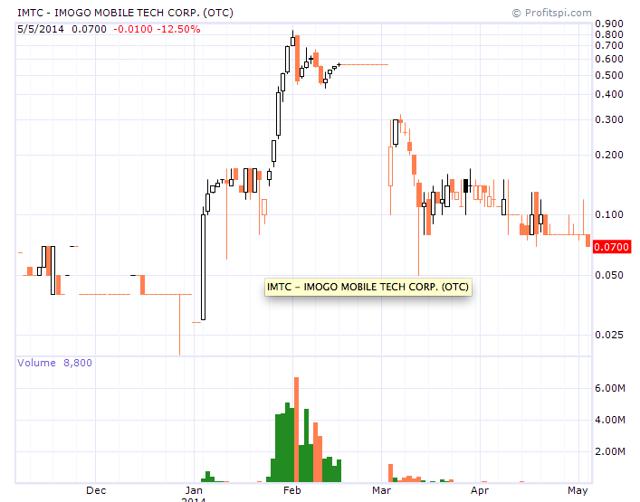 Nevada Gold Corp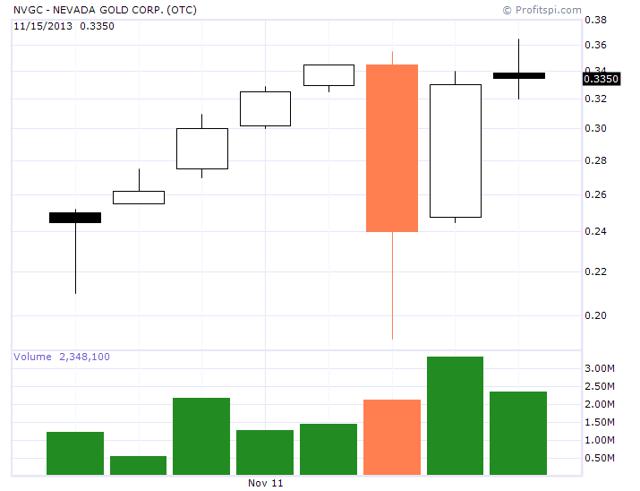 Both ended up disastrous for investors.
Stock Castle's Promotion History
| | | | |
| --- | --- | --- | --- |
| Ticker | Promotion Start | Promotion High | % Drop Since (To Low) |
| IMTC | 2/5/14 | .838 | 90% |
| NVGC | 11/13/13 | .59 Halted by SEC | 91% |
| WILD | 8/15/13 | .594 | 98% |
| USGT | 12/05/12 | .97 | 97% |
| BRND | 10/12/12 | .849 | 99% |
| IDOI | 7/9/12 | .74 | 99% |
| MSTG | 1/30/12 | 1.53 | 96% |
| LSTG | 8/15/11 | 1.40 | 98% |
Recent SEC Halts
The SEC is finally cracking down on pump and dumps lately. Here is a list of big stock promotions that have been halted. I believe Integrated Cannabis Solutions has a chance to be next because it is a illegal spam stock promotion. There is also increased chance of a halt because Stock Castle's last promotions -- Imogo Mobile Technologies Corp and Nevada Gold Corp. -- were both halted as well. Stocks that get halted tend to reopen 2 weeks later down 70%+. Makism 3D Corp was halted the next day after my report was published. The same thing happened with my Life Stem Genetics Inc. report. We have not had any major halts on stock promotions lately, but that does not mean it can't happen.
GET OUT NOW
We have no doubt that this company is pulling the wool over investors' eyes. If you are long the stock, we emphatically urge you to get out. Do not dither, do not hope that you can offload your shares to a greater fool. Simply sell your shares. Stock Castle's past promotions are all down 90% since their promotional stock highs. Integrated Cannabis Solutions will follow the same pattern when it starts to dump. For speculative investors, if you can secure a borrow, then this represents an excellent opportunity with downside of 100% with minimal risk. I shorted Nevada Gold (Stock Castle's last promotion) and made 2.5k see here. I shorted Imogo Mobile Technologies Corp and made 1.1k see here
Disclosure: I am short IGPK. I wrote this article myself, and it expresses my own opinions. I am not receiving compensation for it (other than from Seeking Alpha). I have no business relationship with any company whose stock is mentioned in this article.
Editor's Note: This article covers one or more stocks trading at less than $1 per share and/or with less than a $100 million market cap. Please be aware of the risks associated with these stocks.