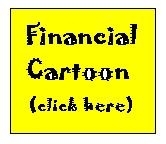 Outlook: To paraphrase a 20th century philosopher, Woody Allen, "We stand at a crossroads. One path leads to despair and utter hopelessness; the other path to total extinction. Let us pray we have the wisdom to choose correctly." (Financial Cartoon here.)
Bond Market Crossroads: As we consider the current state of the bond markets it appears we're also standing at a crossroads. One path leads us to deflation and depressions while the other to a bursting of the bond valuation bubble.
Wisdom to Choose Correctly: With private enterprise in the state of paralysis, we're going to have to rely on monetary and fiscal policy to guide us through the "eye of a needle". While Mr. Bernanke offers a level of comfort in the orchestration of monetary policy, there is a level of discomfort with regards to fiscal policies as they are subject to a political process. Given the current bipartisan rancor in this election year, it makes the odds of effective economic policy a "Hail Mary" pass.
Pricking the Bond Bubble? There is accumulating evidence that the bond markets are getting to be what the housing markets use to be in the "pre-prick" bubble phase: 1) it is commonly believed that fixed-income investments will not go down—and may in fact go up, 2) there is massive "piling on" into bond funds and out of equities. Another data point is IBM's uncanny historical ability to sell bonds at low interest rates prior to rates climbing is a data point worthy of consideration. (IBM recently sold $1.5 billion in 3 year bonds at a record low 1% interest rate.) Of course, if the bond market is right we're heading into Japanese-styled period of deflation and possibly a depression.
The one major difference between these two bubbles is the housing bubble was driven by greed while the bond bubble is driven by fear. Whether this is a distinction with a difference we'll see going forward.
Prick the Bond Bubble? The collapse of the housing bubble almost caused a complete global financial meltdown. It is estimated the value of household real estate in the US is approximately $18 trillion. As of 2009, the size of the worldwide bond market (total debt outstanding) is an estimated $82.2 trillion [Wikipedia], of which the size of the outstanding U.S. bond market debt was $31.2 trillion according to BIS (or alternatively $34.3 trillion according to SIFMA). So, based on these numbers, the shrapnel from the collapse of the US bond market will be 70% greater than the value of US housing stock.

Is this A John Paulson Moment? If an investor believes bonds are peaking there is the Proshares Short 20+ Year Treasury (NYSEARCA:TBF) which will perform the inverse of the Barclays Capital 20+ Year U.S. Treasury Index. It has a market cap of $436.5 million and has an average daily trading volume of 187,659 shares. There is also the UltraShort20+ Year Treasury ProShares (NYSEARCA:TBT) which will perform twice the inverse of the Barclays Capital 20+ Year U.S. Treasury Index. It has $4.4 billion market cap and trades on average 10 million shares a day. This strategy takes conviction and should be considered carefully as the unwinding of massive excesses take much longer than one would expect.
CEF Weekly Review: The 13 closed-end fund (CEF) types on average posted a 1.1% increase for the week ending 8/6/10. The high-low spread was +3.2% versus +2.0 the previous week with an average of 1.1% and 1.2%, respectively. On an aggregate, unweighted basis the weekly average price change for the 500 plus CEFs was up 1.4%.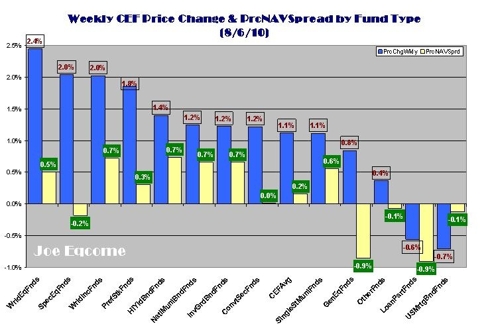 The PowerShares CEF Income Composite (NYSEARCA:PCEF), an ETF that invests in taxable income CEFs, increased 1.9% for the week. The S&P 500 was up 1.8% for the week and swung to a positive 0.6% YTD.
(Click here for YTD CEF Performance. The table is based on a smaller CEF sample size as all the data fields are not available for the CEF universe.)
The Eqcome CEF Fear Index continued its easing trend for the third week. The average price increase was 1.4% versus a 1.0% increase in the NAV. The CBOE Volatility Index (VIX), which typically moves inversely with the stock market—but is mostly a measurement of volatility based on stock options' premiums—declined 7.5% for the week and has steadily drifted lower since the end of the second quarter.
The average daily trading volume for the S&P 500 continues to slide; down 7.2% to 4.0 billion shares over the previous week. The lack of volume is both an indication of the late summer malaise and a lack of mainstream equity interest as fearful retail investors keep pouring money into bond funds. Both these declines are starting to look like contra-indicators.
CEF Weekly Fund Type Performance: There continued to be a dispersion of price advances for fixed-income and equity-oriented fund types. This likely indicates investors' uncertainty with regards to investment trends. USMrtgBndFnds ping-ponged from last-to-first, back to last the past three weeks. Both WrldEqFnds and WrldIncFnds posted strong weekly performance, 2.4 and 2.0%, respectively.

The PrcNAVSprds [*] typically move in the direction of stock prices. While there were many exceptions this week both GenEqFnds and LoanPartFnds stock prices lagged NAVs by 0.9%.
Weekly CEF Winners and Losers: One of the CEFs with the greatest positive spread was Pioneer Municipal high Income Advantage Trust (NYSE:MAV). MAV advanced 5.1% while its NAV advanced 0.6% generating a positive PrcNAVSprd of 4.5%. MAV recently increased its dividend 5.9% over its July monthly distribution. The stock trades at a 7.6% annualized monthly yield at its new rate and an 11.1% premium. MAV has demonstrated an impressive pattern of distribution increases. MAV invests in high yield munis.
The CEF having one of the greatest negative PrcNAVSprd for the week was Morgan Stanley China "A" Share (NYSE:CAF). CAF price declined 1.3% while its NAV increased 3.0% generating a negative spread of 4.2%. All China CEFs had a good run since their July low (see: "CEF Focus Stock for the Week")
The CEF buys Chinese companies listed on the Shanghai and Shenzhen stock exchange (a rare position for foreigners). CAF which typically trades at a discount has been trading at a slight premium since June. It pays no distribution.
Economic & Earnings Outlook: (Click here for next week's economic calendar; click here for earnings' announcements and estimates.)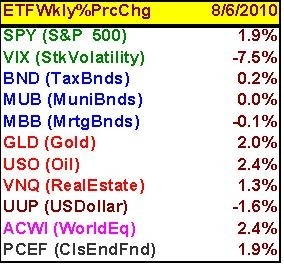 ETFs: For a more detailed EFT performance by sectors, click here.
Insider Trading: Tad Rivelle, a portfolio manager at TCW Strategic Income Fund (NYSE:TSI) has been an aggressive buyer of the stock during the month of July. Mr. Rivelle has acquired 136,401 shares in July for a total capital expenditure of $677,191. These purchases bring his total stock ownership to 302,309 shares accumulated since April of this year.
Mr. Rivelle continued his buying into early August with an acquisition of an additional 25,000 shares at an average price of $5.00 per share. Mr. Rivelle ownership is now 327,309 shares.
Jerrold B. Harris, a director of both BlackRock Municipal Income Trust II (NYSEMKT:BLE) and BlackRock Maryland Municipal Bond Trust (NYSEMKT:BZM) added small position to his modest holdings in both. Mr. Harris is considered a "non-interested trustees" and has been a trustee since 2007. Of his 6,000 share purchase of BLE, 4,000 was an indirect investment in a trust for the benefit of a related third party.
No Horejsi?
(Click here for a hyperlink to the Joe Eqcome's CEF Weekly Insider Report.)
CEF Distribution Announcements This Week: The following is a link to a table of CEF distribution announcements this week as well as the previous week's with yet expired ex-dividend dates. The list is not intended to be inclusive. (Click here for Joe Eqcome's Weekly CEF Distribution Announcements)
Significant CEF Corporate Events: Kayne Anderson MLP (KYN) announced the pricing of a follow-on public offering of common stock. KYN agreed to sell a total of 7,250,000 shares at a price of $26.30 per share (exclusive of 1,087,500 shares that the underwriters may purchase pursuant to a 45-day option to cover over-allotments). Net proceeds from the offering of approximately $183 million will be used to make additional portfolio investments that are consistent with the Company's investment objective and policies and for general corporate purposes. The offering is scheduled to close on August 11, 2010.
The Special Meeting of Shareholders of The Hartford Income Shares Fund (HSF) to consider the proposed merger of HSF into Rivus Bond Fund (BDF), managed by Cutwater Asset Management Corp. has been adjourned until 10:00 a.m. EDT on October 12, 2010.
The Denali Fund (DNY) announced the expiration and final results of the previously announced offer to purchase for cash up to 400 of its outstanding Series A auction preferred shares ("APS Shares") at a purchase price equal to 85% of the liquidation preference of $25,000 per share (or, $21,250 per share). 30 APS Shares had been validly tendered and accepted for a consideration of $637,500. The tender offer expired at 5:00 P.M., Eastern Daylight Time, August 3, 2010.
The small acceptance of DNY's ARPS offer (7.5%) doesn't lend much support to the "Demand Letter" delivered by a law firm to Nuveen accusing the board of a fiduciary breach as a result of redeeming ARPS' of several its leveraged CEFs at par.
Neuberger Berman Income Opportunity Fund (NOX) and Neuberger Berman High Yield Strategies (NHS) announced the closing of each funds' reorganization into a newly formed fund, Neuberger Berman High Yield Strategies (NYSEMKT:NHS), effective the close of business on Friday, August 6, 2010.
CEF Focus Stock for the Week: The focus stock of the week is the China Fund (NYSE:CHN). Of the three China CEFs (CHN, GCH and CAF), CHN seems attractive on a relative basis based on some of the key CEF variables. It sells at an 8.4% discount, it generated a 2.5% distribution last year, its return of both price and NAV are positive YTD versus it comparables. It has demonstrated positive returns on both a 1 and 3 year basis both on price and NAV and its one year return has outperformed the MSCI Golden Dragon Index (30.8% vs. 13.3%). Its market cap is $667 million, trades on average 93,000 shares daily and has a reasonable base expense ratio (1.53%). With domestic concerns arising, more investors are looking globally for opportunities.
Disclosure: Author owns a diversified portfolio of CEFs that include PCEF and TSI)
[*] All things being equal, price and NAV should move in tandem. A price movement greater than the NAV generates a positive PrcNAVSprd and may be interpreted as negative on a near-term basis and indicate that the stock is overvalued relative to its NAV which in theory is the stock's intrinsic value. The opposite would be true for a negative PrcNAVSprd.