"Gold gets dug out of the ground in Africa, or some place. Then we melt it down, dig another hole, bury it again and pay people to stand around guarding it. It has no utility. Anyone watching from Mars would be scratching their head." ~ Warren Buffett
It is well known that Buffett is not a fan of gold as an investment. He makes the point that gold pays no dividend and actually costs money to store. But what if gold did pay a dividend? What if that dividend could grow significantly over the years? What if gold had high margins and very low debt? I know that sounds ludicrous as gold does not meet any of that criteria--but equity in Gold Resource Corporation (NYSE:GORO) absolutely does...
Although we highlighted many of the reasons for our bullish thesis in this report; the article you are about to read will explain why even anti-gold investors, like Warren Buffett, would still love this company--if they only knew about it!
Valuations and margins are important to consider and GORO passes both tests with flying colors. The following slide is from the most recent investor presentation.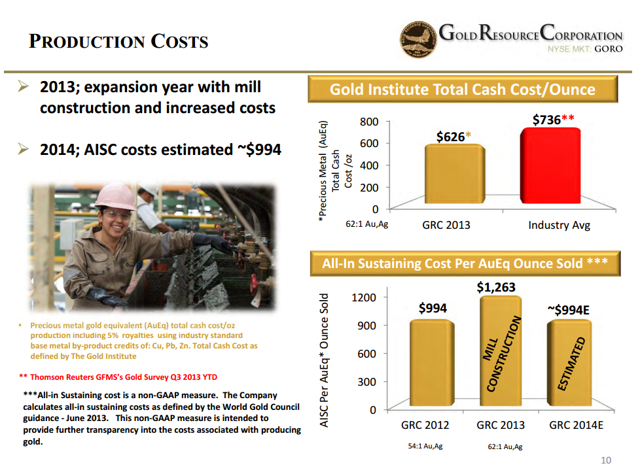 Although rarely discussed, it is important to consider whether or not management has a track record of making wise, shareholder friendly decisions. This is where GORO shines most; and this factor is extremely important to Mr. Buffett, as well as to us.
Gold Resource Corporation may have the most shareholder friendly management team in the industry. Whereas many miners have pursued ill-advised acquisitions and unprofitable expansions into non core businesses, GORO has done the opposite; they've actually returned money to shareholders. Even though the company was started recently with approximately $50MM in capital, they have already returned over $90MM to shareholders in the form of dividends alone. See most recent presentation here.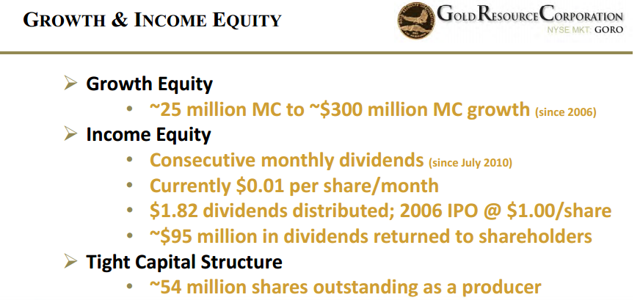 Although other miners also pay dividends, most (if not all) mining companies we've encountered have to do a lot more digging for every dollar of dividend they pay.
Said differently, the amount of metal that needs to be mined in order to fund a dividend varies greatly throughout the industry. For example, GORO needs to produce approx 7,000 ounces to pay one penny of annualized dividend per share. To pay that same dividend, Yamana (AUY) would have to produce around 80,000 ounces! For Newmont (NEM), the required production rises to 85,000. Believe it or not, Barrick (ABX) needs to produce over 350,000 ounces to pay that same one penny... It's clear that Gold Resource Corp. is able to sustain (and grow) their dividend on much less mining production.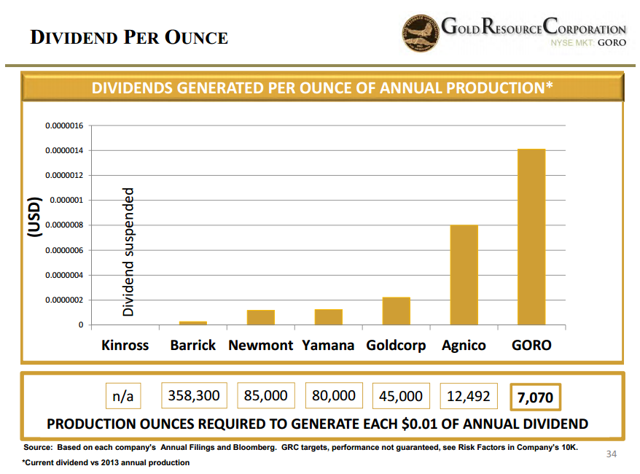 GORO's dividends are funded by approximately one third of cash flow from mining activities and they have made uninterrupted monthly dividend payments since 2010. During that year, GORO's share price ranged from around $11 - $29---which is magnitudes higher than the recent share price of around $4. The chart below shows the share price but also notes the growth in production as that is what supports the viability of the dividend. Notice the divergence between price and results?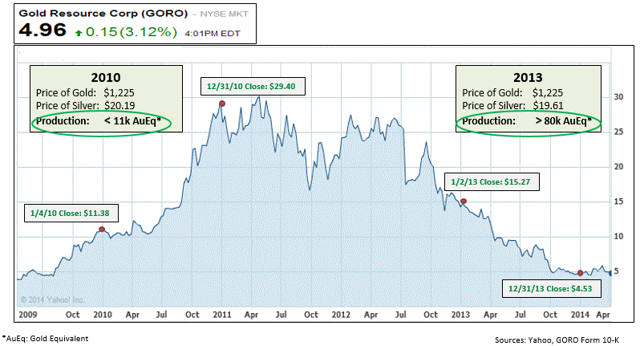 The strength, continuity, and growth potential are not the only things that make GORO's dividend attractive. In fact, the most attractive (certainly the most unique) aspect of GORO's dividend program is the option to convert payments into gold or silver bullion rather than receive paper currency (US dollars).
We know of no other company that provides this physical dividend option...
Although it is clear that Mr. Buffett would prefer to receive cold hard cash, it is also very clear that he prefers to own companies where management "eats their own cooking." In other words, he wants management to have skin in the game by owning a significant amount of the outstanding shares. In addition to owning shares, management that is actively buying shares is even better. While many insiders of public companies have been net sellers recently, insiders of GORO have been active buyers and continue to own a significant portion of the outstanding shares. It seems that they have confidence that shares are undervalued--and we certainly agree.
But there are even more reasons that make GORO an attractive investment for the long-term investor. With operations in North America (the lowest cost PM mining region) and headquarters in Colorado, many of the geopolitical risks are far less than peers. Also, recent moves by the company to lower labor costs have not yet been realized (due to severance costs) but should show up soon in future results--improving already impressive margins. Another boost to margins would be the improved pricing in the precious metals markets which seem to be improving. Finally, the increased mill capacity sets up Gold Resource Corp to continue to grow production, dividends, and most importantly, rewards for patient shareholders.
Wait, did we mention that the company has little to no long-term debt??? See Bloomberg screen grab below.

There's no doubt in my mind, that this stock would be rated a "Buy" in Buffett's book...
Disclosure: I am long GORO. I wrote this article myself, and it expresses my own opinions. I am not receiving compensation for it (other than from Seeking Alpha). I have no business relationship with any company whose stock is mentioned in this article.
Additional disclosure: Long stock and options