Charles & Colvard Ltd. (NASDAQ:CTHR) is a designer, wholesaler and retailer of Moissanite and other jewelry products. Moissanite is a diamond-like gem and this company is the exclusive source for these gems and jewelry around the world. This company has developed brand names like "Forever Brilliant" which is a registered trademark it uses to market its jewelry. As a smaller and lesser-known company, a lot of investors might not be aware of the upside potential this stock has, especially now that the shares have experienced a major pullback. Let's take a detailed look at this company and the investment potential it holds:
The Products:
Charles & Colvard developed and patented a proprietary process to create Moissanite gems and jewelry from silicon carbide. It is interesting to note that silicon carbide was initially discovered in meteorites and it is the second-hardest substance in the world. According to the company website, Moissanite has unique optical properties with a dispersion that is 2.4 times that of a diamond and a refractive index that is about 10% more brilliant than a diamond. Moissanite is also billed as a responsible alternative to mined gems and it comes with a lifetime warranty. With many similar characteristics to diamonds, but at a fraction of the cost, Moissanite makes a lot of sense for many consumers. This is especially true since it does not have the ethical or environmental issues that can come with mined gems.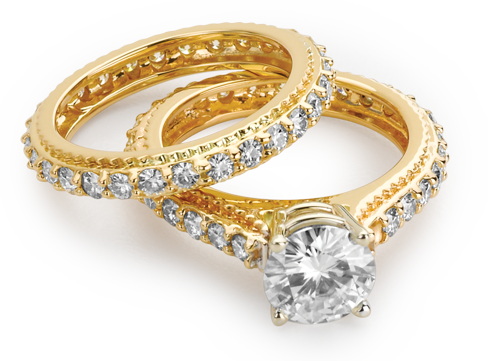 Photo: Moissanite.com website
The Customer Base:
Moissanite and Forever Brilliant gems and jewelry are sold directly by the company through its Mossanite.com website. It is also available at many jewelry stores throughout the United States and even internationally. Amazon.com (NASDAQ:AMZN) and Kohl's (NYSE:KSS) is also a retailer of these products. Both Kohl's and Amazon.com became retailers in 2013, so this is a relatively recent development. The addition of Amazon.com and Kohl's as retailers has required this company to make additional investments which might be a drag on earnings now, but may produce significant benefits in the future. In addition, Charles & Colvard is building another direct to consumer distribution channel through its "Lulu Avenue" division. Jewelry Television (which is one of the biggest jewelry retailers in the United States), is its largest home shopping television customer. Clearly, this company is building significant relationships with many major retailers to support product and brand awareness.
Recent Financial Results:
While some investors are clearly disappointed with the recent financial results, this appears to overdone and that has created a significant buying opportunity. For the first quarter of 2014, Charles & Colvard reported a loss of $1.1 million or about 5 cents per share. Furthermore, it saw a 7% decline in revenues for the quarter which leads me to believe that perhaps this was a period in which one or more significant orders could have shifted to a later date. If one large customer simply waits an extra quarter before reordering, this can impact financial results temporarily, but it could boost results very positively in the coming quarters. For most major retailers, the first quarter is one of the worst since many consumers are tapped out after holiday shopping. Furthermore, during the first quarter of 2014, there was unusually harsh weather conditions throughout much of the United States and this could be another significant factor that impacted the quarter negatively. Finally, another reason for the weak sales in this quarter was because a customer (that was not paying on time) was proactively asked by Charles & Colvard to return the product. This was for merchandise worth about $800,000, which is a significant number in just one quarter, but it is a one-time event. Because of this, the weaker than expected financial results are probably only temporary. Furthermore, the CEO pointed out some recent changes that are likely to increase sales in the coming quarters in the earnings press release which stated:
Mr. McCullough elaborated: "We made thoughtfully selected and important new sales hires that are charged exclusively with opening new accounts. We established and tested new customer support policies. We've added a new VP of Marketing to keep our brand messaging vibrant and focused and help position our gems with consumers. We are excited about new, unique product opportunities for our ethically created gems that are brighter than diamonds and stronger than sapphires. Our sights will be focused throughout this year on leveraging our investments made this quarter into new opportunities for top-line growth reflected in new sales from both existing and new customers in ecommerce and wholesale outlets."
The Growth Potential:
When you consider that the U.S. economy is improving, and that more people are finally finding jobs, it's easy to see why jewelry sales should continue to increase. Charles & Colvard has experienced impressive growth since the financial crisis that started in 2008 and this growth trend is likely to remain intact. For example, sales for this company have experienced a significant increase every single year since 2009, and have surged by over 300% in the past 5 years. This is a significant uptrend that is not likely to be broken by one or two disappointing quarters and that is why investors should use this buying opportunity to get in cheap. Future growth can come from the recent and developing relationships with Amazon.com, Kohl's, and Jewelry Television. Charles & Colvard has recently made important new additions to its staff (including a new VP of Marketing) and these employees are exclusively pursuing the opening of new accounts. Fine jewelry sales in the United States has posted solid gains of around 6% to 10% annually, in the past couple of years. Recent data shows that these growth trends are likely to continue and that means Charles & Colvard should be well positioned to increase revenues. This company also appears to have tremendous potential to tap international markets like China and India where growing wealth is fueling jewelry demand. After the United States, China is the world's largest market for diamonds and that could make it a huge opportunity for Moissanite. A research report from Bain shows (see graph below) that China is a huge and fast growing market for jewelry sales and this is likely to be one of the next big opportunities for Charles & Colvard.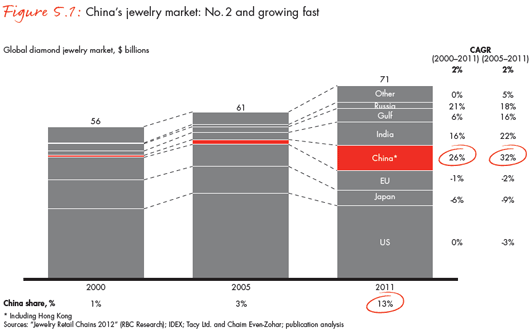 Why The Recent Sell-Off Is Overdone:
Let's put a couple disappointing quarters into perspective: This company actually made a small profit last quarter and lost around a million this quarter. But, considering the fact that in that same time frame the shares have dropped from about $6, to just over $2, the pullback is very excessive. When you consider that the market capitalization has dropped by nearly $80 million in the past few months just because the company has posted a loss of about $1 million, it is easy to see that there has been a giant overreaction. Remember, much of the weakness in this quarter was due to a one-time return of merchandise, which will now be resold to other customers. This is giving investors a terrific buying opportunity. The sell-off also appears to have gone too far because the stock is trading below book value-significantly below where insiders recently bought, and it is at extremely oversold levels.
A Few More Reasons Why This Stock Looks Cheap:
1) The 52-week high on this stock is $8.34. A few months ago it was trading at around $6 per share. About a month ago, (on March 26th) it was trading for over $4 per share and now it can be bought for just over $2. I love finding buying opportunities like this and getting in when many others have given up hope. That is when true bargains can be had, especially when a stock sees a temporary oversupply of shares that are being sold due to a disappointing quarter. In small cap stocks, liquidity is a potential risk that can really be seen when investors overreact for a few days after a news event like the earnings report. However, investors can take advantage of short-term liquidity issues by buying this stock when there is a temporary excess supply of stock being sold by frustrated investors. This type of volatility can be used to your advantage if you buy low at around $2 and patiently wait for a rebound. Remember, investors were paying over $6 per share for this stock just a few months ago, and over $8 per share in the past 52 weeks!
2) This stock is now trading way below book value which is $2.84 per share. It is also trading way below levels whereby multiple insiders were buying just about a month ago. On March 31, the CEO Randy McCullough purchased 5,000 shares for about $2.92, in a transaction valued at $15,000. On the same day, Kyle Macemore (an officer) also bought 5,000 shares at $2.93, in a transaction worth nearly $15,000. On December 16th, 2013, Anne Butler (a director) bought 5,000 shares at $4.85, in a transaction valued at over $24,000. Furthermore, insiders collectively own about 20% of the entire company which means their interests are strongly aligned with shareholders. Some major institutional investors like Vanguard Funds also seem to find value in this stock since it owns over 400,000 shares which is more than 2% of the entire company. This stock experienced insider buying at much higher levels after the last earnings report. I believe it is quite possible we will see even more aggressive insider buying reported soon now that the stock has dropped. The substantial level of insider ownership and recent buying (even at much higher prices), seems to indicate that investors selling at current levels are probably making a big mistake by selling this cheap.
3) I have watched this stock for the past several years and I have seen it make very strong rebounds in the past. I believe that history will repeat and that the stock is poised for a significant rebound soon. There are a couple of additional potential upside catalysts that some investors seem to be overlooking now. One is that the jewelry industry is poised for continued growth as the economy recovers. This makes cheap companies like Charles & Colvard a potential takeover target. Just recently, Signet Jewelers Ltd. (NYSE:SIG) agreed to buy Zale Corporation (NYSE:ZLC) for about $1.4 billion. By taking a look at this deal, it is easy to see industry valuations are quite high. Analysts expect Zale Corporation to earn about 57 cents per share in 2014 and the stock now trades for over $21 per share. That implies a price to earnings ratio of about 35 times. In the past, Charles & Colvard has earned over 30 cents per share in some years. Put a similar price to earnings ratio on that number and you could see the stock valued for nearly $10 per share, once again. A major retailer could find Charles & Colvard to be an attractive takeover target because the valuation is so cheap now and because it could make Moissanite jewelry an exclusive item. A larger retailer could also greatly expand international sales of which this company is only scratching the surface now. Another potential upside catalyst is a shareholder activist, who could make demands on the board and call attention to this undervalued stock, unless the shares rebound quickly as I expect.
The Chart And Recent Volume Indicates This Stock Has Probably Bottomed-Out And A Rebound Could Be Looming: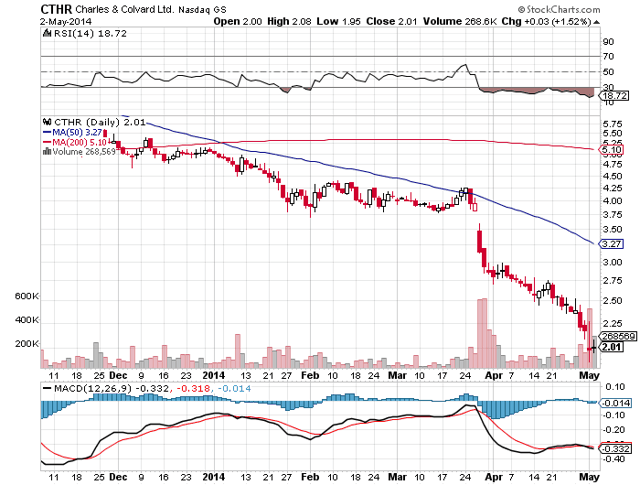 1) As the chart above shows, this stock is extremely oversold with the Relative Strength Index or "RSI" at just 18! Stocks that have an RSI of 30 are considered oversold and therefore potentially due for a "snapback" rally, so a stock like this with an RSI of just 18 could see an even sharper rebound. The 200-day moving average is $5.10 and the 50-day moving average is $3.27. Based on this, I would look for a rebound to somewhere between $2.75 to $3 in the short-term. Longer-term the potential is far more significant but that will depend on improved financial results.
2) The recent high volume sell-off indicates capitulation and that a likely bottom has occurred for this stock. Again, it was trading at over $4 per share in late March. This major shakeout in the past month has removed the "weak hands' from this stock and it could be trading at "bedrock" levels at around $2. This means that potential downside risks could be limited at this level. On May 1st, this stock saw volume of roughly 500,000 shares which is a potential "capitulation" bottom for this stock, since it usually sees volume of just 100,000 shares. (This company only has about 20 million shares outstanding, so when you see about half a million shares trade in a single day, this is significant.) When you see a stock trade at about 500% of the normal volume and at extremely cheap and oversold levels, this is often the classic sign of a bottom. On May 2, the volume was about 268,000 shares (half of the volume for the prior day), which indicates that the sell-off has probably already peaked and that the temporary excess supply of cheap shares is already starting to dry up. The next natural step is for the volume to continue to "normalize" back to average levels of around 100,000 shares and for the stock price to then rebound sharply from extremely oversold levels.
The Potential Downside Risks:
At just over $2 per share and with this stock at extremely oversold levels, I see very limited downside risks now. With the economy in recovery and the job market improving, this company is most likely poised for growth in the coming years. Investors should consider liquidity as a potential downside risk but in this current sell-off the liquidity issue is creating a tremendous buying opportunity. This company has a very strong balance sheet with no debt which greatly reduces risks for shareholders. Management execution might be the most significant potential risk for investors to consider, but with management heavily invested in this stock, I expect solid decisions that will increase shareholder value in the long-term.
Conclusion:
Remember, a major return (about $800,000 from a non-paying customer) significantly impacted results this quarter, but it was a smart, proactive move by the company to get the merchandise back. This is a one-time event that created disappointing financial results to which investors are overreacting now. The company has been making significant investments to acquire and retain relationships with Amazon.com and Kohl's which have also impacted financial results, but this should start to pay off in the coming quarters. Heavy insider ownership and recent share purchases even at much higher levels indicate that management is confident in the future. This also shows that investors who are selling near 52-week lows now are probably making a big mistake. The fundamentals and industry valuations support a much higher stock price and the chart also shows this stock is probably due for a major rebound soon. I am buying now for a rebound to the $2.75 to $3 level in the short-term, which would be a gain of about 50% from current levels. This would bring the stock back to just around book value. In the long-term, the upside potential is much greater and probably somewhere between $6 to $10 per share based on past history and profitability as well as current industry valuations. Before the financial crisis, this stock even traded for over $25 per share. While I don't expect that any time soon, even a fraction of that former high could produce multi-bagger gains for investors who follow insiders into buying this cheap stock.
Here are some key points for Charles & Colvard
Current share price: $2.07
The 52 week range is $1.87 to $8.34
Annual dividend: none
Data is sourced from Yahoo Finance. No guarantees or representations
are made. Hawkinvest is not a registered investment advisor and does not provide specific investment advice. The information is for
informational purposes only. You should always consult a financial
advisor.
Disclosure: I am long CTHR. I wrote this article myself, and it expresses my own opinions. I am not receiving compensation for it (other than from Seeking Alpha). I have no business relationship with any company whose stock is mentioned in this article.
Editor's Note: This article covers one or more stocks trading at less than $1 per share and/or with less than a $100 million market cap. Please be aware of the risks associated with these stocks.