By Carolyn Austin
Both DISH Network (NASDAQ:DISH) and Echostar (NASDAQ:SATS) saw declining stock prices today as DISH network revealed a dip in subscribers and Echostar reported a net loss that widely exceeded estimates.
DISH Network Corp
DISH network beat estimates today by $.04 per share in its second-quarter earnings report today but the stock got pummeled in trading.
Dish reported $0.57 earnings per share compared to $0.14 per share for the prior-year quarter. Revenue increased 9.3 percent to $3.17 billion compared to $2.90 for the same quarter in 2009.
Investors apparently did not like the 19,000 subscriber loss from its subscriber base of 14.3 million satellite TV customers. According to a Bloomberg report, the loss was due to churn from customers coming off discounted programs for first-time customers and promotions such as HD Free for Life.
From Bloomberg:
DirecTV (NYSE:DTV) added 100,000 US subscribers in the quarter and Comcast Corp. (NASDAQ:CMCSA), the largest US cable operator, added 394,000 digital-video customers.

"Churn is a real issue, you're seeing a lot of former subscribers coming off Dish's $19.99 offer and not coming back," Mitchell [an analyst at Kaufman Bros LP in New York] said, referring to a promotion that had helped Dish win customers in recent years. "Competition has hurt them and clearly DirecTV is doing better."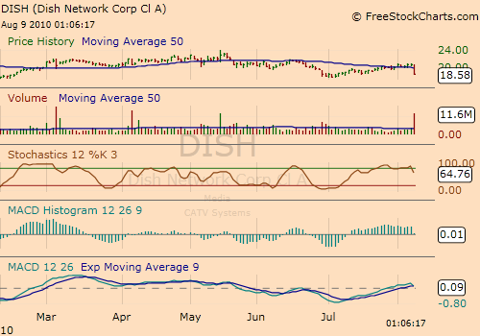 (Click to enlarge)
Comments: No longer can Dish claim be the fastest-growing pay-TV provider in America, as it did in a previous press release. But the 0.45 loss in subscribers was offset by 3.3 percent higher revenue per subscriber. DTV has better financials and better growth, but the sell-off for the second largest pay-TV provider seems overdone. The stock should have some life left after today's pummeling.
Echostar Corp
TV set-top maker SATS reported a loss of $0.49 per share on a jump in revenues of 57.4 percent to $603 million. Analysts were expecting a lost of $0.02 for the quarter. For the year-ago quarter, the company earned $1.18 per share.
SATS, once part of DISH network, saw its stock price fall over 4 percent in trading today. The company attributed higher expenses, which grew 48 percent to 571.1 million in the quarter, for the downside surprise.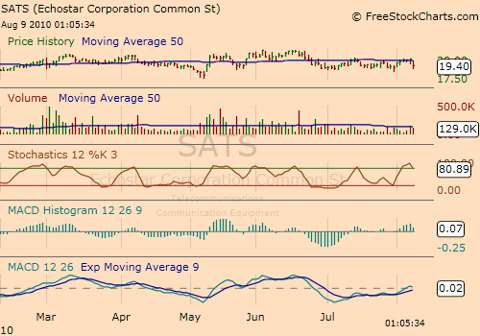 (Click to enlarge)
Comments: SATS left little in the way of explanation for its higher expenses in its press release. The stock has traded in the $18- $22 range for most of the year. From a technical perspective, there is nothing to recommend the stock right now. Further details concerning the leap in expenses will help to better gauge where this stock is headed. Until that information is forthcoming, it is best to avoid this stock.
Disclosure: No positions