As the economy expands, one sector is a clear laggard: housing. After a 275% run for the SPDR S&P Homebuilders ETF (NYSEARCA:XHB) since the March 2009 lows, it seems like the housing boom is over. The upward trends in existing home sales, new home sales, and housing starts have flattened in 2013 and 2014. The Fed's tapering likely did not help, as it increased mortgage rates. And despite the drop in the 10-year yield by 40 basis points in 2014, the 30-year fixed rate mortgage has remained steady, at 4.34% in April.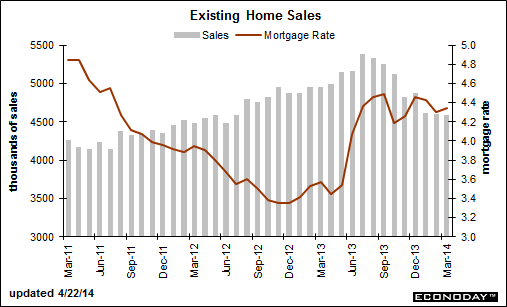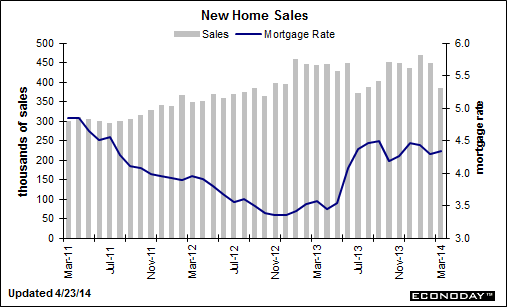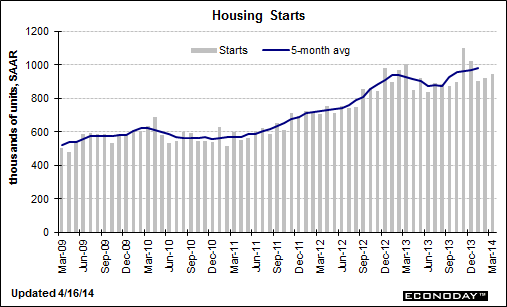 Even without the divergence in mortgage rates and the 10-year yield, the housing market suffers from a phenomenon called "burnout," which I referred to in a previous article. Consumers, expecting a spike in rates as the Fed announced it would taper its bond purchases, rushed out to purchase houses / refinance to lock-in a low mortgage rate. Now, even if mortgage rates fall again, the same demand would not be present. This short housing macro play, due to a lack of affordability, was supported by Jeff Gundlach in his short XHB call at the Ira Sohn conference. As more people rent, consumers will feel less inclined to purchasing high-end furnishings, and consequently, the sales of several home furnishing companies are expected to fall. Moreover, with home sales decreasing, less money will be spent on refurnishing houses.
Ethan Allen Interiors
One way to play the slowing housing market is by shorting Ethan Allen Interiors (NYSE:ETH), a furniture retailer. Despite being founded in 1932, ETH is only a $700 million company, operating primarily in North America. ETH focuses on the high-end market, pricing its products well above its competitors, such as Bed Bath and Beyond (NASDAQ:BBBY), La-Z-Boy (NYSE:LZB) and Pier 1 Imports (NYSE:PIR). Some examples of ETH's high pricing are outlined below: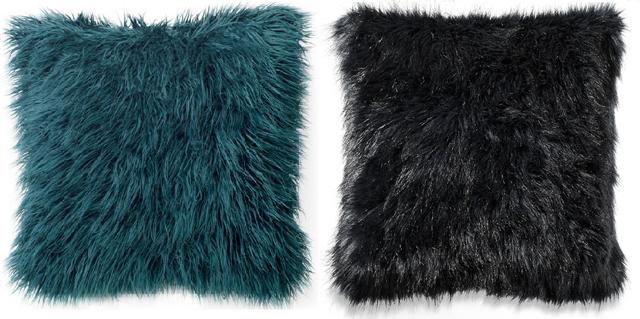 Left: ETH, at $116; Right: BBBY, at $21

Left: ETH, at $1609; Right: PIR, $500

Left: ETH, at $3059; Right: LZB, at $2409
Although there are quality differences (ETH's table in my example is teak, while PIR's is mahogany), the huge price differential would be a deciding factor in a consumer's purchasing decision. ETH's high-end strategy, combined with its growth strategy of "new eclecticism," do not line-up with the current market dynamics; current analyst expectations are too optimistic.
Target Market and Growth Strategy
In the last quarterly report, ETH had the highest gross margins of its peers, at 54.9%. By comparison, PIR, BBBY, and LZB's margins were 41.6%, 40.5%, and 34.9%, respectively. As mortgage rates and home prices rise, consumers, with less disposable income, will be much more price-sensitive. Thus, two things could happen: ETH's sales will fall; or ETH's gross margins will fall. Either scenario will result in a weaker bottom line.
The more important factor to look at is what ETH management is doing about this seemingly Catch-22 scenario. Last Fall, ETH started focusing on "new eclecticism," stressing the fashion of furniture, to enable it to maintain its high margins. Maintaining the fashion trends in furniture seems like common sense for a home furnishings company, yet it has been a salient topic of discussion for CEO Farooq Kathwari in every public appearance. So far, there does not seem to be a significant improvement in revenues. For the quarters ended March 31 2014 and December 31 2013, sales increased 2.97% and 0.94% from the same period in the prior year.

Due to the differing end of quarter dates, there is no direct comparison for ETH, which has a quarter end date of March 31. In those two periods, sales increased 1.9%. PIR and BBBY, which suffered from the weather effect last quarter (their quarter-end was March 1, and March sales picked up significantly for ETH), had sales growth of 1.6% and 1.3%. Thus, any effects from a change in business strategy only had a minimal effect on ETH's sales, if any.
The reason this renewed strategy has not gained traction is because of ETH's target market. The "new eclecticism" was meant to target Generation X-ers, but as noted in the 1Q2014 conference call, the contemporary designs speak to a younger crowd. The biggest problem is that first-time homebuyers are getting older. Thus, with the median age of the first-time home buyer at 31, the market ETH is catering to is much narrower. This is a problem that is only expected to grow as more young Americans are burdened with heavier student debts. In 2003, 25% of 25 year olds had student debt and in 2012, that figure was 43%. The average loan balance also increased from $10,649 to $20,326. As of the third quarter of 2013, 11.8% of student loans were 90+ days delinquent. This has negatively affected mortgage issuances. In 2013, only 4% of 25-30 year olds were granted mortgages, compared to 9% in 2005. There is no indication this trend will reverse. Thus, compared to its peers, ETH will be disproportionately hit with a shrinking market.
ETH's previous strategy of targeting high-end consumers in an environment where consumers are being more price-sensitive has not worked. The rate of increase in sales has been decreasing drastically for ETH, and there has been no significant improvement in sales since 2012.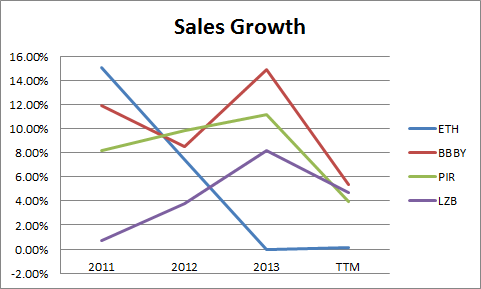 ETH's strategy of targeting the higher-end consumer has not worked in the past, and yet management keeps pushing this plan, absent profitable results. These investments in capital expenditures, generating minimal gains, will continue to draw into free cash flows.
Valuation
Despite ETH's inefficient growth strategy, it is trading at a premium to the majority of its peers in terms of P/E. Analysts are excessively optimistic on ETH's growth strategy, and thus, shares are overvalued on a forward P/E as well.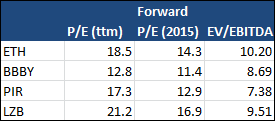 Although the home retailing sector is down YTD, I believe ETH still has further to fall (one can commit to a long/short pair to hedge out any exposure to the overall sector too). A decrease of ETH's P/E to PIR's would represent a 6.5% drop. More likely, ETH could fall such that its P/E ends up between BBBY and PIR's. This is because PIR has exhibited consistently higher sales growth year-over-year, and is still expected to grow profits, without significantly reducing margins.
Similarly, when looking at forward P/E, ETH is relatively overvalued. Even if the "new eclecticism" generates additional earnings, as analysts are predicting, ETH is still trading at a ~15% premium to BBBY and PIR. If the new growth strategy fails to turnaround ETH's business, EPS forecasts will be revised lower, and ETH's current premium to its peers would be even larger and more unjustified.
Similarly, taking an unlevered approach, ETH is overvalued to all of its peers by over 16%. I will also emphasize that ETH's quarter-end date was March 31, 2014, compared to the end of January for LZB and the end of February for BBBY and PIR. Thus, the rebound in spending was captured in ETH's P/E and EV/EBITDA, while its competitors' earnings are understated, by comparison.
Conclusion
Since my previous article in August, ETH is down ~17%. This was due to the weakening housing sector, as I pointed out. However, the stocks of other furniture retailers, besides LZB, were down more than ETH in that time frame. Consequently, there is still room for the relative valuations to shift, and for ETH to fall compared to its peers. As investors get a better sense of the "new eclecticism," the effectiveness, or lack thereof, of the strategy will justify a lower stock price.
Disclosure: I am short ETH. I wrote this article myself, and it expresses my own opinions. I am not receiving compensation for it (other than from Seeking Alpha). I have no business relationship with any company whose stock is mentioned in this article.