Occasionally an investor can find a truly overlooked company that trades at a bargain price. Duckwall-ALCO Stores is one such company.
This is a simple story. A niche broad line retailer focusing on underserved rural America. Locates stores in communities of 5,000 or fewer and surrounding area with 16,000 or less. Seventy seven percent of their nearly 260 stores are located in markets classified as non-competitive. Franchise is over 100 years old.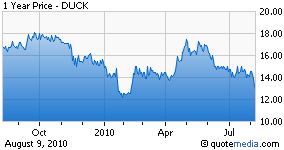 Despite the clear 'moat' around their franchise, the business had been poorly managed, thus even with their unique footprint, they had been unable to turn a consistent profit. The company had been unable to get its profit margins in line, consequently failed to show any meaningful earnings with predictably poor stock performance. The market had overlooked the issue due to its small size, lack of sell side appeal and insignificant investment banking opportunity. A perfect recipe for shareholder activism.
Along comes Raymond French of Strongbow Capital. He commits capital, time and effort to get it turned around. French gains board representation in March of 2008. The problem is clear. Gross margins are 32% and operating expenses are 31%. The company needs to drive down expenses.
Part of the issue is products offering and mix. Some of the issue is store formatting. But the easy issue is 'shrink'. It appears they have close to 3% shrink – employee theft. Upon closer review, however, most of the shrink is related to an absence of appropriate technology & processes or poor counting of orders received and inventory management.
Enter Rich Wilson this past February, a business consultant who Duckwall-ALCO had retained to analyze the issues. Wilson's experience includes: Principal of Corporate Alliance Group, a management consulting company specializing in marketing, product development, planning, strategy and brand management for the retail and wholesale trade; Senior Vice President, General Merchandise, for BJ's Wholesale Club where he was responsible for a $2 billion business including merchandising, marketing, private brand development, global sourcing and club presentation.
The Board has incentivized new management with a stock option heavy compensation plan, as well as a bonus structure which is based on the company's return on equity (ROE). In order for Wilson to receive a bonus, ROE has to be above 7.5%. Given the current shareholder equity, a 7.5% ROE would amount to earning per share of $2.05.
Wilson has been quick to reshuffle the executive team. It now appears the last of the old regime is out. A slowing of store expansion and a focus on product mix is in the works. SKU rationalization is leading to lower inventories and additional cash for debt reduction/share buyback. The company's goal is to improve inventory turn from 2.1 to 2.5 times. The shrink issue is beginning to improve as technology and new processes are put into place.
With just 3.8 million shares outstanding and revenue of nearly $500 million, it's easy to see how the company is levered to show huge earnings per share. In fact, the shrink line item alone is nearly $14 million or $3.60 per share.
Despite these problems, the company has been diligent in paying down debt and has a share buyback plan in place which they are methodically affecting. This is one of those companies where the float is slowing evaporating with only the most committed shareholders staying around to enjoy the benefits of the workout.
Company shares trade at $14.50, about half of the $27.30 tangible book value. The company could easily bring $3.00 to the bottom line. That is just $12 million on total revenue of $485 million or 2.5% net to the bottom line. They have 174 thousand shares yet to purchase in their 200 thousand share buyback plan – reducing float by 5%.
Once Wilson gets margins in line, DUCK will begin to expand their footprint. Currently they operate in 23 states (mostly Midwest). They believe there are hundreds of additional markets in which to expand that have similar 'moats'. Duckwall-ALCO will then become a growth story. Sooner or later a larger regional retailer will take notice, appreciate the company's 'non-competitive' market strategy, realize they can buy the whole business, cut out $20 million plus in corporate costs and have a highly accretive 'tuck in' creating instant access to literally hundreds of rural American communities.
Disclosure: Long
Disclaimer: The security described in this article is owned by the contributor and clients of Milwaukee Private Wealth Management, Inc., an investment management firm owned by the contributor. Thus, the contributor has a financial interest in any future price increase of the security.