Today we're going to take a look at a stock that will likely benefit from the recent wheat ban in Russia. What's the catalyst for such a dramatic move by the country?
Last Thursday, Russia's Prime Minister, Vladimir Putin, announced that Russia will ban all grain exports for the rest of 2010. The announcement came after wildfires swept across the country and destroyed a large amount of the country's crop. The crop was extremely susceptible to fire since Russia is experiencing a severe drought this summer.
Following this announcement last Thursday wheat prices surged 12 percent in Europe and wheat futures reached a two-year high to trade at $8.41 a bushel.
The question remains as to whether or not wheat prices will continue to rise. Many believe they will. Richard Feltes, of brokerage MF Global, commented on rising wheat prices saying, "Bottom line - no sign of a top as yet".
Take a look at the chart below which shows the price of wheat over the last 2 years. Clearly, the effect of the fires on the price of wheat has been dramatic.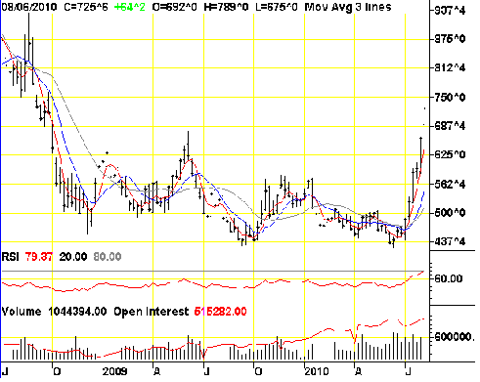 So where will the world's replacement supply of wheat come from?
The U.S. is the largest exporter and the fourth-largest grower of wheat. The Department of Agriculture estimates the U.S. will produce 2.2 billion bushels of wheat in the 12 months from June 1.
Dennis Gartman, an economist for the Gartman Letter said,
You have a situation unlike anything that I've seen in the 35 years I've been trading in the grain markets…This is going to be one of the great years for American agriculture probably in history.
There are a few companies that will be negatively affected by the probable high prices for wheat - and they have already seen their stock prices decline. One reason is that investors remain nervous that some of the largest food companies could struggle to pass higher wheat costs onto consumers. Shares of General Mills Inc. (NYSE: GIS) fell 2.7 percent last week.
So how can you make money off these recent developments?
For starters, wheat producers need to purchase seed and fertilizer to replace the 'lost' crop - so these fertilizer and seed stocks will likely benefit from recent news. That said some crops, such as corn, require more fertilizer than wheat. If growers replace corn with wheat, greater demand for fertilizer may not pan out.
But like I said earlier, the ban is currently in effect until the end of this year - and may extend into 2011. This means there will most likely be a larger planting season for winter wheat and next year's spring wheat.
Companies like Archer Daniels Midland Co. (NYSE: ADM) and Deere & Co. (NYSE: DE), both of which have exposure to the agriculture sector, will likely benefit from the wheat ban.
But these are large-caps, so while interesting potential investments they are beyond the purview of this letter. Let's take a look at a small-cap agriculture company, with a marker cap under $2 billion.
Terra Nitrogen Company (NYSE: TNH) sells nitrogen fertilizer to crop producers. If US wheat producers crank up production over the next year, the demand for fertilizer products from companies like Terra Nitrogen will most likely increase.
This Iowa based company has a market cap of $1.77 billion and saw its stock price jump 14.3 percent last week. The timing (for lack of a better word) of the fires couldn't have been better.
Terra Nitrogen also reported results from the second quarter of fiscal 2010 last week, and reported that net earnings had increased to $66.7 million, up 9.7 percent from the same quarter of last year. Terra Nitrogen Company also saw its top-line revenue grow 16.9 percent from the second quarter in fiscal 2009.
The company had a gross margin of 42 percent last quarter and offers a $9.44 dividend. That's a healthy 10 percent yield with the stock at current levels.
Take a look at the company's stock performance over the last two years and you'll see that investors who got in around $65 - $70 this summer just got the ride of their lives.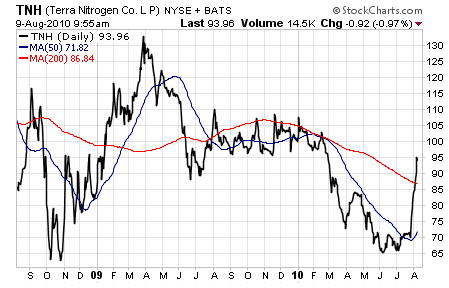 Although the company's stock price has recently skyrocketed, I still like this stock for the rest of 2010. From a technical perspective, both the 50-day and 200-day moving average are turning up, and if the stock breaks through $100 that level could once again become solid support.
The added potential demand from the Russian wheat ban, and the solid quarter both should help to support the stock's recent breakout- at least in the near term. Plus, the company's dividend is huge, so value investors may hold the stock, even if the price dips.
However, this stock has recently surged so be careful if you start to establish a position. Wheat prices are extremely volatile right now, and many investors (and traders for that matter) are trying to cash in. Always use stop losses, and only invest after doing your own research.