Tesla Motors (NASDAQ:TSLA) will report earnings today. Quoth the Raven said it doesn't matter if TSLA goes $180 or $239, he still strongly believes in the long-term potential of this EV company. I agree with his assessment but it will really matter to me if the shorts give me my opening window of $180. I've waited for more than a month now but the TSLA bulls are very indomitable in their defense.
The probability of TSLA going down to $180 after earnings is very slim. Alpha Omega Mathematica (NYSEARCA:AOM) still rates Tesla as a HOLD despite the stock getting a grade of zero in terms of Value. AOM gives TSLA an aggregate score of 53% - still far from the point where AOM's quantitative scoring algorithm will produce a sell recommendation.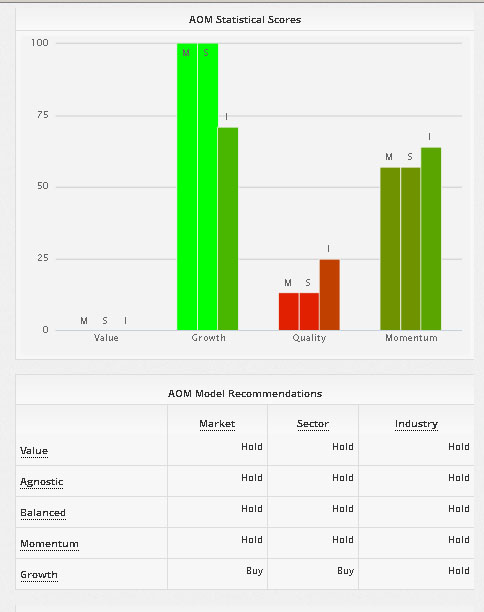 Source: getaom.com
Looking at the chart above, AOM's math modeling does not have any sell recommendation for Tesla as compared to its market, sector, and industry peers. AOM's Value Strategy still gives a Hold for Market, Sector, Industry (NYSE:MSI). It's understandable considering Tesla has perfect 100% scores for Growth Model under Market and Sector comparative study.
Growth Strategy even gives Tesla a double Buy recommendation under Market and Sector indicators. The math behind Alpha Omega Mathematica is not perfect but I use it to justify why Tesla bulls are resolute in their defense.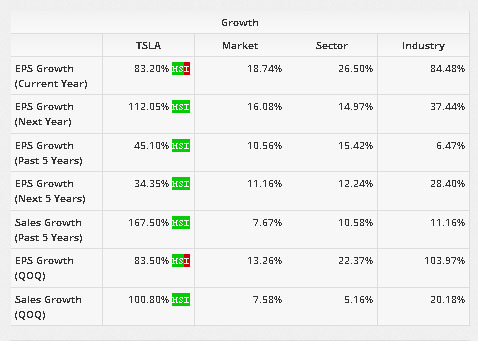 Tesla's rise to stratospheric valuation is strongly anchored in its hyper-growth potential. Looking at the AOM Growth Indicators chart above, TSLA greatly outperformed it MSI peers on almost all indicators. Tesla's sales growth history of 167.50% is more than 14 times better than its market, sector, and industry peers.
The bubble stock doomsayers who keep harping about Tesla's imminent crash are too few in numbers to overcome the Tesla bulls. AOM's modeling algorithm also weakens the argument of Tesla bears. Tesla is indeed a hyper-growth company that promises future big rewards for its most ardent followers.
I'm not belittling the shorts and bears, their efforts did slow down the market momentum of TSLA during the previous two months. I hope they gain more institutional support so their mission to bring down TSLA to $180 becomes more feasible.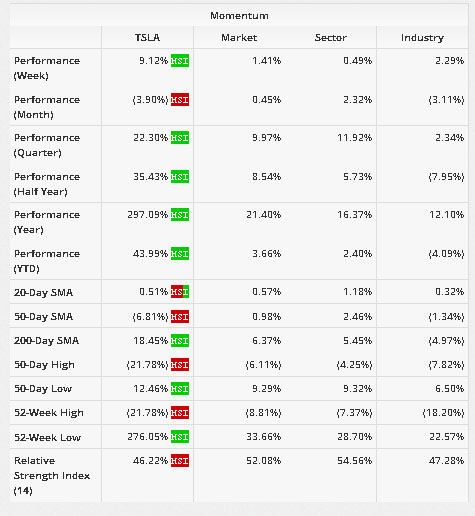 Being a momo ticker, Tesla is a top target for shorts. TSLA's SMA50 is -6.81% and the stock is -21.78% from its 50-day high. The market has recently acquired distaste for momentum stocks. Yesterday's market-wide sell off again erased Tesla's previous gains.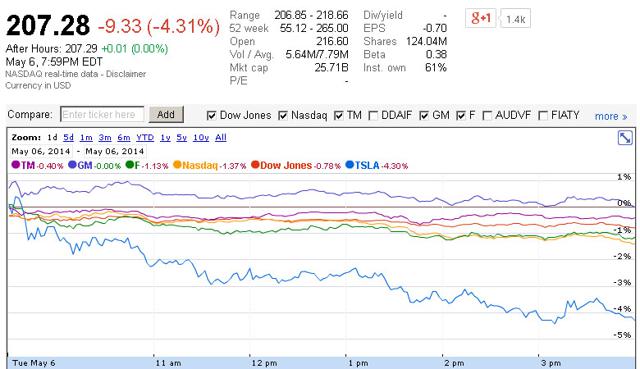 Charts from Google Finance
However, shorting Tesla is still not as easy as it looks.
Tesla Is Not A Good Short
Small investors who short TSLA are treading in dangerous water. The high short interest over TSLA has failed to bring the stock down to $180.

Chart Courtesy of wsj.com
It really helps that Elon Musk is the driving force behind Tesla. The hyper-growth bonanza of Tesla is further enhanced by Musk's winning history. Musk has not sold any of his TSLA holdings, so it's a good sign. Tesla bulls are well aware that the stock has atrocious fundamentals. Deep-stack institutional investors who are gambling on Tesla have helped frustrate the shorts' effort to bring down the stock.
More than 68% of the TSLA float is owned by big investment houses, the shorting action is definitely between big market players. Savvy traders (which I'm not) will still find TSLA not a good stock to short. Out of the total 89.59 million floated shares, there's 25.78 million of TSLA that are being shorted. However, big investment houses and mutual funds own 61.19 million shares. Those firms are not letting shorts easily pound down their investment in TSLA.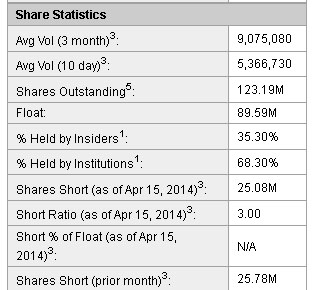 A check on Nasdaq's site told me that no major TSLA institutional holders have recently sold out their holdings.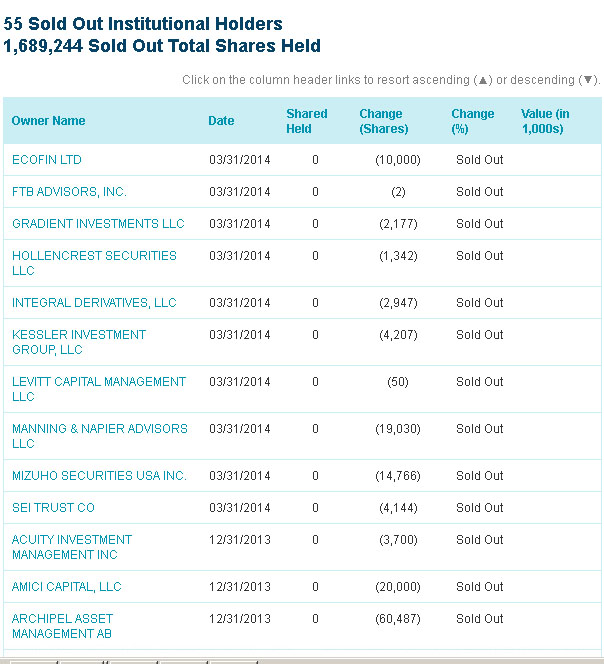 In fact there were more investment firms which increased their Tesla holdings this year.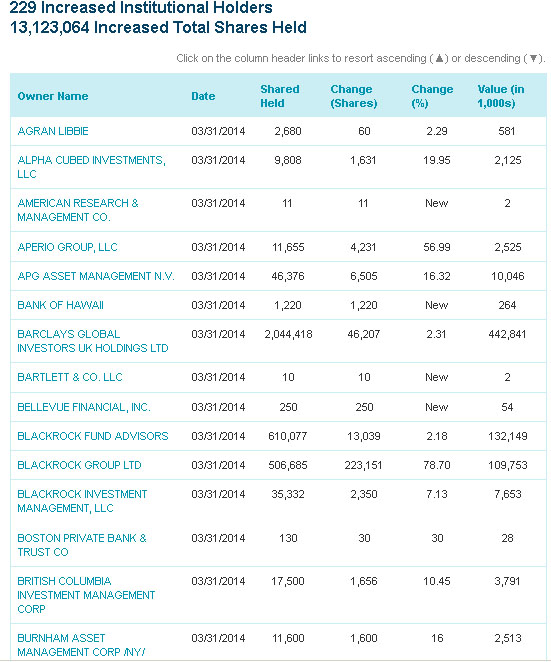 Hold The Fort
Shorting Tesla is not an easy task. Too many insiders and institutional players are holding on to their shares. AOM's hold rating for Tesla is supported by BarChart analysts.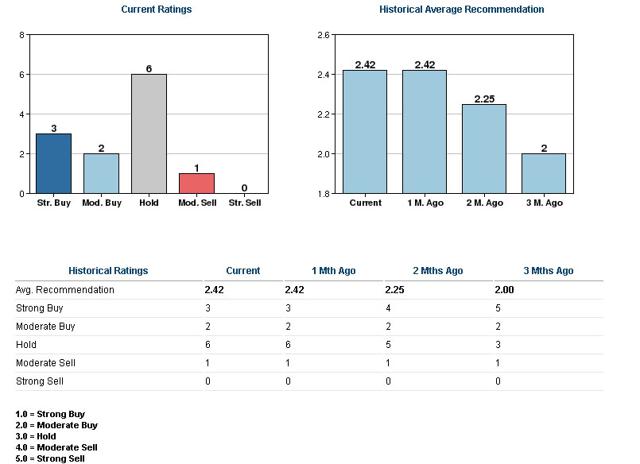 The 2.42 average recommendation by BarChart analysts is in line with the sentiment at Yahoo Finance.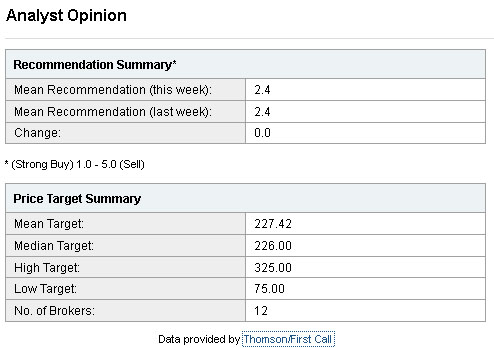 The bubble-stock valuation of Tesla also did not inspire any Ft.com analysts to issue a sell recommendation. Out of 21 polled analysts, 9 called for a Hold, 4 called for a Buy, and 4 said Tesla will outperform. That's the consensus as of May 2, 2014.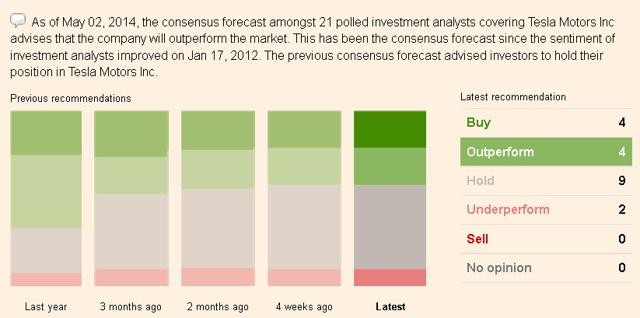 The bears and shorts are having a difficult time assaulting Castle Tesla because many analysts are still calling for a defensive Hold.
Conclusion
Tesla has more chances of going up than going down to $180 after earnings report today. The cult is well fortified against attacks. Even if Tesla misses estimates on EPS and Revenue, the Tesla bulls will catch the ticker before it falls to my target buy-in window.
The Hold-the-Fort calls are too loud so yeah, TSLA bulls will hold and defend their shares. The technical chart below from BarChart.com further confirms my suspicion that $180 is not on the table this week.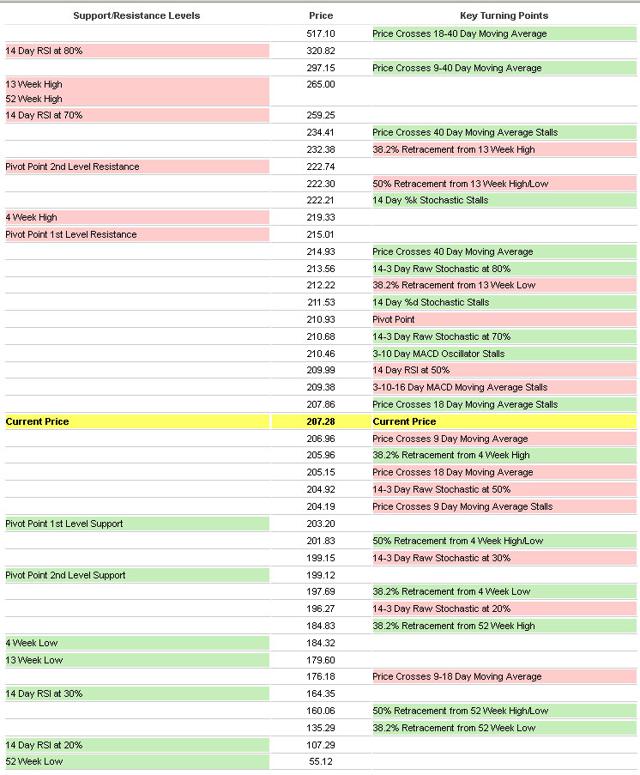 I understand that Estimize users are also very bullish about today's earnings report.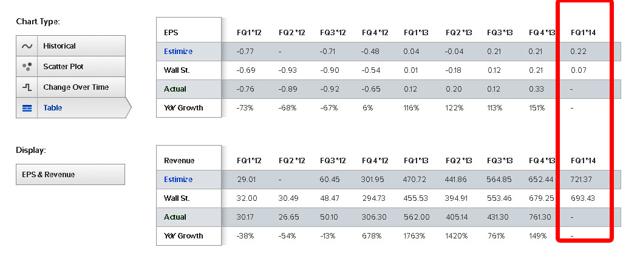 Tesla is a hyper-growth momo and Estimize users are predicting $721.37 million revenue for Q1 2014. That's a healthy 28.36% YoY growth that will only strengthen the resolve of Tesla bulls.
Disclosure: I have no positions in any stocks mentioned, and no plans to initiate any positions within the next 72 hours. I wrote this article myself, and it expresses my own opinions. I am not receiving compensation for it (other than from Seeking Alpha). I have no business relationship with any company whose stock is mentioned in this article.
Additional disclosure: I might buy some TSLA call options within 24 hours.