What company sells the most consumer electronics in the United States? The answer is Best Buy (NYSE:BBY). Best Buy is the largest electronics retailer in the United States. The company's only major competitor is Walmart (NYSE:WMT), which has been making a bigger push into the consumer electronics industry. Both companies are fighting for the market share left by the Circuit City bankruptcy. Smaller players like Radioshack (NYSE:RSH) are fighting to remain relevant over the long term. However, there is another small cap company that has the potential to be a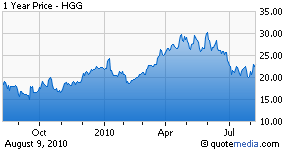 serious competitor over the long term.
Small Cap Growth Story
That company is hhgregg (NYSE:HGG). Hhgregg is a small cap player in the electronics industry with a market cap of just $888 million. The company is hoping to step in and fill the void left by Circuit City. Hhgregg is trying to become a player in the high end television and appliance market. They have actually been opening new stores in old Circuit City locations.
The company had $1.5 billion in revenue last year and had a net profit of $39 million dollars. Revenue is expected to grow to $2.2 billion dollars this year and $2.6 billion the next. Earnings are expected to grow at a 20% clip over the next 5 years. The company's balance sheet is small but tidy. Hhgregg has $150 million dollars in cash and less than $90 million in debt.
Hhgregg Philosophy
I like the way that hhgregg is going about its business. The company is expanding throughout the United States and has the opportunity to emerge as a major competitor over the next decade. One of the best things about Hhgregg is its 110% price match guarantee. If you find a lower price on a product anywhere, hhgregg will match it and take another 10% off the price. You can haggle over prices with an associate right on the floor.
The company also has a great delivery policy. They offer same day delivery service on most items. The company will even call you 40 minutes ahead of time so that you can meet them at your home. I know way too many companies that will have you sitting at home between 8 am and 5pm, waiting for a delivery.
Differentiation
Hhgregg is trying to differentiate itself by beating Best Buy and Walmart at the customer service game. Employees receive over 200 hours of product training each year. Employee trainings increase an employee's ability to cross sell a product and increase sales conversions. Employees are paid largely by commission which leads to a more motivated salesforce. The downside is that you may also get some overly aggressive salespeople. Another way that hhgregg is trying to differentiate itself, is by focusing more on appliance sales than Best Buy. One look at both of the companies websites details the difference. Appliances are the number 2 listed category on the hhgregg site. Home and appliances is in the last section of products on the Best Buy site. Hhgregg is selling over 400 different appliances which is a large number for such a small chain.
Outlook
The company expects to earn $1.79 per share next year which places a 12.8 multiple on the stock. This is higher than Best Buy's P/E of 9.5, but not bad for a company with 20% earnings growth. To be perfectly clear, hhgregg is a risky stock. The company's expansion plans could make it a force in the retail industry for years to come or the company could be just another also ran.
I think that shares are a buy at their current price level and would find the shares even more attractive on any weakness in the stock.
Disclosure: I do not currently own any shares of hhgregg.