Western Digital Corp. (NYSE:WDC), a leading electronic storage provider, posted solid fiscal third-quarter results that were boosted by sales of its non-PC drives. While weakness in the PC segment and lower average selling prices weighed on results, sales of Sony's PlayStation 4 and Microsoft's Xbox One, which include drives provided by WDC, helped the firm maintain roughly flat revenues relative to the year-ago period.
Looking forward, fourth-quarter results are expected to be in line with the annual trend of slightly down revenues. Shareholders will benefit from the reduced share count. And most importantly, the company's strong product offerings and pipeline suggest that weakness in the PC market will be cushioned. Also, solid strategic acquisitions as a result of excellent cash management have left the firm on remarkable financial footing, relative to competitors.
Based on the fundamentals of the firm, WDC is about 20% undervalued, but caution is warranted as broader market trends may extend the period of convergence to the intrinsic value.
Recent Developments
Analyst's Note
Western Digital Corp. is a global provider of products and services that empower people to create, manage, experience and preserve digital content. WDC designs and manufactures storage devices, networking equipment, and home entertainment products.
WDC has a strong product pipeline, relative to Seagate (NASDAQ:STX), that consist of appealing, to enterprises and consumers, storage devices. The TCO advantages, provided by the company's helium-based drives, are appealing to enterprises. Also, relative to prior periods, the PC refresh cycle is considerably slower because of the introduction of smartphones, tablets, and cloud computing; consequently, while there may be near-term shifts in consumer preference of form factor, traditional compute will remain the dominate form factor for managing workflow.
| | | |
| --- | --- | --- |
| For the year ending (in millions of dollars except per share data): | 2013-06 | 2014-06E |
| Revenue | 15351 | 15100 |
| Gross profit | 4363 | 4379 |
| Operating income | 1266 | 1963 |
| Net income | 980 | 1661 |
| Diluted EPS | 3.98 | 6.89 |
Fiscal third-quarter results were solid. Revenues are on track to coming in about $100-200 million below my full-year estimate of $15.2 billion. The profitability margins are roughly in line with my expectations. With that said, given all of the adjustments, the diluted EPS forecast increased from $6.26 to $6.89. The updated forecast is located in the above table.
The liquidity remained ample, and the solvency position appears solid. There was a slight increase in leverage, which given the low interest rate environment is beneficial to equity investors because it lowers the total cost of capital. Looking forward, management will continue to invest in expanding plant capacity and in strategic acquisitions. Additionally, the growth of retained earnings and shareholders' equity over the past few years have been excellent.
Cash flow provided by operations is tracking below my forecast. The difference is mostly attributable to less cash collected from accounts receivable. Last year, there was a $665 million decrease in accounts receivable, and this year there is a $12 million decrease. That's something that I will examine when fiscal fourth-quarter results are released. Capital expenditure is also running below my forecast. But share repurchases and dividend payments are tracking in line with my expectations.
For the full year, PC unit shipments are expected to decline to 157 million from 162 million with non-PC units increasing by 6 million to 86 million. Also, the average selling price is expected to decline to $59. Total units are expected to be flat for the full year relative to the prior year. With that stated, WDC is expected to earn more than its cost of capital for the full year. Including the weakness in the PC market, I'm bullish on the fundamentals of the business. As an additional note, WDC appears to have extraordinary talent in the right positions.
General Risks
The share price is likely to remain volatile and investors could lose a portion or all of their investment.
Investors should judge the suitability of an investment in WDC in light of their own unique circumstances.
A decline in the global economic growth rate and/or a decline in the pace of economic growth in the United States could adversely impact the results of operations and the share price.
The technology industry is characterized by rapid technological change, which could materially adversely impact the results of operations.
Competition in product development and pricing could adversely impact performance.
Incorrect forecasts of customer demand could adversely impact the results of operations.
Higher interest rates may reduce demand for WDC's offerings and negatively impact the results of operations and the share price.
This section does not discuss all risks related to an investment in WDC.
Portfolio & Valuation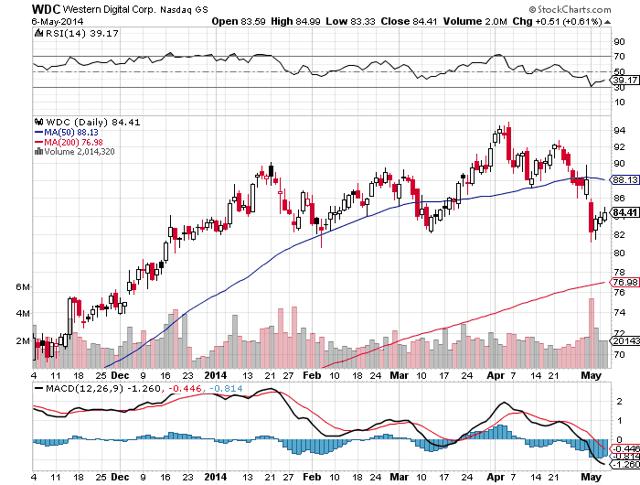 The impulse wave of primary degree is going to give way to a corrective wave of primary degree. The bearish divergence of intermediate degree suggests the rally may be nearing an end. I'd watch for a flat corrective wave, which may have already started with the higher high in April being part of the correction.
| | | |
| --- | --- | --- |
| Monthly expected return | Quarterly expected return | Quarterly standard deviation of returns |
| 3% | 9.15% | 20.58% |
| | | |
| --- | --- | --- |
| | Estimated intrinsic value | Forward multiplier valuations based on base case |
| Optimistic | $120.61 | P/E: 15 |
| Base case | $103.38 | P/B: 2.91 |
| Pessimistic | $86.15 | P/S: 1.65 |
| | | P/CF: 8.32 |
Based on the updated fundamentals, Western Digital is undervalued. The base case intrinsic value increased from $93.80 to $103.38 per share. The increase is attributable to the increased EPS forecast. Using my current estimate for 2015 earnings, the intrinsic value is about $100 per share. Consequently, this dip should be used to accumulate shares.
Disclosure: I have no positions in any stocks mentioned, and no plans to initiate any positions within the next 72 hours. I wrote this article myself, and it expresses my own opinions. I am not receiving compensation for it (other than from Seeking Alpha). I have no business relationship with any company whose stock is mentioned in this article.