by Jeff Bailey
If you've been waiting to snag Twitter (NYSE:TWTR) at a bargain price, the stock's current level may seem attractive - below its first trading price after the IPO last November, if not yet as low as the initial offering price of $26.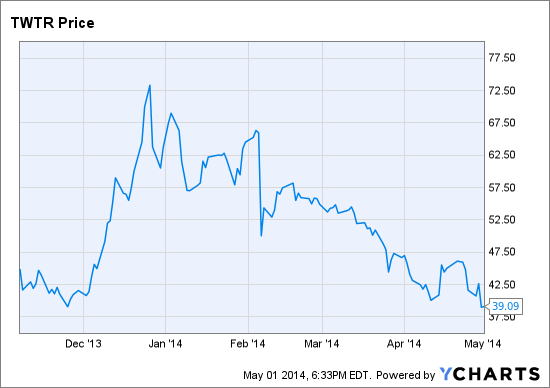 TWTR data by YCharts
Twitter is certainly growing like a weed: first-quarter revenue was up 119% to $250.5 million. And the home of the 140-character blast of self-expression sees full-year revenue landing in the range of $1.2 billion-to-$1.25 billion, nearly double last year's $664.9 million. Not bad, eh?
Hang on. Twitter may, indeed, blossom into a valuable business, rewarding its stockholders over the long haul. But there are some very big near-term and long-term obstacles that could prevent this from being a fabulous entry point. Three worth noting:
1. The company has a hell of a lot of stock outstanding, as in 570 million shares on a diluted basis, and the great majority of shares have been restricted from sale but won't be for much longer. As Twitter helpfully related in its 10-K filing, 489.4 million shares, or 85.9%, were restricted from immediate sale as of the filing. On February 19, a rather manageable 9.9 million shares held by non-executive employees became eligible for sale. No biggie. But starting next week, on May 6, "the remainder of the shares of our common stock will be eligible for sale in the public market from time to time thereafter."
Whether it's a trickle of a deluge will depend on how VCs and other major investors view Twitter's prospects. But one shouldn't count on such folks stepping aside and letting the general public shuffle through the door ahead of them.
Expensing all the stock handed to executives and employees will blight the bottom line for some time to come. In 2013, on revenue of $664.9 million, Twitter reported a net loss of $645.3 million, which included expensing stock-based compensation of a whopping $600.3 million. Whew, you're thinking, glad that's over. But it isn't. The stock-based compensation expense for 2014 is pegged at $640 million-to-$690 million. And there will be another big slug in 2015. Twitter, of course, prefers to talk about adjusted EBITDA and Non-GAAP net income, which exclude pesky items like stock-based compensation, and thus we're treated to some 34 uses of the term non-GAAP in the first-quarter earnings release. If only wishing made it so.
2. Twitter is a tiny player in a surprisingly crowded industry, namely online advertising. It claims perhaps a 1% market share vs. 51% for Google (GOOG, GOOGL) and 11% for Facebook (NASDAQ:FB). The market for online ads worldwide is growing by about 14%. All of these numbers come courtesy of Jack Hough's recent smart column in Barron's, titled "Not Enough Dollars To Go Around." So all these highly valued companies - let's toss in LinkedIn (LNKD), Yelp (NYSE:YELP), Baidu (NASDAQ:BIDU) and Yahoo (YHOO) - are actually competing for a very scarce resource when measured against valuation metrics like price-to-sales.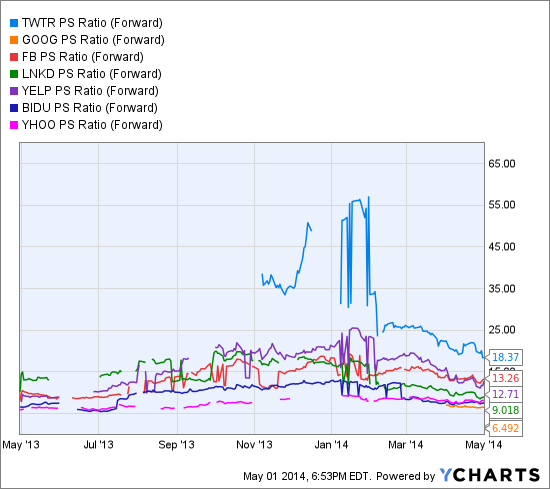 TWTR PS Ratio (Forward) data by YCharts
The market - or at least those holding the slender float of Twitter shares - seems to be betting that Twitter grows most rapidly from here. Could be. Although Facebook at least has all your personal data to sell to advertisers, not just who you follow on Twitter, and LinkedIn is steamrolling the careers and human resources industries with its data, profiles and content. And Google is actually gaining market share by some measures.
3. There's an odd dichotomy in Twitter's business: it has far more international users (the company counts monthly active users, basically anyone who's hopped on during the last 30 days) than domestic ones - 186.8 million outside the U.S. to 54.1 million inside as of year-end. The international user count has also been growing more rapidly, at 33% last year to 21% in the U.S. But the international users only bring in 26% of the revenue. Another Twitter metric, advertising revenue per 1,000 timeline views, is $3.80 in the U.S. and 60 cents for the rest of the world. Cheap eyeballs.
American advertisers have embraced the service more readily than those abroad. A problem in many countries, too, is that a lot people are viewing Twitter on dumb phones, not smart ones, and the latter are far more advertising friendly. Is it a business overseas?
Much of the coverage of the company in recent days has concerned itself with growth - there not being enough of it to justify the stock price. And the sequential growth from 2013's fourth quarter (to be fair, there is seasonality in the online ad business that pumps up revenue in the period) to 2014's first period was modest.
The good news is there's more than $2 billion cash on hand. And should the sales and marketing team be able to crank up ad growth a bit more, many investors might be willing to ignore the bottom line a good while longer. For the less charitable souls among us, however, it's worth asking whether Twitter stands a chance against Google, Facebook, LinkedIn and names we haven't even heard yet.
Disclosure: No positions
Editor's note: Article was originally published on May 01, 2014.