It's been a tough couple of weeks for you if you're a Bank of America (NYSE:BAC) shareholder - the stock has been absolutely crushed over the last couple of weeks on numerous panic-inducing headlines, and the bank has lost almost 20% of its market cap.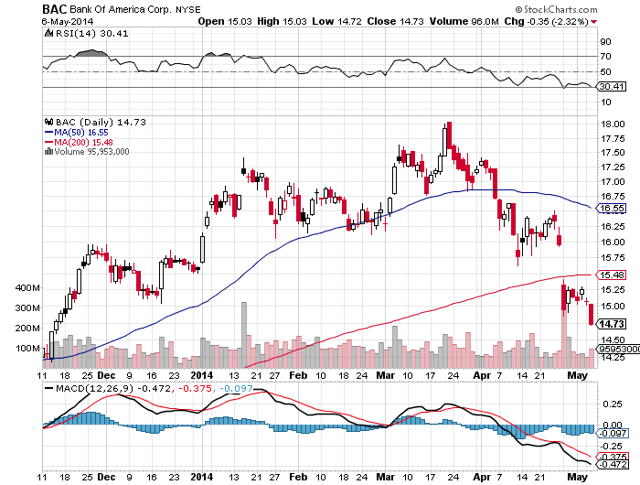 The bank has been mired under the wet blanket that JPMorgan (NYSE:JPM) recently threw on the entire sector, as it came out and warned on trading losses for the first quarter. Seeking Alpha reported:
With Q1 results for the global banks just in the books, JPMorgan becomes the first to warn on trading revenues in Q2, expecting markets revenue to slip 20% after declining 17% in Q1.
As in the past, the biggest driver of the slide is weakness in fixed income, currencies and commodities (FICC) as investors continue to shy from exotic fixed-income vehicles contrived by bankers, and instead favor less profitable (for the bond desks) government and high-grade corporate bonds. There's also new regulations which have forced banks away from lucrative businesses like energy trading.
"I don't look at the $5 billion in markets revenue and cry in my soup," said CEO Jamie Dimon on Q1's earnings call (the bank did $5.37B in trading business in Q1), stressing his belief that the current tough time for trading is cyclical not secular.
Additionally, towards the end of April, Bank of America was forced to suspend its Capital Allocation plan that it had submitted, and was subsequently approved by the Fed. Forbes reported:
Investors reacted sharply to Bank of America's statement this Monday, April 28, that an accounting error by the bank bloated the capital ratios it declared to the Federal Reserve as a part of the latter's stress tests this year. The country's second largest banking group made a mistake in the treatment of structured notes it assumed as a part of its acquisition of Merrill Lynch in 2008 - fixing that resulted in a $4 billion reduction in its fully phased-in Basel III common Tier 1 equity at the end of Q1 2014. As a direct consequence, the bank's common equity Tier 1 capital ratio was revised downwards by 27 basis points (0.27%) from the 9.3% figure disclosed earlier to 9%.
Additionally, this meant the bank had to suspend its dividend and buyback plans for the time being. A tough headline for the short term, less bothersome if you're in Bank of America for the long haul.
Sure, it's an ugly headline for the time being, but there's many analysts on Seeking Alpha that seem to think this is a short-term problem, not a long-term one. Wells Fargo even came out and defended the bank after this issue. They stated that the "net effect on the bank's capital" wasn't going to be material. Seeking Alpha noted, the day of the issue:
"We anticipate Bank of America ( -4.6%) will underperform its peers today," is the high-priced conclusion of the team at Wells Fargo after BofA is forced to suspend its capital return plans in the wake of an accounting miscalculation.
The actual net effect on the bank's capital will not be too material, says Wells, but reputational damage, upward pressure on expenses, and the idea of a more conservative capital return request next year could weigh on the stock over the next few months [for an example, see BB&T (NYSE:BBT) after the 2013 CCAR].
Wells currently has a Market Perform rating on the stock.
For a while, the risk inherent in Bank of America stock was the cloud of legal issues hanging over the bank as a result of the mortgage crisis that hit the markets in 2007. I've often contended that the bank is still a fine selection despite these, due to the cooler head of Brian Moynihan and the fact that these settlement issues go away permanently once dealt with.
In addition to the bank's capital allocation issues, and rounding up the back-end of the tough Bank of America headlines is the headline that some are now estimating the bank to have to pay over $10 billion to the Department of Justice as a result of the '07 subprime crisis settlement fines. CNBC noted, two weeks ago:
Just months after JPMorgan Chase paid $13 billion to settle charges that it misled investors about the quality of certain securities tied to home loans, rival Bank of America is discussing a similar deal with the Department of Justice that could cost it $10 billion or more, according to two people familiar with the matter.

Bank of America, one of the nation's largest banks and mortgage providers, has been working aggressively to put its mortgage liabilities behind it. Last month, it announced a $6.3 billion settlement of its outstanding mortgage-security and other contract issues with Fannie Mae and Freddie Mac. More recently, the bank swung to a first-quarter loss after setting aside an added $6 billion to pay down additional legal costs.
But, the thing about these headlines is that eventually, they're going to have to subside. And I'm not sure Bank of America couldn't continue upward momentum without them subsiding. Remember, this is the bank that Buffett is in, and that has grown exponentially while still having its legal risks hanging over its head. Once everything having to do with the subprime crisis is finally settled, it's over, done with, and won't be brought up again. It can likely do some short-term damage to BAC's books, but it's going to set in motion a new Bank of America poised for long-term growth.
As I stated in my last article about Bank of America:
The fact is, if you're looking at BAC from a long-term perspective, does it really matter if the dividends and buyback are held up for a year or so? Wouldn't you much rather take advantage of the 20% gain you could make on the equity if you bought it today and it returned towards its highs? I would.

I like the idea of perhaps buying some calls for the short-term, as you're officially not missing any dividends for the time being. I'd then considering rolling those calls over into a long-term position when the bank resubmits its capital plans to the Fed.
Lest we forget, we got the ultimate buy signal yesterday when Jim Cramer came out and said "you just can't own these stocks right now."
Short-term - again, there could be a bit of a rocky road as the bank finishes up its legal issues and deals with the short-term effects of this headline. I am considering entering a Bank of America long position here, and will likely buy if the bank dips down further on this panic.
Best of luck to all investors.
Disclosure: I have no positions in any stocks mentioned, but may initiate a long position in BAC over the next 72 hours. I wrote this article myself, and it expresses my own opinions. I am not receiving compensation for it (other than from Seeking Alpha). I have no business relationship with any company whose stock is mentioned in this article.