Over the past year, many analysts, including Moody's, have maintained a negative outlook on the telecom services sector, and it is expected that telecom companies will need to grow annual revenues at a rate of 1% to 3% in order to stabilize. Meanwhile, prices in some of the most competitive markets will continue to decline as competitors fight to increase their market share. However, the negative analyst predictions have been incorrect. In the first quarter, the two top-rated giants, AT&T (NYSE:T) and Verizon Communications (NYSE:VZ), reported double-digit earnings growth and predicted strong full-year earnings. The telecom companies are seeing increasing demand as a result of technological innovation, combined with improvements in business activities.
In this article, I will look at these two large caps companies to see how their future looks in today's challenging business environment. The article will focus on their business outlooks, business strategies and financial performances to gauge which company is likely to give investors the best returns.
Where Does AT&T Stand?
AT&T has been very successful at transforming its business. The company has made many strategic moves over the past few quarters, and they are starting to pay off. The company efficiently transformed legacy services to an all-IP platform. It is supporting that transmission with Project VIP. Its domain 2.0 initiative is also working, and the company has announced that Amdocs and Juniper Networks will be its vendors. Recently, the company announced that it plans to enter into 21 new markets. AT&T also plans to expand its ultra-fast fiber networks to deliver U-verse with GigaPower. As a result of these improvements, the company's first-quarter consumer wireline revenue growth was the best since the introduction of U-verse.
AT&T is making big profits from its wireless segment, which manages the sale and services of smartphones and feature phones. The company has completed its Leap acquisition, which is expected to add around $2 billion in revenues. It has changed its subsidy model by providing customers with better choices and more kinds of service plans and wireless equipment. All of these moves contributed to the company increasing its total wireless subscribers by 1,062,000 in the past quarter alone, led by 693,000 connected device net adds and 625,000 postpaid net adds. It was AT&T's strongest first-quarter postpaid growth in the past five years. Mobile share also had a positive impact on churn rates, the company's postpaid churn remains positive. The company is expecting more improvement in the coming days with the acceleration of its customer base to usage-based plans.
Where Does Verizon Stand?
Verizon has been turning things around by making smart moves which helped it grow its top and bottom line. The company seeks to generate mid-single digit growth in its top line and double-digit growth in its bottom line. The company has been able to achieve its financial plans over the past few quarters. In the first quarter, the company generated double-digit earnings growth. That was the fifth consecutive quarter that Verizon achieved double-digit earnings growth.
The company wants to keep its momentum, and has made numerous strategic moves with that goal in mind. Its recent agreement with Vodafone is a step in that direction. The company has started to consolidate results of both companies, and it is expecting to generate solid growth in wireless revenues and cash flows as a result of the acquisition. The company's unwavering focus on wireless, FiOS and strategic enterprise services has led to double-digit earnings growth. Its first quarter results show high customer demand for Verizon Wireless, strategic enterprise services and FiOS. Verizon's long-term investments in reliable, high-quality networks is delivering value to its customers. Its strategic networks are forming a strong distribution platform for future growth and innovation.
Which Stock is the Better Investment?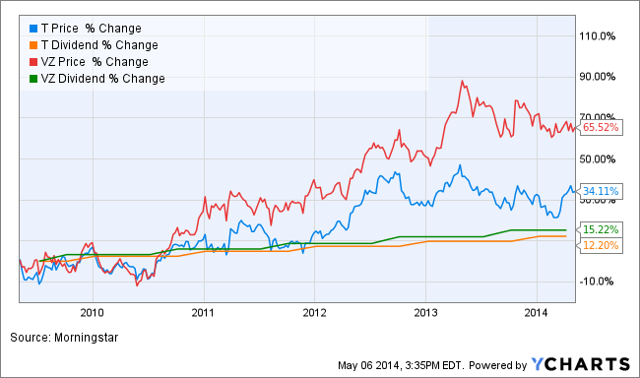 | | | | |
| --- | --- | --- | --- |
| | T | VZ | Industry Average |
| Price/Earnings TTM | 10.5 | 10.5 | 17.3 |
| Price/Book | 2.0 | 15.4 | 1.8 |
| Price/Sales TTM | 1.5 | 1.2 | 1.3 |
| Rev Growth (3-Yr. Avg.) | 1.2 | 4.2 | 5.1 |
| Net Income Growth (3-Yr. Avg.) | -2.8 | 65.2 | -10.0 |
| ROE TTM | 19.9 | 58.6 | 13.1 |
Source: Morningstar.com
AT&T growth rate has been quite low over the past three years. The company has made strong moves, and has managed to transform its business through investments and product innovations. As a result, its financial results are improving. In the first quarter, it generated its best revenue growth in the past two years. It grew its revenues by 3.6%, and its earnings per share grew 10.9%. Looking ahead, the company is forecasting that its full-year growth will be similar to its first-quarter growth. With growth in both revenue and earnings, its cash flow will continue to improve in the coming quarters. This is a positive sign for investors, because over the past few years, the company's earnings and cash flows decreased, which significantly affected its dividend growth. Thus, it increased its dividend by only 12.20% over the past five years. The company is still planning to spend $21 billion on capital expenditures in 2014, and its free cash flow is expected to be at $11 billion. I do not expect any significant increase in dividends, as free cash flows are not offering any room for that. In the first quarter, its free cash flow was $3 billion and its dividend payments came to $2.4 billion. Further, AT&T is looking to reduce its outstanding shares, which will have a positive impact on dividends. In the short term, the company will continue to have slow dividend growth.
On the other hand, Verizon continues to impress investors with its strong financial performance as a result of well-timed investments. Its acquisition of Vodafone will take it to new heights. Verizon's top line growth is consistently strong, and it has been enhancing operational efficiencies and increasing margins. Thus, it has been generating high double-digit earnings growth. The Vodafone acquisition will add to Verizon's revenues, earnings and cash flow. Even though the company has been making significant tax and other charges related to the Vodafone transaction, it still has the potential to make significant increases in its dividend payments compared to AT&T.
Both companies are now in a strong position to generate future growth. Both are trading at attractive valuation, however, I believe that Verizon is the better investment because of its ability to generate consistent double-digit growth in earnings and cash flows.
Disclosure: I have no positions in any stocks mentioned, and no plans to initiate any positions within the next 72 hours. I wrote this article myself, and it expresses my own opinions. I am not receiving compensation for it (other than from Seeking Alpha). I have no business relationship with any company whose stock is mentioned in this article.