Who is Paylocity Holdings Corp.?
Paylocity Holding Corporation (NASDAQ:PCTY) provides cloud-based payroll and human capital management (NASDAQ:HCM) software solutions for medium-sized organizations in the United States. It offers Paylocity Web Pay that provides enterprise-grade payroll processing and administration; Paylocity HR, which provides a set of HR capabilities for enhancing HR compliance, reporting capabilities, and managing employee information; Paylocity Impressions, an advanced social media feature that integrates peer-to-peer collaboration and recognition in employees; and Performance Management for use in the employee performance appraisal process. (Source: Yahoo! Finance Stock Summary PCTY)
PCTY recently held an IPO on 3/19/2014 and sold 7,100,000 shares at $17. The shares had a great first day's trading closing at $24.04 but have since come down from their highs of $31/share, which is one dollar higher than my year-end price target of $30. Shares are still up about 5% on the year after an unexplained, continued down channel.
This article will discuss the business that PCTY is involved in, the attractive profitability of that business, their growth strategy going forward, and their financials in an effort to justify the above said year-end price target.
What does Paylocity do and what does the market look like?
In the most convenient explanation, PCTY helps medium-size organizations, having between 20 and 1,000 employees, solve their payroll and human capital management problems. Payroll is self-explanatory but what is HCM? HCM is the necessary but very specific processes that take place in the HR offices at most business', such as time and labor tracking, benefits, and talent management. These processes are labor intensive for the personnel charged with their care, require a great attention to detail, constant continuing education, and can have expensive consequences if done incorrectly.
Companies in the very particular space that PCTY targets have several built in characteristics that magnify the already dangerous list of problems in HCM. First, these companies often times have overworked or dual position personnel that handle HCM, which stresses the infrastructure of the company and allows for lapses in process management and continuing education of the ever changing regulatory environment. Another typical norm if a company stays in-house with HCM is that they often have to purchase platforms from several different vendors which makes implementation and use much harder than it would be with a comprehensive solution. That's if companies keep these services in house. If a company decides to outsource the responsibilities to third parties they subject themselves to a whole different set of issues. Outsourcing's main issue is obviously an added expense for something that potentially could be done under the normal umbrella of labor costs, usually the processes are broken up and allocated to multiple providers (further complicating management by forcing the central manager at the company to communicate across platforms and vendors, learn several different operating structures/demands/inputs needed for the outsourced company to operate said platforms, etc), the company exposes themselves to the risk that the outsourced company could fail to provide adequate services, and most of the existing companies that can provide solutions don't target this market so their contracts are not tailored to meet the needs of the medium -size organizations. The need for a company like PCTY is there and boy are they filling that need.
PCTY is an SaaS gladiator born in the new world coliseum of cloud based software companies that have ambitions of being the next Caesar of the figurative Silicon Valley. Their platform provides that all important, heavily desired, much anticipated comprehensive solution to the mid-size problem. They fully automate both the payroll and HCM processes, have tailored their platform to adapt to automatically to clients devices (yes, including mobile - the most important user touch point to capture), integrate with over 200 related third party systems (401k, benefits, insurance, etc), and have the added bonus of being subscription based. Make no mistake about it, this is the best of breed solution to this markets problem and based on the R&D being ramped up at PCTY it could very well soon be the solution to the next levels problems. These guys have the real deal and it's already showing at this early stage in both the financials and non-financial metrics. By the way, this market has an obtainable potential of $8 billion and if PCTY can grow into the juggernaut I expect them to be the market above them, inclusive of the current mid-market, would have $22.5 billion of opportunity. The competitive advantages that differentiate PCTY to clients coming from their platform are great, but can they do all this and turn a profit? Yes, and that's where the story really begins to take shape.
What do the financials look like and what's the growth strategy?
As of 6/30/2013, PCTY had approximately 6,850 clients across the U.S., which on average had over 100 employees. They have grown their client base at a compound annual growth rate of 25% since 2011 and have done an amazing job at retaining existing clients.
Their recurring revenues increased from $37.5 million in fiscal 2011 to $52.5 million in fiscal 2012, representing a 40% year-over-year increase, and to $72.8 million in fiscal 2013, representing a 39% year-over-year increase. That's back to back years of incredible growth of recurring revenues, something that is really not normal at this stage of development for an SaaS company and something that is and has helped with visibility of future revenues, which if you don't know is something The Street likes to see. I really can't stress enough what an asset that type of recurring revenue base is and will become as it grows, and it's growing folks. PCTY's annual revenue retention rate was greater than 92% in each of fiscal years 2011, 2012 and 2013. That is not a typo. The most important thing that visibility of revenues does is allow PCTY to invest its capital into longer-term buckets of revenue generation (more on this later) with a greater level of certainty of near-term top line results. That's the equivalent of a boxer being able to go to body for the first six rounds of a fight, it positions him for a much better shot at success if the fight goes to the later rounds. You better believe PCTY's fight is going to those later rounds.
Total revenues have grown at an equally impressive pace. Total revenues increased from $39.5 million in fiscal 2011 to $55.1 million in fiscal 2012, representing a 39% year-over-year increase, and to $77.3 million in fiscal 2013, representing a 40% year-over-year increase. Again, back to back years of outrageous growth. Compare those line item total figures to the line item figures above and you'll probably notice that recurring revenue represented 95% and 94% of total revenue in fiscal 2012 and 2013. Anybody see the case I'm building here? This company's entire revenue stream outside of a few dollars made from implementation, training, and interest income is recurring. Remember what we said above? This is gold. Frankly, this is one of the most impressive revenue stories I've come across in a long time and it's only going to get better.
Let's talk for a second about how they're generating this revenue. My first guess would be CAPEX powered top line growth, and that would be partially correct. PCTY has increased total expenses the last three years sequentially, but it's the revenue growth per dollar of expenses that will cause cartoon-style jaw-dropping.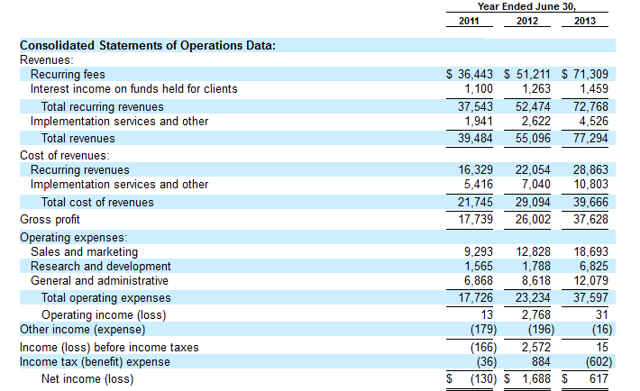 Total expenses increased 31% from 2011 to 2012 and that tracked with 39% revenue growth during the same period. That's an 8% spread between expenses to revenues and really underscores how well management deploys capital and how much return they are getting for the additional risk. These are both extremely highly unusual for a company at this stage in its development and I know I keep saying that but I really want to make that known.
Total expenses increased 40.1% from 2012 to 2013 (carrying over the average R&D expense from prior two years) and that tracked with 40% revenue growth. Another solid year of return on capital and another trust-building year for management. It's very important to understand what I did there and to understand the point I'm trying to make.
First, actual expenses increased 61.8% ($14.36mm total with $5.03mm coming from R&D) with revenue tracking falling behind to the realized 40%. I subtracted the uptick in R&D and used the rolling average because I wanted to express the true profitability and return on CAPEX of the underlying business. In this instance, the R&D was greatly expanded and accounted for 35% of the expense increase. PCTY knew this portion of the increased expenses was not going to generate any short-term additions to revenue but still was in a position to make this decision based on their overall profitability and the structuring of their aggregate revenue streams. Remember, they wanted to throw punches to the body to maintain their long-term viability. The fact that they made this decision speaks volumes about the company and about where they are in the process of becoming something much larger. This is big.
Why is it so big? When it comes to young, software based companies the bottom line (figuratively) is the top line (literally). Your typical SaaS company only cares about growing top line revenue and often times makes poor decisions in the interim to make sure that continues to happen. The actual net gains and losses (literal bottom line) don't matter to them as they understand what's going to push the share price in the short term and the leash length they'll be allowed as a young company. It's figure out growth first, profitability second. Not the case at PCTY. They seem to have figured out the profitability part (net losses of $130,000 in 2011, net income of $1.7 million and $617,000 in 2012 and 2013) early and can now focus on tracking both higher over the long term. You won't find that often. These guys have a great model, great management, and a very bright future.
The growth strategy at PCTY is innovative and has been taking shape according to schedule. PCTY plans to continue to grow new accounts and saturate their existing book of clients with secondary and tertiary products, they plan to continue to develop new technologies that further their position as a leader in the niche (most notably introduced new healthcare reform functionality that provides clients with the ability to forecast and model the impact of healthcare reform on their businesses), and continue to growth their referral base which currently consists of 401(k) advisors, benefits administrators, insurance brokers, third-party administrators and HR consultants. I think the healthcare reform angle is going to be a huge reason for prospects to allow PCTY in the door and that the sales team will close deals at equal or faster paces. The short selling cycle of three to six weeks is an added benefit that helps control costs at PCTY; I expect it to shorten in aggregate.
The final piece of the 2014 growth strategy that isn't covered in detail or expressed by management but is one that I see happening is the acquisition of a third party reseller of their services:
"We have contractual arrangements with two third-party resellers who resell our payroll and HCM solutions. We report revenue generated through these resellers at the gross amount billed to clients. Sales attributable to resellers totaled $3.8 million, $6.1 million and $8.6 million during fiscal 2011, 2012 and 2013. Cost of revenues attributable to resellers totaled $1.9 million, $3.0 million and $4.2 million during fiscal 2011, 2012 and 2013. Following the completion of this offering, we will have the right to acquire one of our resellers at any time. The purchase price would be determined at the time of the acquisition as a three times multiple of the annualized value of the amounts, net of certain reductions, paid by us to the reseller during the three months preceding such acquisition. We paid the reseller $1.0 million and $1.4 million during the six month periods ended December 31, 2012 and 2013"
The spread between revenues generated and cost of revenues is impressive. I think PCTY will take these guys in house before somebody else (most likely a large competitor who targets the space directly above but sees PCTY coming). The acquisition also makes sense with PCTY having little long-term debt and the cash flow to help recover funding spent. I like this to happen in Q4 but its complete speculation.
What are the risks?
Outside of the stock falling off a cliff for no explainable reason, as has happened since IPO, all the risks here are manageable. There is a larger competition in the space above, namely Ultimate Software Group, Inc., Workday, Inc., SAP AG, Oracle Corporation and Ceridian Corporation, Automatic Data Processing, Inc., Paychex, Inc., and Cornerstone OnDemand, Inc. I don't see these guys "slumming" it into the mid-size space but could see them make concessions into larger contracts if PCTY moves up the ranks too quick for comfort. I see one of these competitors as possible suitors in the mid duration, probably 2-5 years from now. That should not be a reason to buy the stock currently.
I don't like that PCTY has no contracts out longer than a 60 day cancellation notice with any of their clients. That would be something I would like to see worked out as they develop a longer history of service with clients. There obviously isn't a recurring revenue concern here but it would be nice for that recurring revenue to become a contractual certainty.
Finally, PCTY gets 25% of its sales from its referral network and they again don't have any contractual bindings with any of that network. Not an issue in the short term, but I don't want to see it become an issue in the long term. I would hope that as the company scales up that they could leverage their leadership position into to something synergistic from a legal standpoint with their partners. I'll look for that long term.
Where's the trade?
From a technical standpoint the trade isn't right now. Its wait and see. Its watch the chart at $17 and look for some large brick orders to provide support as this stock has been making lowers lows since its first day pop.
Fundamentally, if you're going to own this stock into the year end, I like it as an initiation spot right here at the IPO price plus 5 percent. That's not a bad price to start a position for the long term. I do think it's worth waiting to see where that support is, especially if the macro markets stay volatile like they have been, but nobody is going to look twice if somebody wanted to pull the trigger on some shares right here.
PCTY has an incredibly profitable underlying business as illustrated above, is smart when it comes to capital deployment, has the ability to use leverage as a tool if they see an attractive opportunity, and is the most attractive player in this space. I think they have a very visible, reasonably easy to project, future in this space and I personally believe the space above. I'm excited to watch them develop.
I think these guys finish the year at $30/share based on the strength of their balance sheet, growing revenues that should be shown by year end, the value of their R&D (not a common addition to valuation techniques), their market capture percentage projected rate (including additional market capture from healthcare reform platform addition rollout), and their stock being given a higher than normal multiple when compared to their peers. Good luck to all.
Disclosure: I have no positions in any stocks mentioned, but may initiate a long position in PCTY over the next 72 hours. I wrote this article myself, and it expresses my own opinions. I am not receiving compensation for it (other than from Seeking Alpha). I have no business relationship with any company whose stock is mentioned in this article.