Target Corp. (NYSE:TGT) shareholders have had a rough few months. There has been some bad news which has taken the stock down significantly, but this has created a solid buying opportunity.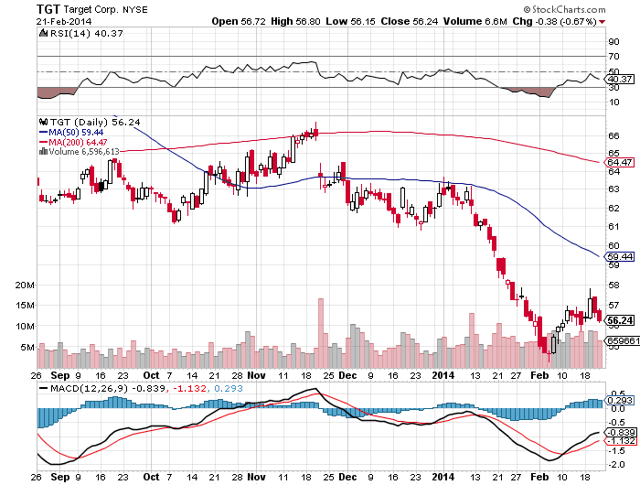 As the chart above shows, Target shares are now at oversold levels with a Relative Strength Index or "RSI" of just about 33. The stock is also significantly below the 200-day moving average which is $62.32 and even the 50-day moving average of $60.39. With this stock oversold, it could be poised for a sharp rebound, especially since the fundamentals support a higher share price.
The first big hit to this stock occurred earlier this year when investors became concerned about a data breach that impacted many Target customers. While there seem to be a few customers that changed their shopping habits due to this issue, it appears that many more kept on shopping. Especially as the stock began to rebound from this issue in the last few weeks. Data breaches occur regularly and it seems to be an issue that consumers have to deal with and accept as a part of life these days. However, when looking at past history, it is easy to see how a major decline in the stock price is probably a buying opportunity. The TJX Companies (NYSE:TJX) experienced a very significant data breach a few years ago. That caused the stock to drop and show weakness in the short-term. However, customers and investors have forgotten about that issue as the shares have completely recovered and gone on to new highs. It's worth noting that the TJX data breach was one of the largest ever back in 2007, with estimates of about 45.6 million cards being impacted versus estimates of around 40 million cards at Target. If consumers and investors can forgive TJX and send that stock higher, it's likely the same will be true for Target.
Target shares have indeed been recovering from the data breach issue. The stock had recently rebounded from a 52-week low of about $54.66 to around $62, in the last few days. However, a resignation by the CEO, Gregg Steinhafel on May 5th, caused the stock to lose much of its recent gains.
Many investors and some analysts took this resignation as a negative sign, with a belief that something else could be bad, such as the upcoming earnings report. However, I think that with the stock near 52-week lows, with the data breach issue, and with a disappointing expansion into Canada on this CEO's watch, the board of directors simply wanted the company to change direction and get a fresh start. If that is the case, the stock should be going up, not down right now. Analysts and investors don't like uncertainty and that seems to be why analysts at MKM Partners downgraded the stock from buy to neutral, and lowered the price target to $63. However, even at this reduced price target, it shows the stock still has meaningful upside. The uncertainty over this CEO resignation has created the buying opportunity, and investors should use this short-term weakness to accumulate this cheap stock.
The long-term outlook remains bright for Target as the economic recovery provides a strong growth dynamic for retailers. This company will put the data breach issue behind it, and it will hire a new CEO, in due course. Investors should not get distracted with the short-term noise created by these one time issues. Instead, it makes sense to focus on the potential this company has in the long-run and the solid dividend yield: Target has set goals to earn $8 per share by 2017 and pay a dividend of $3 per share. Target currently pays a $1.72 per share in dividends, and this provides a yield of about 3%.
Analysts expect Target to earn $4.02 per share in fiscal year 2015, and $4.75 per share in fiscal year 2016. That makes Target shares look cheap in terms of the price to earnings ratio. When compared to other major retailers, this stock looks way too cheap. Take a look at Costco Wholesale (NASDAQ:COST) which trades at about $113 and it is expected to earn just $4.63 per share in 2014 and $5.19 in 2015. This comparison makes Target shares look very undervalued right now because Costco and Target have very similar earnings estimates, but Costco shares are nearly twice the price!
In conclusion, Target shares are now oversold and too cheap to ignore. It is quite likely that investors have overreacted to the CEO resignation especially since this could simply be a positive and proactive move by the board in response to a dismal expansion into Canada and the recent data breach. With a cheap valuation and a dividend yielding about 3%, investors who take a contrarian view and buy this beaten-down stock now are likely to reap rewards in the future. For another contrarian stock pick that looks undervalued with 50% near-term rebound potential, read this article I wrote on a $2 jewelry sector stock.
Here are some key points for Target:
Current share price: $57.64
The 52 week range is $54.66 to $73.50
Earnings estimates for 2014: $4.02
Earnings estimates for 2015: $4.75
Annual dividend: $1.72 per share which yields about 3%
Data is sourced from Yahoo Finance. No guarantees or representations
are made. Hawkinvest is not a registered investment advisor and does
not provide specific investment advice. The information is for
informational purposes only. You should always consult a financial
advisor.
Disclosure: I am long TGT. I wrote this article myself, and it expresses my own opinions. I am not receiving compensation for it (other than from Seeking Alpha). I have no business relationship with any company whose stock is mentioned in this article.